Use these sample resume headings as inspiration to craft your own, and we bet you'll land more callbacks & interviews during your job search. Interested?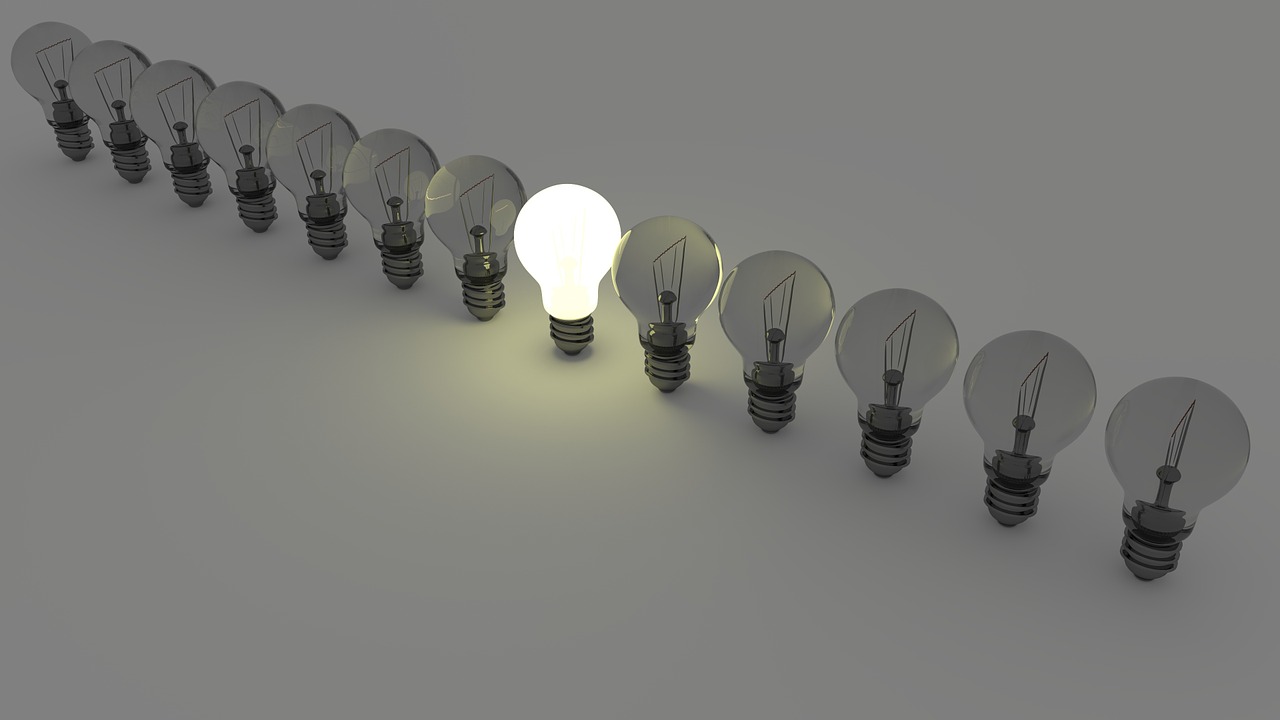 Resume headings are often the first thing hiring managers read after your name.
This brief introduction to who you are can either compel them to read the rest of your resume (yay!) or move on to the next one (boo).
You want your resume heading to capture attention and convince readers to see why your career history and other qualifications make you right for the job. When they do, your chances of landing a callback or interview skyrocket. 
So have you been giving your resume headings the time and attention they deserve?
No matter your answer, we're here to help you brainstorm some unforgettable resume headings to speed up your job search. 
You'll find eight sample resume headings to use as inspiration and some pro tips to keep in mind. But before we get to those…
Here's Why You Should Use a Resume Heading
Resume headings are a must-have no matter what industry you're in because they help you stand out from the sea of top talent competing for the same role.
Think of a resume heading like the focal point in a design or the main heading in an ad or marketing piece. They're the first thing people see, and become part of your personal brand, so they must be able to draw people into learning more.
Format-wise, your resume heading should be a succinct, impactful one-liner that sits just below your name. It should also be capitalized using Title Case (like the headline of an article).
In this example, the resume heading says, Environmentally-Focused Sourcing, Procurement, & Supply Chain Management Expert: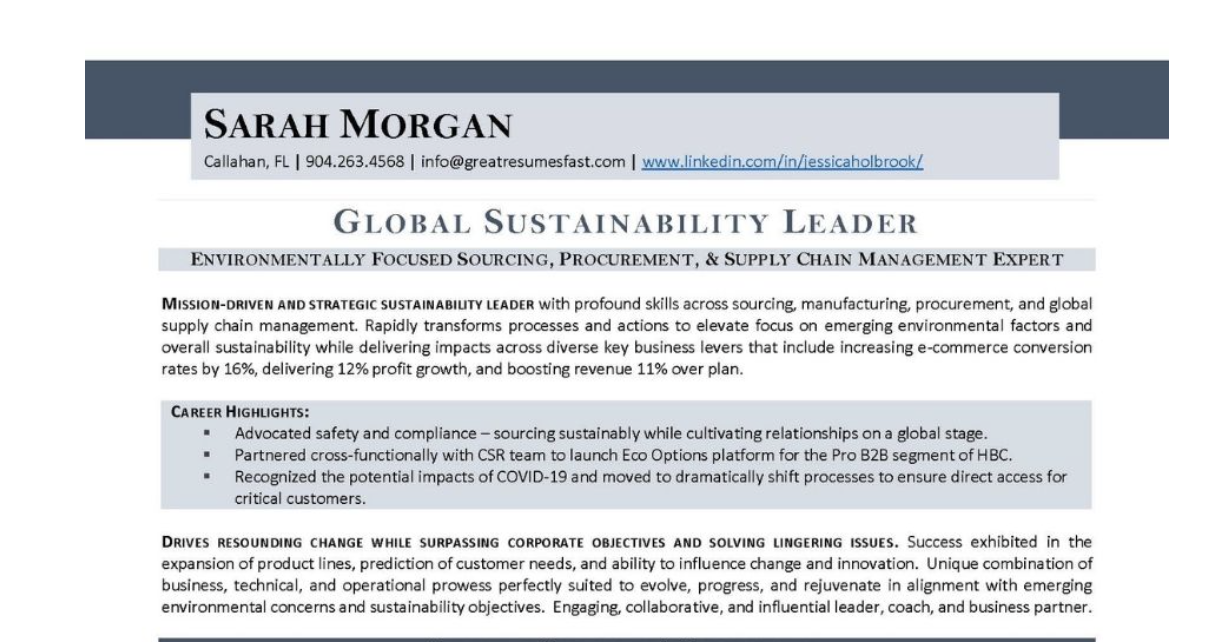 This example does a stellar job of highlighting the candidate's top strengths and experience, which is exactly what yours should do. 
You'll also want to spotlight your standout features relevant to the role, so hiring managers immediately see your resume's worth reading.
Yes, we know the space to add your resume heading is super small. And it's challenging to come up with the perfect quick elevator pitch on top of the rest of your resume and cover letter. 
But conquering this task will be worth it.
A catchy resume heading shows hiring managers that you communicate well and understand what it takes to get the job done (because you read the ad carefully and tailored your pitch so well).
It also sets a positive tone for the rest of your resume. If your career history, qualifications, and other achievements match up, you'll boost your chances of landing a callback or interview tremendously. 
That's why every resume needs a personalized, captivating resume heading. And we know a tool to help you tackle this assignment without letting it overwhelm you.
The Resume Heading Formula That Makes Life Easier
The five key ingredients of an effective resume heading include:
An impactful adjective that sums up your strengths relative to the position

The job title

Hard or soft skills the job ad calls for

Noteworthy career achievements (increased sales by 25%, for example), certifications, or years of experience 
Here's a condensed version of what that resume heading formula looks like:
Impactful adjective + the job title + your top skills + noteworthy achievements
Now all you have to do is plug in your specific adjectives, skills, and accomplishments to craft the perfect one-liner. 
The resume heading examples up next all follow this easy formula. So let's take a peek at some of the best to use as inspiration when writing yours:
8 Sample Resume Headings To Help You Stand Out In Today's Fierce Job Market
Using real job ads from Fresh Gigs, we came up with these sample resume headings so you can see what a good one looks like:
3 Helpful Resume Heading Tips Before You Go
Keep these handy resume heading tips in mind while you craft yours:
1. Always Scan the Job Ad for Specific Keywords
You probably didn't get a chance to click the links in each of those sample resume headings we shared. But if you did, you would have seen that we packed each heading with keywords straight from the job ad.
We chose the exact job title, verbs, and adjectives the companies hiring used to describe their ideal candidates. This helps pique the attention of applicant tracking systems (ATS) and hiring managers alike.
Hitting these exact keywords tells hiring managers that you speak their language, so to say, which makes an instant connection right off the bat. It also ensures that your resume gets picked up by ATS instead of weeded out like most applicants.
So use the job ad to your advantage and highlight any details that resonate with your skills and background. Add these keywords to your resume heading to really stand out.
2. Strive for Action Verbs
Your resume heading should be short and engaging, so it catches attention right away. Aim for a heading that's one line long, max. It does not need to be a complete sentence. 
Grab some action verbs from the job description to add oomph to your heading while maximizing space and impact. Action verbs in a resume include those like coordinated, spearheaded, strategized, etc. 
3. Come Up with a Few Different Options
Try a few different variations of your resume heading before automatically choosing the first one.
It may be a head-scratcher to come up with more than one resume heading you like. But once you get the hang of writing them, it becomes easier — especially when the creative juices start flowing.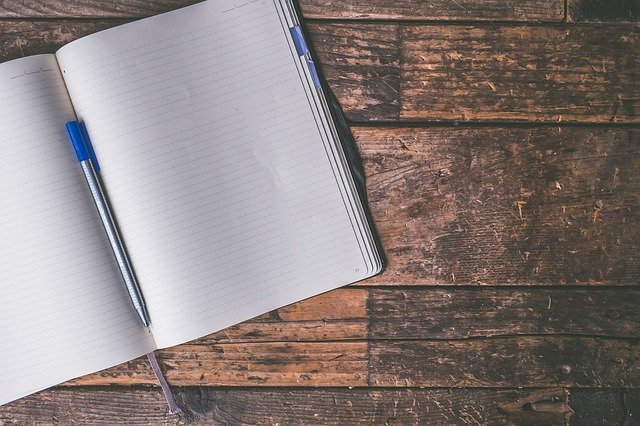 So give it a go and have some fun! Play around with all sorts of options based on your experience and the keywords in the job ad. Your favorite will soon emerge from the list of choices.
Ready To Create Your Own Catchy Resume Heading?
Now that you know what it takes to create a winning resume heading, there's no need to stress or panic about writing yours.
Just follow our simple resume heading formula, add key details from the job ad that match your skills/experience, and give it a few tries.
We know you'll come up with incredible resume headings that stand out and get noticed. You got this!