The Easy and Proven Way to Reach Qualified Marketing, Communications and Design Professionals in Canada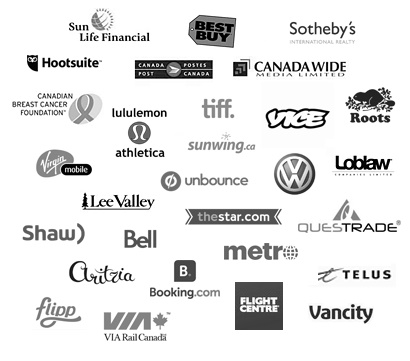 Why these companies and many more are turning to FreshGigs.ca to find and hire qualified talent...
FreshGigs.ca is the leading jobsite specializing in marketing, communications and design jobs in Canada. Since our start in 2010, hundreds of employers in a wide-range of industries have used FreshGigs.ca to save time and reach more candidates with the skills and experience they are looking for.
Over 60,000 job seeking professionals visit our jobsite each month, and jobs are promoted through social media, our partner network, and in our member newsletter.
What Employers Are Saying...
We advertised on 3 different job sites, and yours was by far the most user friendly experience! It involved the least amount of steps, the customer service was amazing and we have already had applications come in as a result of your site...the quality of candidates have surpassed the other sites.
Nicole Ponte
Executive Assistant to the President & CEO

We received excellent quality responses to our employment opportunity on FreshGigs.ca. The site is easy to use and is integrated with popular social media platforms. Plus we appreciate the great personal service!
David Laulainen
Director, Communications and Business Development

I'm impressed with the quality of the candidates and service provided by FreshGigs.ca; I won't hesitate to do business with them in the future!
Corinne Youngward
Recruiter

You guys are great! I really appreciate the quality of candidates that found us [from FreshGigs.ca] compared to LinkedIn or our own website.
Dan Bergeron
Director, Creative and Interactive Services

We hired through FreshGigs.ca and were delighted to have found an individual so quickly with the right skills.
Errol Lipschitz
VP, Marketing & Operations

We posted with FreshGigs.ca and on top of the volume of candidates that came through, the customer service and attention to our individual job search was like no other.
Toni Virani
Human Resources Recruiter

Unmatched Distribution of Your Job
Through our partner network, every job posted on FreshGigs.ca appears on top marketing, design and industry association websites and blogs, putting your job in front of tens-of-thousands of active and passive candidates.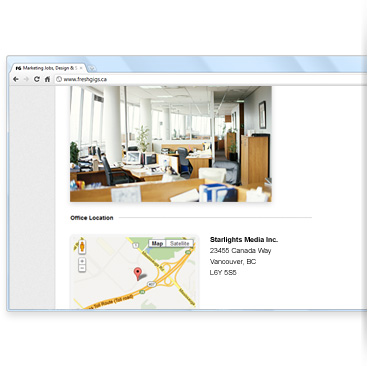 Office Locations with Google Maps
No longer will anyone need to wonder where your office is located. By simply entering your office address an interactive Google Map will be added to your job posting. Now candidates can see exactly where the office is located and figure out how they can best commute ahead of time.
Enhanced Job Listings with Photos
Share your culture. Upload photos of your company's office and work environment, staff, events and anything else that will help qualified candidates get a better sense of your company's culture and brand.
Multi-Job Packs
If you are planning on posting more than one job you will enjoy the convenience and cost savings that come with job packs. This can save you hundreds, even thousands of dollars, on your recruiting costs. Plus, credits never expire.
Non-Profit Discount
We are happy to offer non-profit organizations a discount on all job postings. If you are a non-profit organization please contact us to receive a discount.
Reach Qualified Candidates Today
Hundreds of employers can't be wrong. With all you get by posting your job on FreshGigs.ca, you really have nothing to lose by posting your job today.