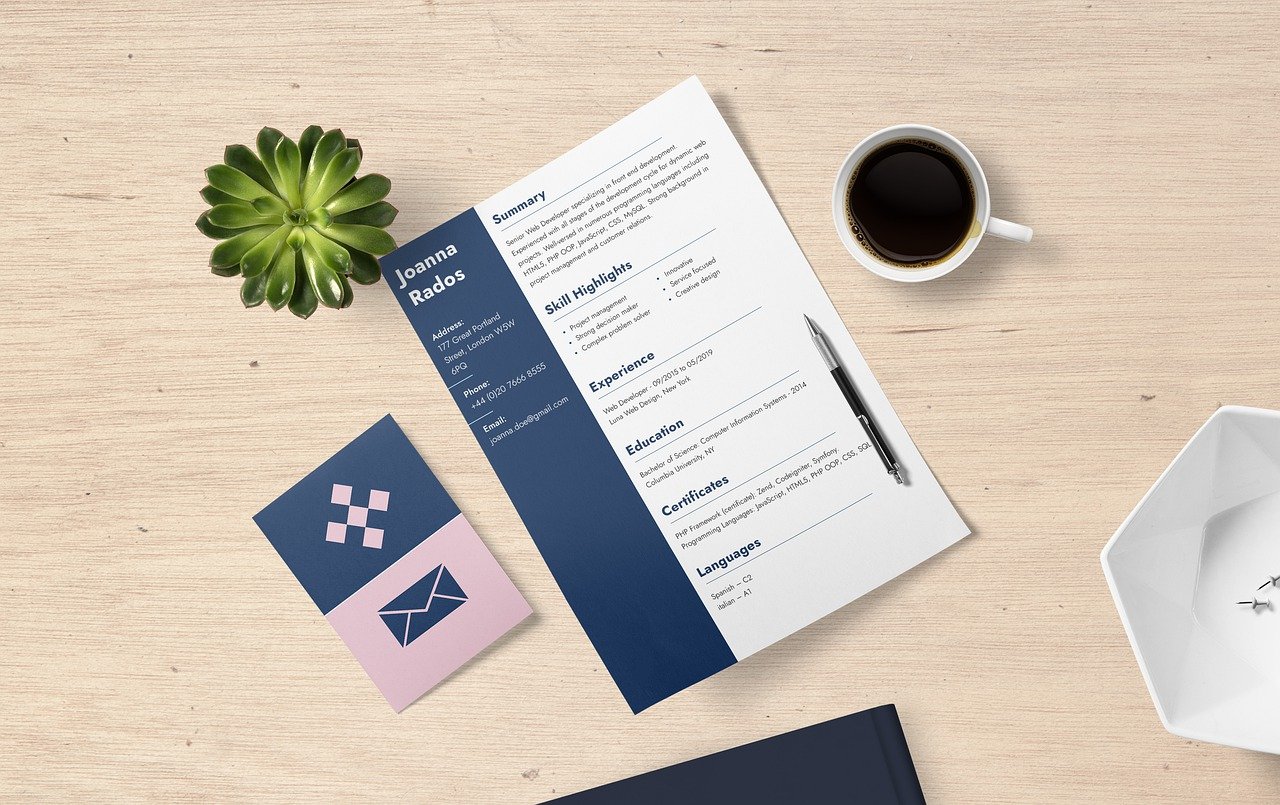 Are you tired of sending out dozens of resumes and never hearing back?
The problem may not be you; it could be your resume.
With hiring teams receiving hundreds of applications per job ad, it takes more effort to stand out and get noticed these days.
So if you're still using an outdated resume layout, your resume may not be catching the attention of hiring managers even though you have all the skills and experience they're looking for.
Fortunately, we'll help you fix this all-too-common situation in today's guide. You'll find a baker's dozen of easy-to-customize creative resume examples to show off why you're the perfect candidate.
13 Creative Resume Examples That'll Help You Land Your Dream Job
Use these creative resume examples as inspiration to update yours sooner rather than later:
1. A Modern Classic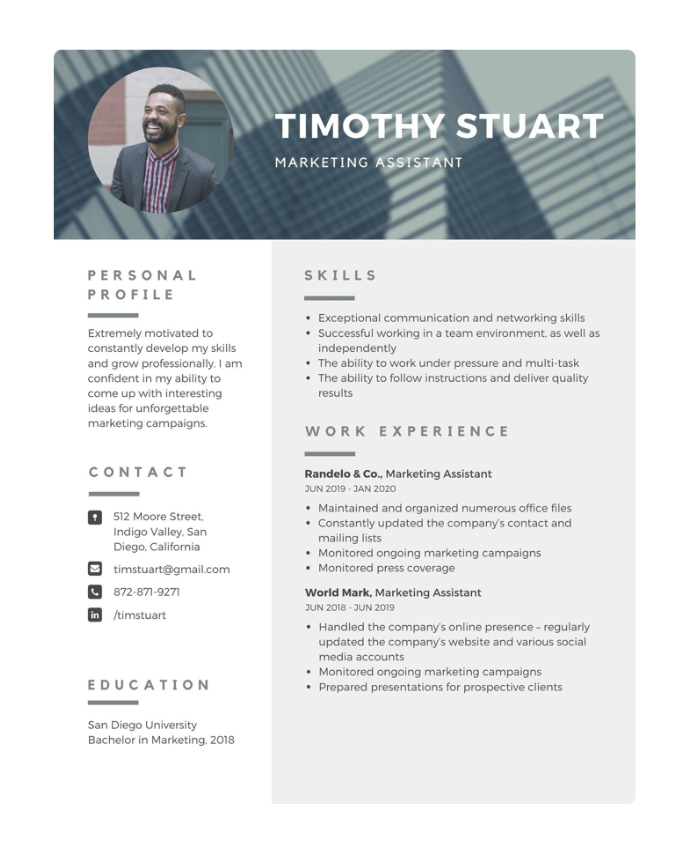 This first resume example elevates the classic resume format. 
The bold pattern on top catches your attention, while the color-blocked white and gray background helps organize what you have to offer. The end result is a clean resume that can be quickly scanned and easily read, which is exactly what you want.
You can even remove the headshot if you don't have one, and it'll still look like a winning resume.
2. Bold and Attention-Grabbing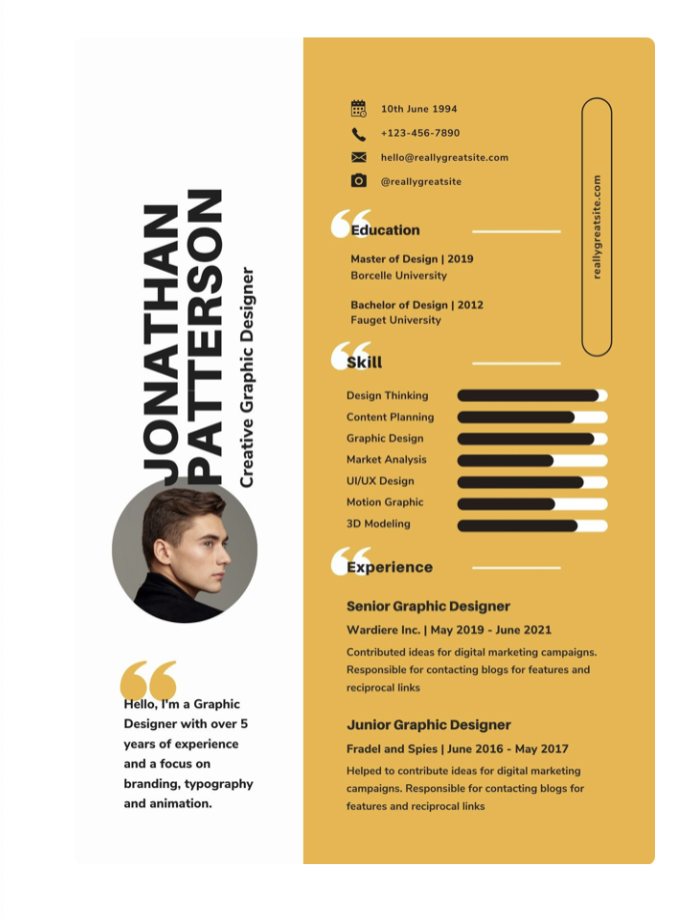 For a bolder approach, this Canva resume template is so eye-catching that no one will be able to miss it even if they tried. Its unique layout is ideal for creative positions where you need to prove you think outside the box.
On top of having a standout layout, the yellow side of the page highlights everything you want potential employers to see and remember about you.
3. Clean and Balanced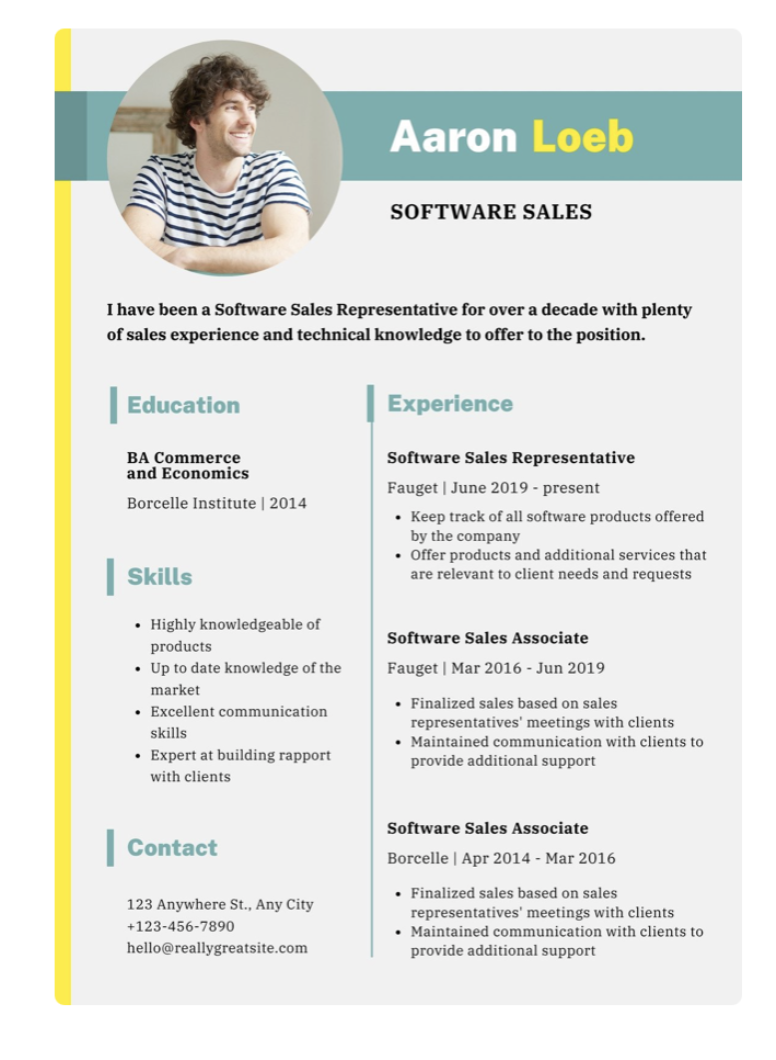 This modern resume template neatly organizes everything you have to show off. It uses fun pops of bold colors, which you can customize to suit your personal brand. All those touches make it the perfect balance to help you get noticed without being too much.
4. Well-Rounded Charmer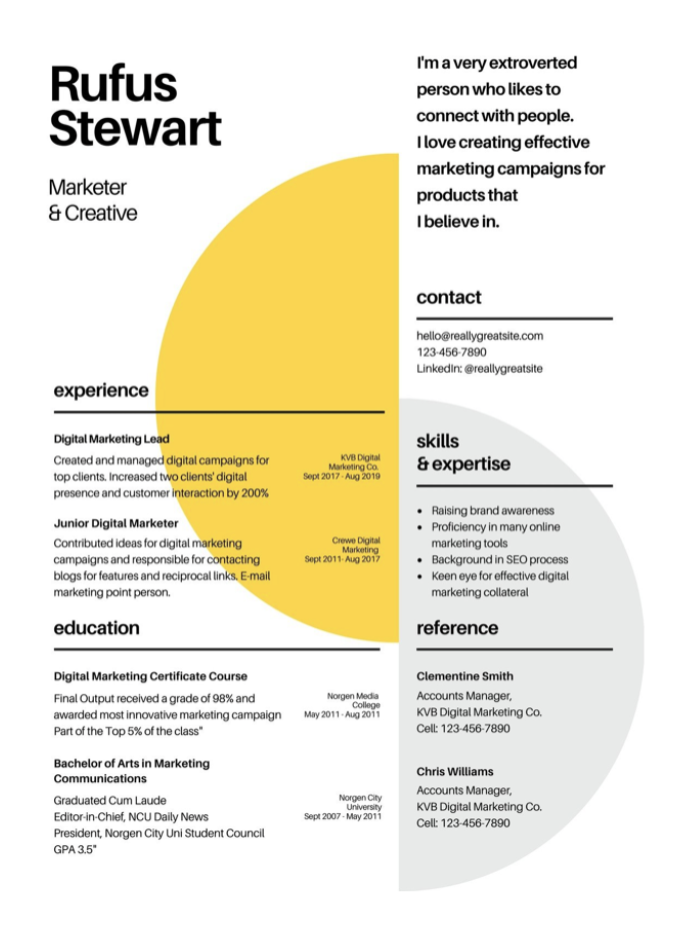 This graphic resume twist calls for can't-help-but-get-noticed center circles that draw people in and down the page. Once they're hooked, they'll eagerly check out your personal branding statement, skills, and references.
5. Soft and Strong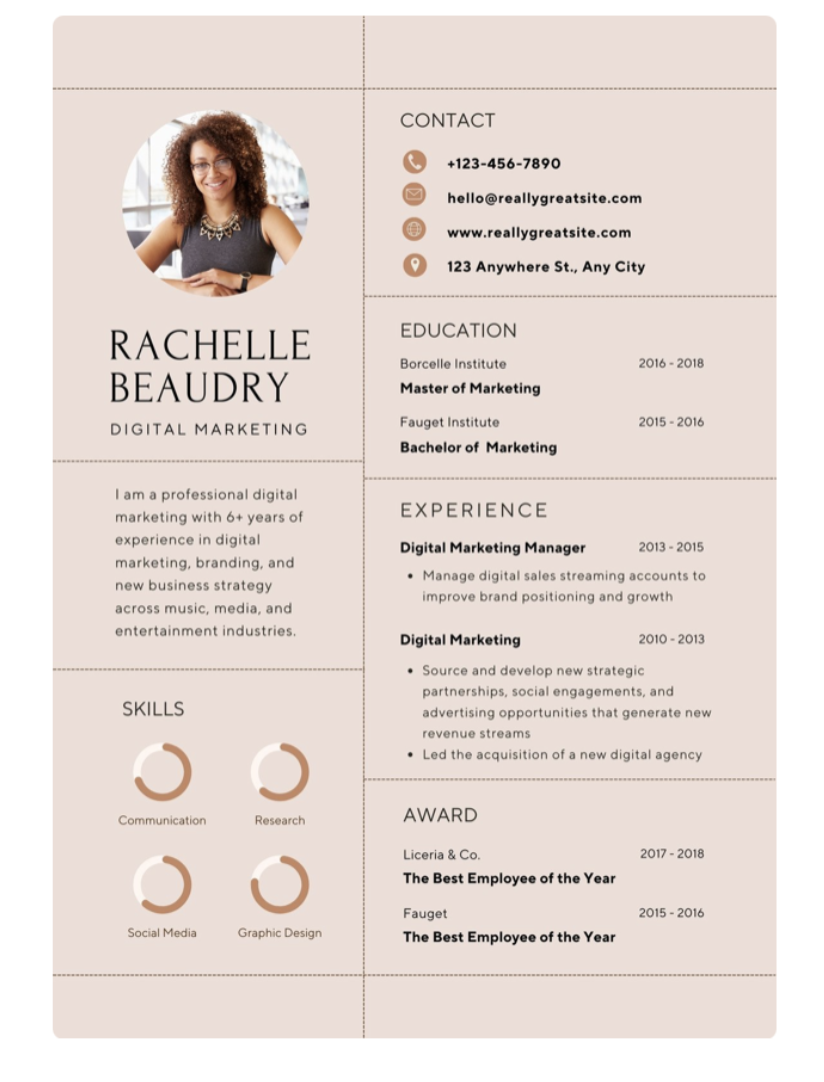 Don't let the subtle pink background fool you. 
This effective, creative resume template warms up readers without distracting them. The neatly organized boxes allow you to showcase your best features, while the graphics help highlight your skills.
It has all the components of a memorable, easy-to-read design. And busy hiring managers will appreciate all of it.
6. Millennial Pink Perfection
This creative resume template looks straight out of a magazine or an online editorial. Its picture-perfect design has the right balance of compelling images, fonts, and colors.
You'll be able to introduce yourself with a personal branding statement at the top, then present your organized list of education and experience. Having your contact info at the bottom gives hiring teams a call to action to schedule you for an interview ASAP. 
7. Keyword-Friendly Organization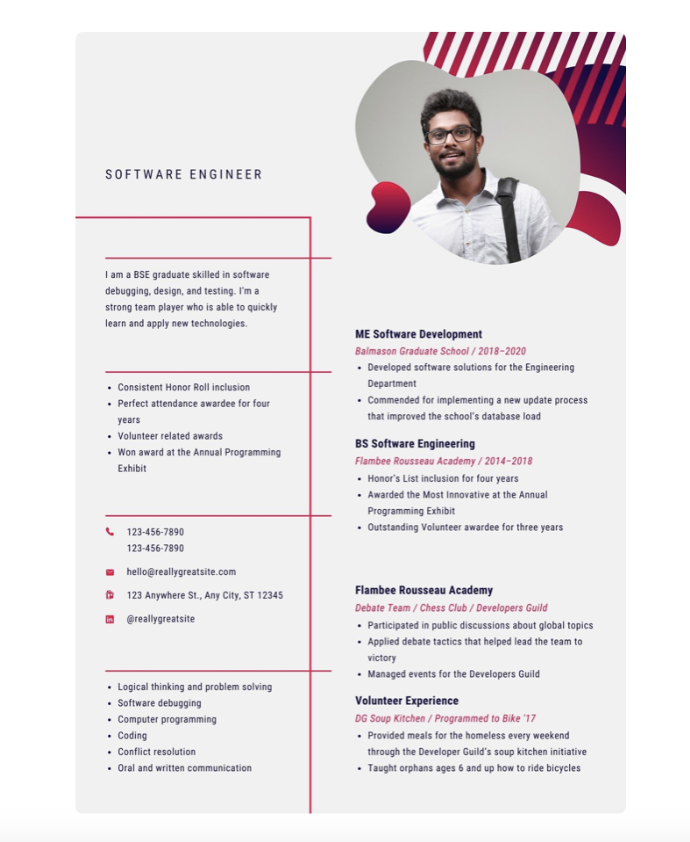 This resume template makes an ideal choice when you want applicant tracking systems (ATS) to pick up your resume for specific keywords but don't want to overstuff them in.
Each red box chunks your information into easily digestible bulleted lists, providing tons of options for cleanly adding job-ad-specific keywords. ATS will give your resume the green light, and hiring teams will quickly see you have the skills to get the job done.
8. First Impressions Are Everything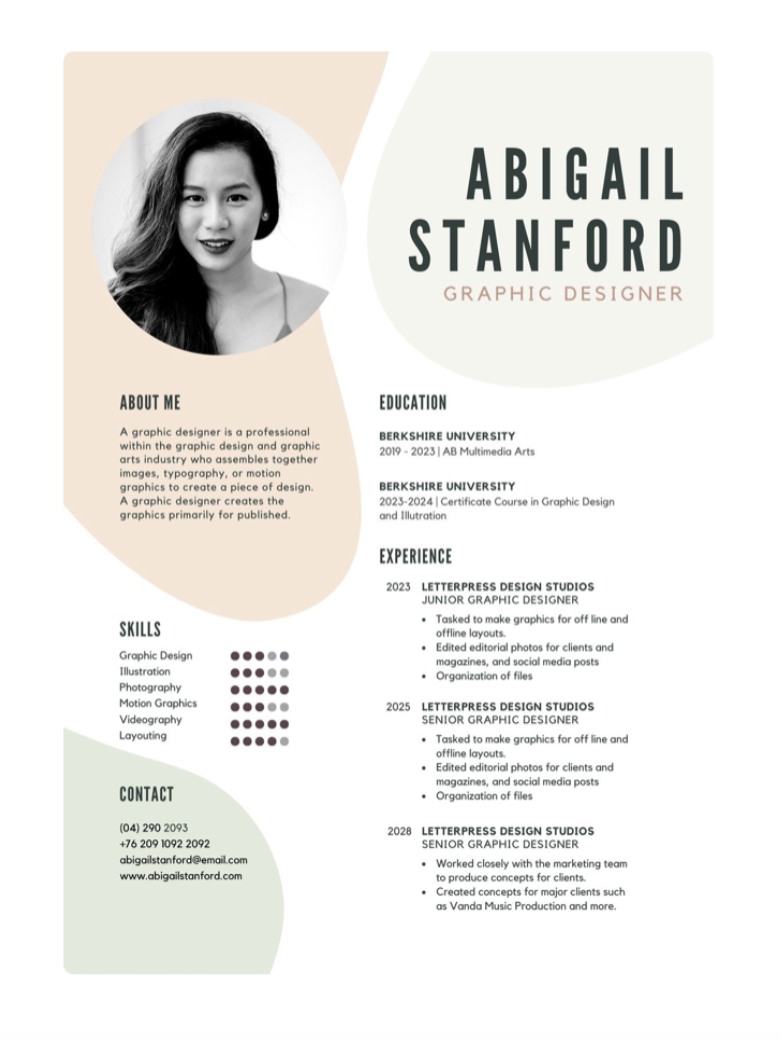 To really get noticed and make a killer first impression, there's no better creative resume template than the one pictured above. 
Aligning your headshot and name in the top-third of your resume makes an introduction to hiring teams whose first priority is getting to know you. Your virtual handshake will then lead them to your About Me statement, bulleted list of skills, and all your stellar experience.
It's well-designed and encourages readers to learn more about you, which definitely helps present yourself as a standout candidate.
9. Resume Or Website?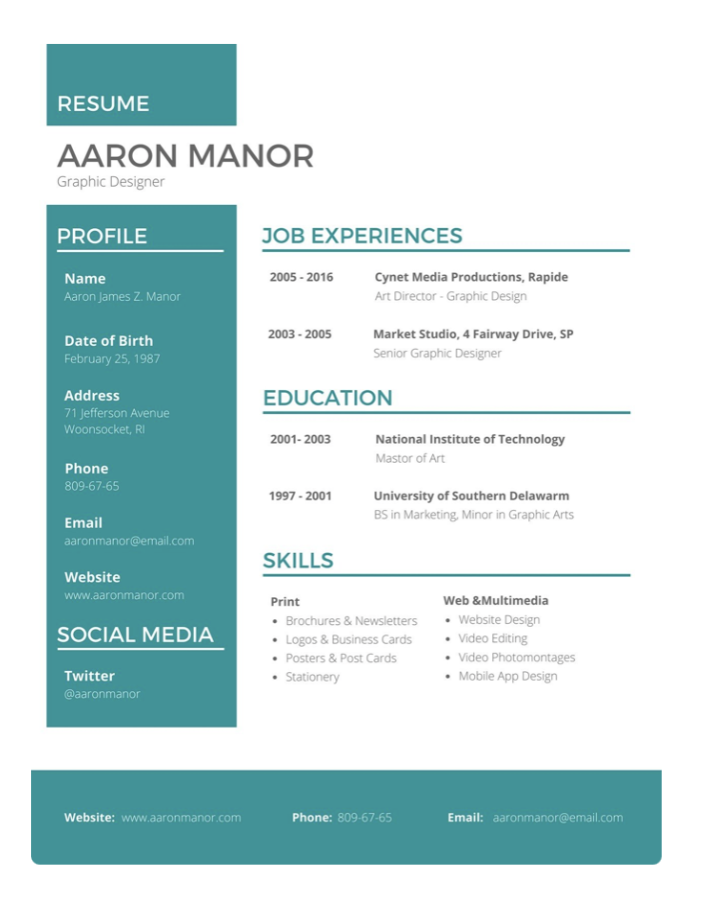 Reading this creative resume example almost feels like you're scrolling down a webpage, not a resume. And that's an awesome perk for web developer positions.
You can tuck away your personal details to the left in your "sidebar" and keep the focus on your education, experience, and skills in the big white section.
The bottom of this resume also has a "footer" that makes it easy for readers to see the best ways to contact you and take the next step (i.e., schedule you for an interview).
Bonus: Creating an online portfolio is one of the best ways to stand out in a crowded market. So if you choose this template, it can perform double-duty by making a fantastic standalone personal page.
10. Highlighter Happy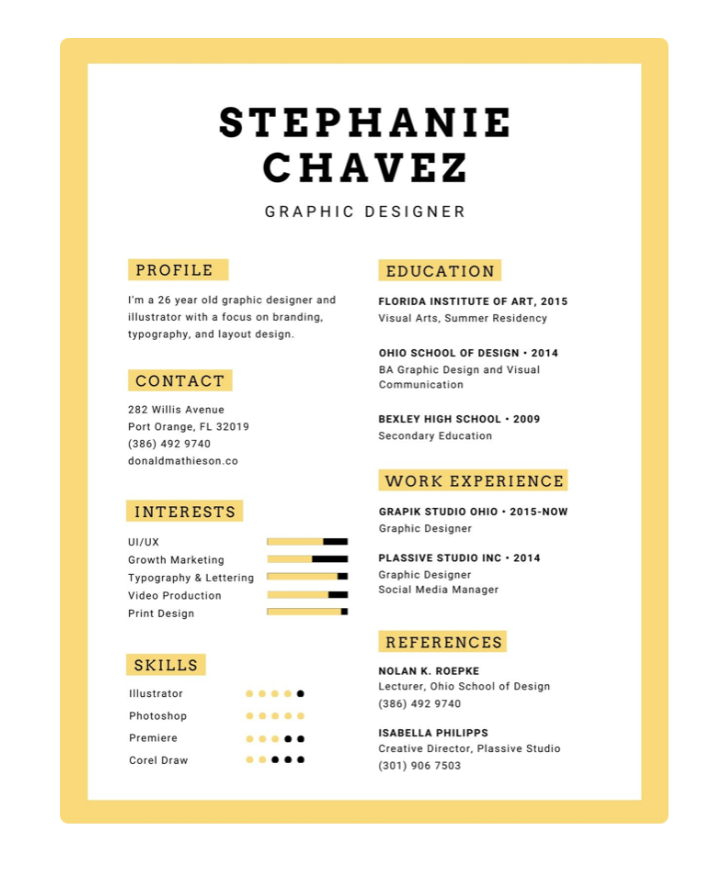 Another effective, creative resume example is this one with a thick yellow border and little yellow "highlights" to direct readers to each section.
The bright, happy border adds just enough of a creative touch to show off your personality without being distracting. It also subtly brings in and focuses readers on the meat of your resume. And the highlighted sections make it a breeze to jump around to the intel readers care about most. 
Anytime you make it easier for hiring teams to get to your essential details in less time, you'll boost your chances of landing in the interview pile.
11. Freeze Frame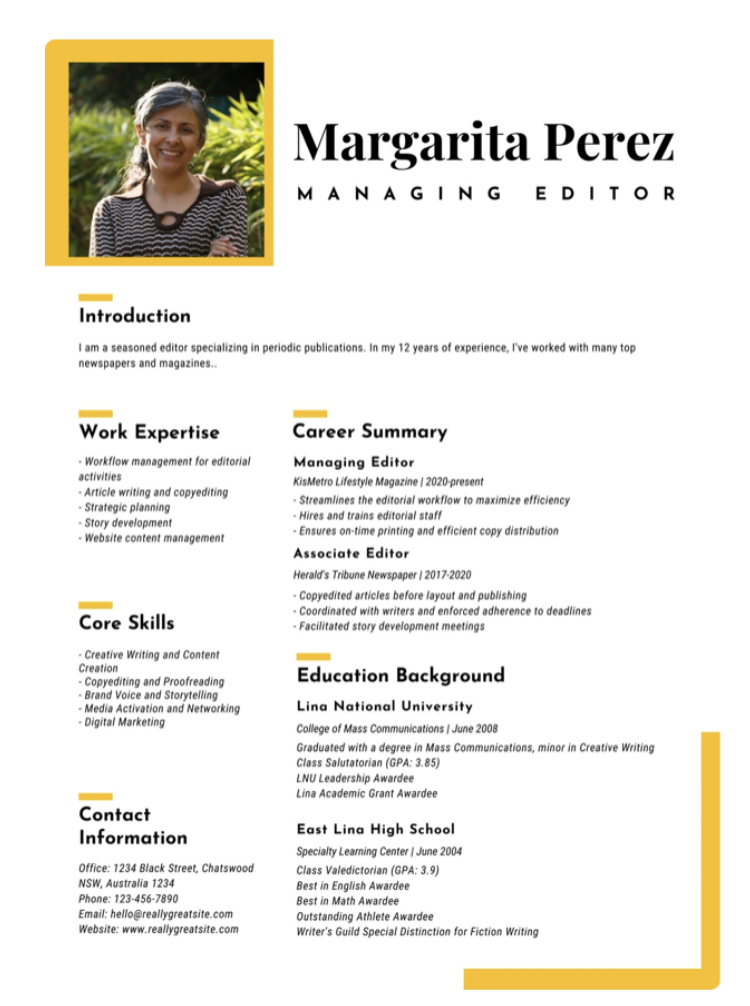 Using that standout yellow color again, this next resume adds warm, optimistic pops to help it stand out and command attention. It also has two sections — Work Expertise and Core Skills — where you can add in those vital job ad keywords to make the ATS and hiring teams happy. 
12. Fresh Out Of School or Looking for a Career Change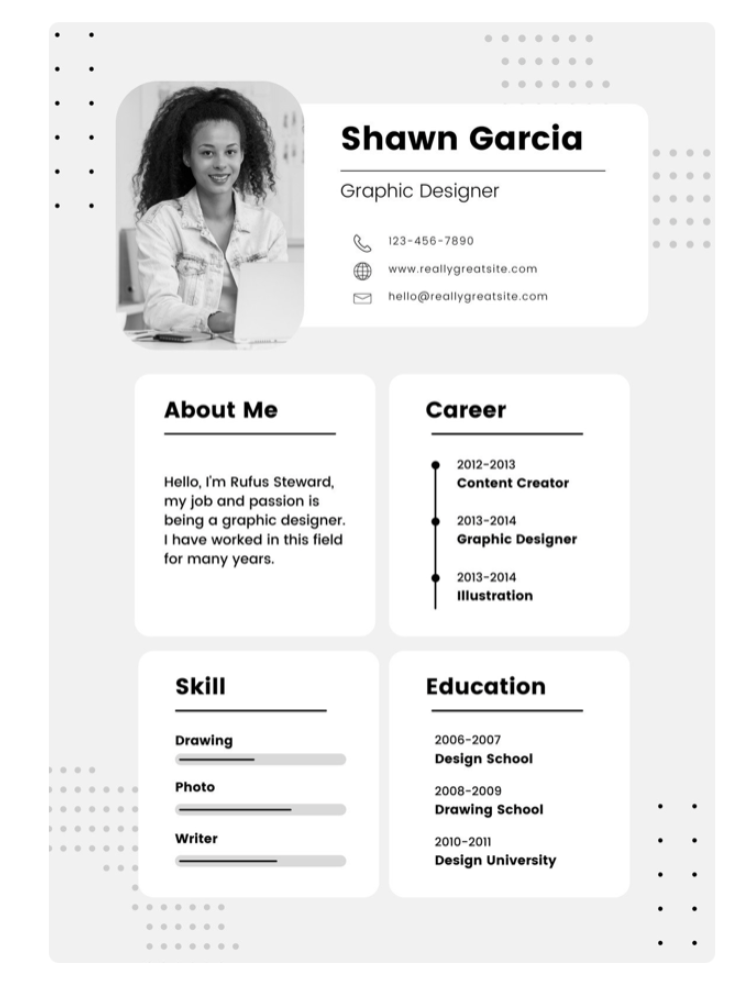 This next creative resume example may not work for everyone, but it's super beneficial for those with less career experience or those looking to change careers.
That's because the template emphasizes the candidate and their standout skills while focusing less on previous job duties and responsibilities.
If you're just getting out of school or want to enter a new industry, you may not want to fill your resume with job details that don't pertain to the position in which you're applying.
So you can use this example to show you have work experience and then utilize your cover letter to explain your specific situation and future career goals.
Similarly, if you've had the same role at several noteworthy companies, you can just list their names using this format without repeating your probably-identical job duties three or four times.
So despite this template seeming bare-bones, it provides tons of options that may work for you under the right conditions (i.e., you don't have a lot of experience to showcase).
Psst! Check out these 10 best entry-level digital marketing jobs next!
13. Dark Mode, Dark Horse
A dark horse is a candidate who seemingly comes out of nowhere and unexpectedly becomes the perfect fit for the job. This dark mode creative resume example may do just that for you.
While it may not be for everyone, similar to the last resume example, it certainly will help you get noticed in a good way. After all, how many black-background resumes do you think hiring managers see? Not many. 
So if this resume speaks to your aesthetic or one-of-a-kind personality, go for it!
Final Thoughts on Using These Creative Resume Examples
We hope you found a resume example (or two!) to use as inspiration when revamping your job search documents. Any one of these will help you leap out ahead of the (boring) stack.
And guess what? 
All the creative resume examples we shared today can be used as templates in Canva. We linked each resume template above, so you can just plug in your information and customize each option to suit your style.
Play around with some of these examples today, and you'll have a creative resume that gets noticed in no time!
Then make sure to check Fresh Gigs for the best tech and creative positions!