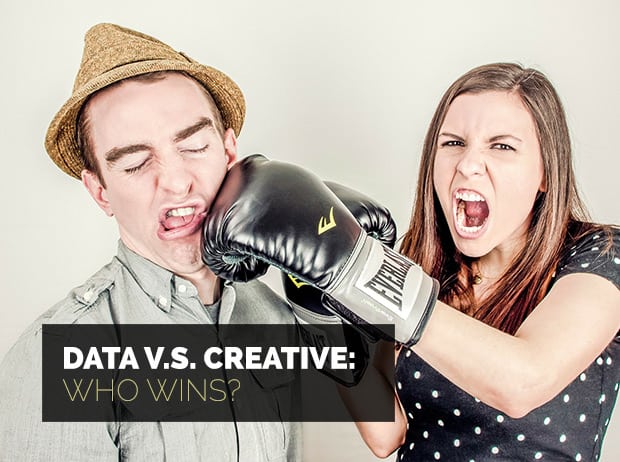 "Ugh, creatives," said every data-driven marketer ever, with an eye roll. "They're so difficult to work with."
I remember the first time a friend said that to me. I was working on a children's website at the time, producing games, making things out of paper mache, and doing the odd photo shoot with a Teletubby. Incredulous, I asked, "what's wrong with being creative?" only to realize that my friend was one of "those" marketers. The type that creative marketers complain about. The ones who want results, who track performance. The marketers who — gasp — want to see the data.
In recent years, technology has given the business marketer the tools they've been waiting for. Given the ability to test, measure, and optimize, data-driven marketers can turn their marketing departments into well-oiled machines. But the creative marketer has tremendous assets to bring to the table. These artists have ideas in spades, can create a brand identity, and often know the difference between a good headline and a bad one without going to the trouble of A/B testing.
The truth is, data v.s. creative doesn't have to be a fight. Power struggles in the office reduce productivity and make even the simplest decision feel like hard work. The two sides of the marketing coin both complement and depend on each other. The trick is knowing the tools to help you best work together.
Creative Marketers
Creative marketers share the philosophy that marketing is about engaging with customers on an emotional level. They are imaginative, innovative and often thrive in a quick-paced environment.
Creative marketers share the philosophy that marketing is about engaging with customers on an emotional level.
Tool Kit for Creatives:
Ask Open-Ended Questions. If something on it isn't clear, ask questions that won't prompt a yes or no answer to clarify what the stakeholder is looking for. The more you dig into the requests, the quicker you will be able to create work that satisfies both parties.
Challenge your assumptions. You may expect your audience to behave in a certain way, but you may be surprised with what the data shows you. Learn to partner with data-driven marketers to self-reflect on your creative work.
Explain your work. If you're being asked to do something by a strategic colleague that you know won't work, it's your job to tell them why. Earn the other side's respect, by not being a prima donna.
Typical Roles:
Creative Director
A Creative Director, also referred to as a Design Director, is the creative head of a design firm, design department or ad agency. Creative Director Job Description »
Art Director

An Art Director establishes the conceptual themes and style direction for all staff on a project, such as advertising, product packaging, print media, movies and more. Art Director Job Description »
Copywriter
A Copywriter is tasked with producing the written content that is combined with visual elements in promotional material. Copywriter Job Description »
Graphic Designer
The graphic designer is responsible for conceptualization and implementation of design of solutions that meet marketing strategies from concept to completion. Graphic Designer Job Description »
Data-Driven Marketers
Data-driven marketers strongly believe that the key to improving marketing accuracy and effectiveness is data. They want to know the return on investment from their last campaign and they want to spend time on reporting and analytics.
Data-driven marketers strongly believe that the key to improving marketing accuracy and effectiveness is data.
Tool Kit for Data Nerds:
Create a brief. Be clear about the audience you are targeting, your strategy, your messaging and how you are going to measure success. You don't need to micromanage, but you do need to be clear about why you are doing something.
Challenge your assumptions. Some days, you need to trust a creative's 'gut feel' on why something will work. As long as the creative work meets the strategic goals, it's okay to trust the process. We learn by doing.
Explain your work. If you want to try a new add set that focuses on women under the age of 30 wearing blue instead of yellow, explain the data that suggests it might perform better. Earn the creative's respect by not withholding information.
Typical Roles:
Digital Strategist
A Digital Strategist is responsible for successfully planning, analyzing, recommending and implementing multi-channel marketing strategies to meet marketing goals. Digital Strategist Job Description »
Brand Manager
Brand Managers are tasked with the success of brands or products. They overall plan, develop and direct marketing efforts to increase the value and performance of a specific brand, service or product. Brand Manager Job Description »
Account Director
An Account Director ensures that campaigns are on time, within budget and achieve the strategic brand objectives. Account Director Job Description »
Marketing Director
A Marketing Director develops and implements the strategic marketing plans for an organization. He or she is in charge of generating growth in company's sales by targeting the right customer base with a variety of marketing techniques. Marketing Director Job Description »
Every partnership has good and bad days, and chances are you've been the person complaining about the "difficult" marketer on your team. Putting ego aside allows us to accomplish far more than battling against each other. That said, if you've got a great story about bashing heads with your marketing nemesis — whether data nerd or creative — and how you fought to the death learned to work together, I'd love to hear it.