I just got back from attending the GROWtalks at the Vancouver Convention Centre and thought readers here might enjoy a summary of the highlights from the day. The event, organized by Dealmaker Media, brought some of the leading and up-and-coming entrepreneurs under one roof.

Each of the 10 entrepreneurs had 30-40mins to share a presentation on an area of their expertise…all with the focus of 'growing business'. It was interesting to see that 80 to 90% of the presenters came from the US. Plus, a large portion of the attendees flew or came in from places like San Fran, Portland, Calgary, Toronto and all over BC.
The day started off with Debbie Landa, organizer of the event, giving a welcome to the crowd. GROWtalks will be going to other cities and Debbie encouraged everyone to suggest where they want to see the next talk.
Next up was Rebecca Lovell, the head honcho over at Geekwire…who did a great job of MCing and introducing all of the speakers throughout the day.

Brant Cooper and Patrick Vlaskovits
Brant is the author of The Lean Entrepreneur and Patrick is the CMO of Drumbi.
Key points:
Get your product out to the market and let them decide.
No one is REALLY a visionary.
Launchrock = meaningless ?
Take the niche-to-win strategy.
Focus on small group of core users first.
Can use Net Promoter score as indication of when to move forward.
Showed a great case study on Appfog.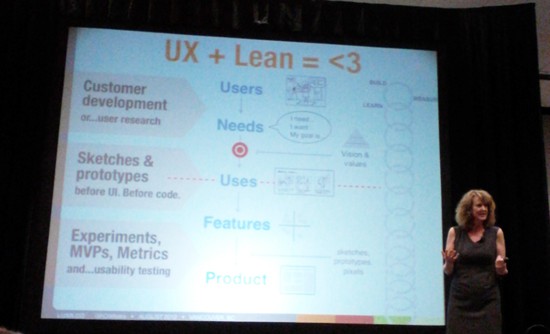 Kate Rutter
Kate is the Co-Founder at LUXr
Key points:
UX and UI are NOT the same!
Took the audience through a process and approach for UX development.
Your vision and values for your company are located between the needs and uses.
Don't jump to features, focus on people first.
Take a day to go through this process to answer the 'cold sweat questions'.
Note: Swearing during a presentation seems to make people laugh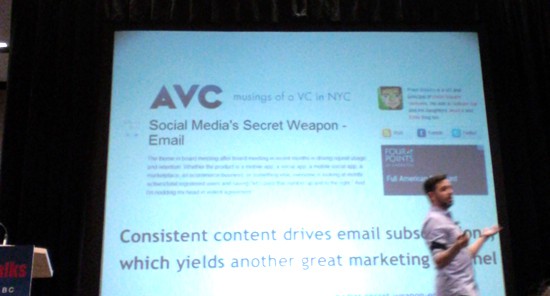 Rand Fishkin
Rand is the CEO of SEOMoz.
Key points:
Buying ads doesn't make sense too early in a business.
Look at Click Distribution.
Majority of clicks still go to organic side.
Look at Cost Acquisition.
Spend more money on developing content.
Content on Google+ gets indexed immediately.
Need to have a content strategy, not just a blog.
Be willing to fail.
Get creative with your content, not just blog posts.
Put all your pages on one domain.
Experiment with lots of different networks.
Make page titles more interesting.
Google reader, Followerwonk, find people on plus are all good resources.
Tweet when people are online.
Tie rel=author to your posts to have your photo in search results.
Retargeting can be a great strategy.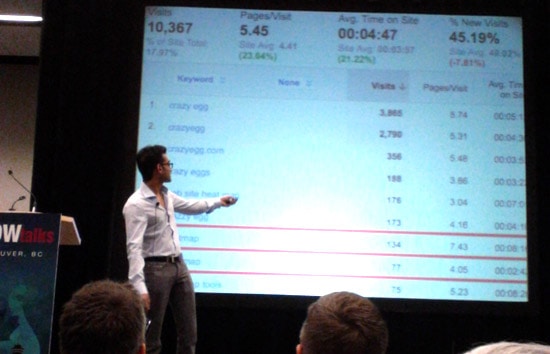 Neil Patel
Neil Patel blog sat Quicksprout.com and is the Co-founder at KissMetrics and Crazy Egg.
Key points:
Track people, not visitors. (IP logins, usernames)
People need time to buy. Marketing attribution.
Get targeted feedback, real visitors not first time visitors.
Who is engaging?
Use event tracking to find out what people are doing after X.
Real conversion rate and different levels of engagement.
Cancellations. Focus on keeping customers happy.
Figure out the lifetime value of customers.
Look at and understand your co-hort analysis.
Segment users and treat them differently.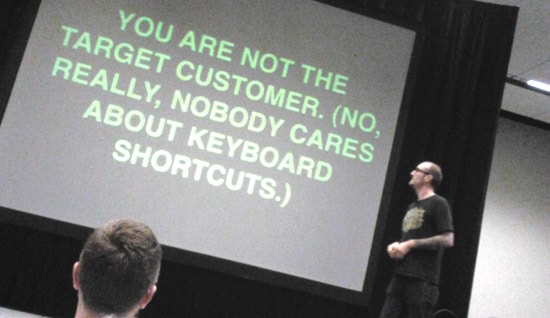 Joe Stump
Joe is the founder of Sprintly.
Key points:
Developers and Biz People need to work together, not against each other.
When working with developers you can choose only 2 of: quickly, cheaply, correctly.
Focus on the problem, not the solution.
Tighten your feedback loops.
Look at KPI for improvement and then figure out tests to validate that.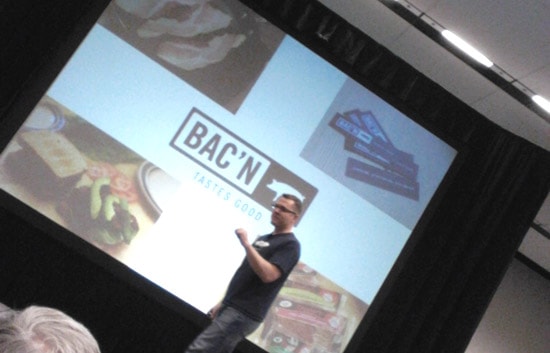 Scott Kveton
Scott is the CEO and co-founder at Urban Airship.
Scott launched an online bacon company in less than 30 days, and did it successfully.
Key points:
Lesson #1: Ship fast and see if there is a market for your product.
Lesson #2: Don't box yourself in with pricing. Think about it a lot.
Lesson #3: Customers will tell you what they want.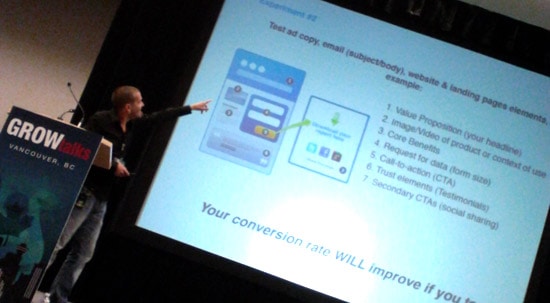 Rick Perreault
Rick is the CEO at Unbounce.
Key points
3 experiments everyone should run:
#1: Surveys – eg. different price customers want different things.
#2: A/B tests – always be testing and optimizing.
#3: Fake it – sometimes you can run tests for features you haven't even created yet. See if there is interest before building it.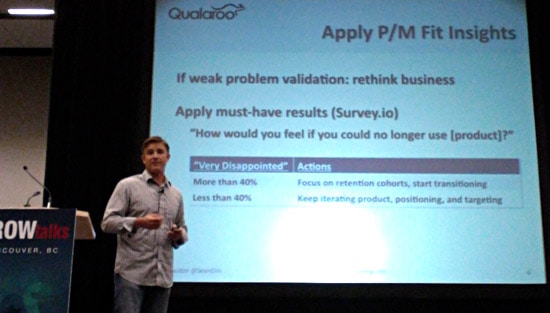 Sean Ellis
Sean is the CEO and Founder at Qualaroo.
Key points:
Companies spend too much time on advertising.
Have a clear objective -> insights into achieve -> apply insights to experiments.
Start with the problem.
Pre-MVP: Verify problem exists; understand importance; any current solutions? (ask these in the form of interviews with prospects).
Post-MVP: What % consider you must have; why a must have; who loves it? (ask these in the form of surveys to users)
In your surveys 40% or more of users should be 'very disappointed' if they couldn't use your product.
If the % is higher: focus on retention cohorts and transition
If lower: keep iterating, position and targeting.
Develop promise and hook.
Identify conversion issues.
Identify 'aha' moments.
Keep testing as you scale growth.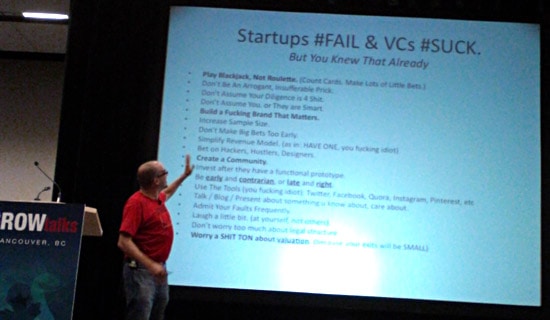 Dave McClure
Founder at 500 Startups.
Key points:
Dave had a unique talk because it spoke to both startups and VCs. Not sure how many VCs were in the crowd.
Discussed 'Software Eats The World'.
Checkout AngelList.
"VCs suck balls!"
Better to make small bets when investing.
"Both startups and VCs suck" but VCs are in a better position.
Due Diligence is pretty much a joke. Make a reference call instead.
Real due diligence is seeing how things go after 6/mo-2 years.
If you attended the event and find that I missed some good tips please add them in the comments or send an email and we'll be happy to add them to this post with attribution.