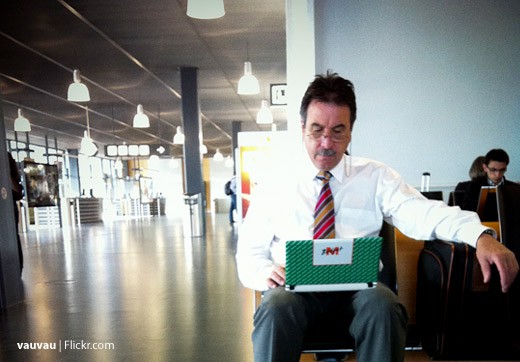 What do you do when faced with a job that crushes your soul? If you're Greg Smith, you resign from your position as Vice President at Goldman Sachs by writing a scathing op-ed against you former employer in the New York Times. And then publish a book about the ordeal. Freedom and residual income! Nice.
Less than 4 in 10 employees feel that senior leadership is doing a good job of communicating what is happening in their workplace.
For most of us, public resignation is not an option. Instead, we sit at our desks surfing the web at work for fun distractions, like blogs that poke fun of our hometown.
Maybe it's time to look for a new gig. But how do you make sure your next job is better than the one you have?
What to avoid
You're not alone. According to the Canada Human Resource Centre, 60 % of employees are not engaged, and an additional 15% are actively disengaged.
In The 7 Hidden Reason's Employees Leave: How to recognize the subtle signs and act before it's too late, author Leigh Branham identifies the root causes of worker disengagement:
The job or workplace was not as expected
The mismatch between job and person
Too little coaching and feedback
Too few growth and advancement opportunities
Feeling devalued and unrecognized
Stress from overwork and work-life imbalance
Loss of trust and confidence in senior leaders
Data from Canadian studies corroborates Branham's findings. For example, a recent national survey by the Canadian Management Centre and Ipsos Reid found that only 39 per cent of Canadians trust what their senior leaders say and that less than four in 10 feel that senior leadership is doing a good job of communicating what is happening in their workplace. In addition, a survey by OfficeTeam found that 38 per cent of professionals interviewed identified work/life balance as the top contributor to their job satisfaction. Opportunities to learn and grow came in second, with 20 per cent of the response.
What to do
Not surprisingly, creating and sustaining a highly engaged workforce was the primary requirement for being recognized in Aon Hewitt's annual list of Best Employers in Canada.
The ideal job or workplace is one that: fits with you as a person, fits your expectations, offers valuable coaching and feedback, growth and advancement opportunities, recognition, life-work balance and trustworthy senior leaders. Everyone wants to do great work.
Of course, there are no guarantees, because ultimately some aspects of work will be beyond your control.
The best thing to do is to focus on the aspects of work that you can control:
Know yourself so you can focus your efforts on finding a job or workplace that fits with who you are as a person.
Be proactive in finding out everything you can about the job or workplace you want before becoming fully immersed in working there, instead of falling into a job or taking whatever comes. Branham suggests testing the waters by working as an intern, temp or contractor before accepting the full-time job. At the very least, try to interview people who do what you want to do, or work where you want to work.
Remember, it's your job to find a job you'll love.