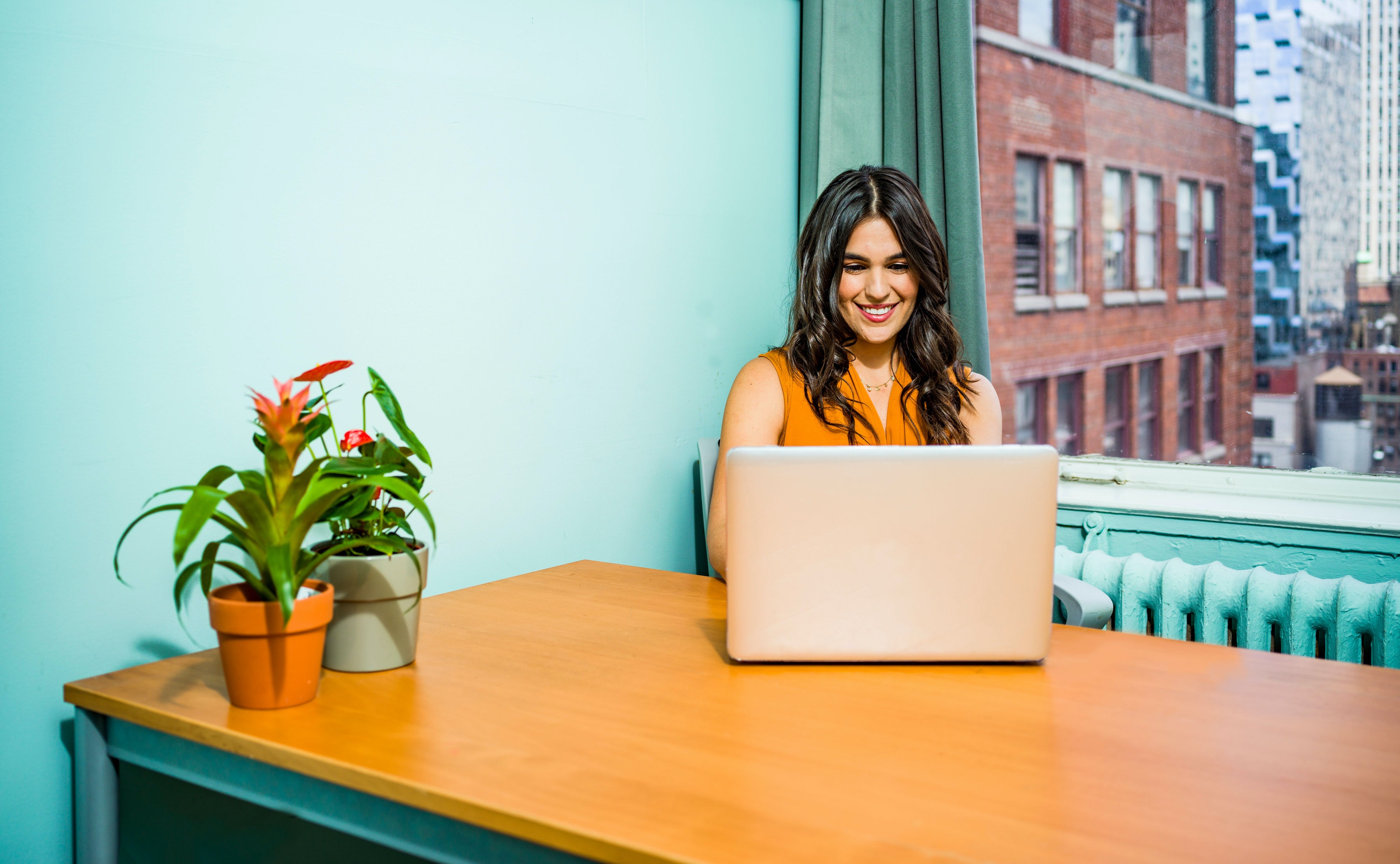 [Photo by Jopwell from Pexels]
If you're looking for social media jobs, you may be surprised to learn just how many different roles fall under this category.
From managing content calendars to working with paid ads, social media jobs cover many different skills, backgrounds, and career goals. 
So how do you know which ones you'll be perfect for? 
You could apply to any and all jobs in this category, though that will certainly eat up a large chunk of your time, energy, and resources. Or you could work smarter by narrowing down the right roles from those that may not be the best fit.
If this process sounds too overwhelming, don't worry. We got you.
Just run through this quick checklist of things to look for before you submit an application, and you'll save time and laser-focus your job search simultaneously.
6 Things to Look for When Applying for Social Media Jobs
The goal of every social media job ad is to get a ton of applicants excited and interested in the position. Then hiring teams can pick a handful of candidates to interview before selecting the perfect fit.
However, you'll need to break out your fine-toothed comb to scope out whether each position is really the best fit for your experience, personality, and career goals.
Here's our six-step process for acing this challenge:
1. Check Out the Social Media Tasks You'd Be Responsible For
Social media jobs include a wide range of responsibilities. That's why it's important to look past the job title and beeline straight to the job expectations. 
If you can't handle or want to deal with the day-to-day requirements, it's best to know sooner than later.
So would you be managing a company's social media channels? Planning the content calendar and deciding when posts go live? Running social media paid ads?
Or would you be responsible for creating the content itself while you work under a Social Media Director?
You can see why it's crucial to look closely and carefully at the job responsibilities, especially since they can vary so much.
As this social media job ad shows, sometimes you'll be required to do all these tasks (and more!):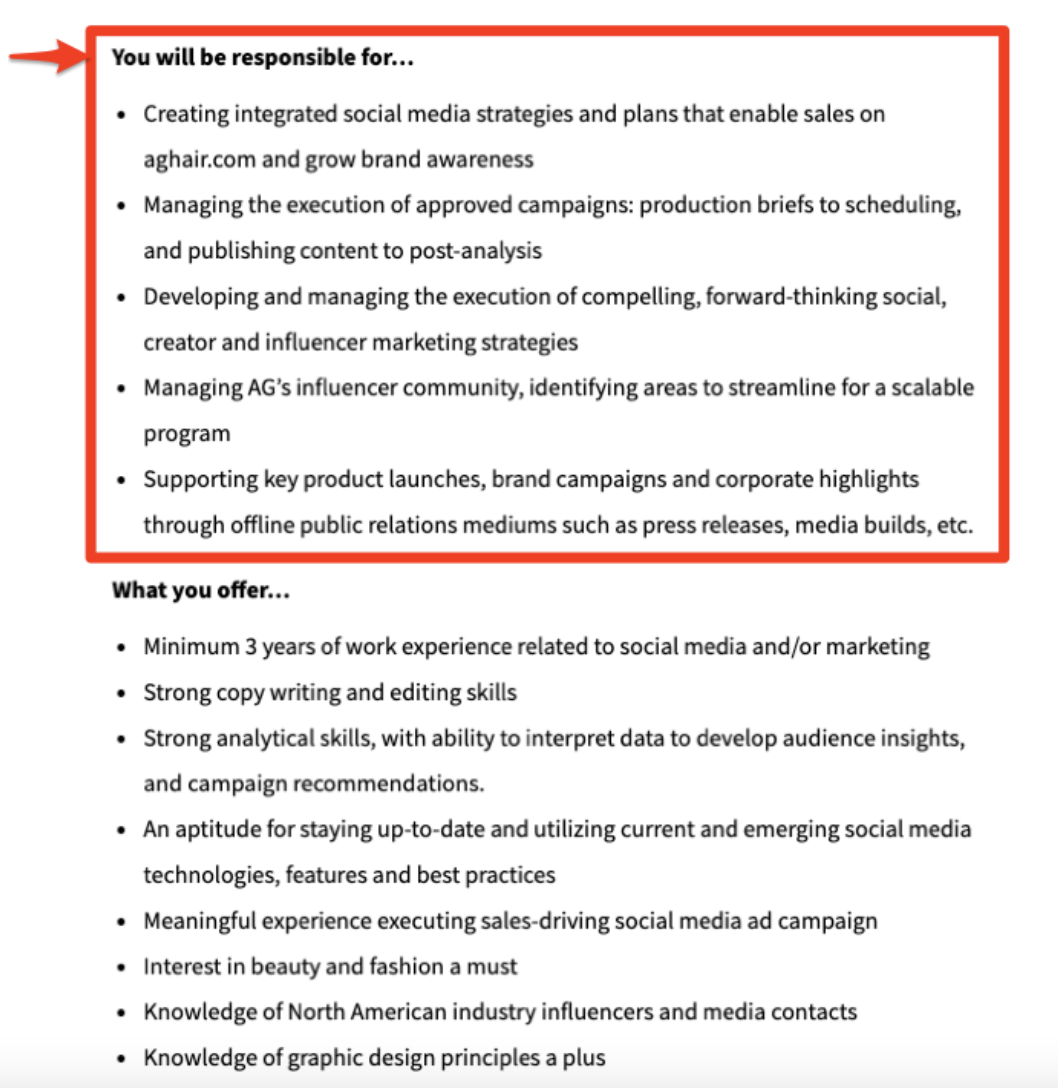 Here's a general idea of the most common social media responsibilities you may find on a job ad:
Content creation

Scheduling and management of posts

Paid advertising

Campaign strategies

Analytics

Promotion
Make a list of all the tasks you have experience with, those you'd like to learn more about, and those you really don't want to perform day in and day out. This will give you a better idea of which social media jobs you can cross off your list or pursue.
2. See Which Platforms You'll Be Expected to Know and Use
It's smart to check out all the social media platforms each company uses. Some companies may favor Twitter and Facebook, while others route most of their spending to Instagram, TikTok, or Snapchat.
You'll not only want to be familiar with each platform the company uses, but know the best practices for how to optimize your efforts. After all, you'll likely be responsible for growing these audiences and engaging with them.
It's typical for a social media job ad to list each platform the company favors. However, it's still a good idea to check their current social media presence anyway (more on this next!).
So add all the social media platforms you enjoy using and have success optimizing to your notes. Then see which job ads match your preferences and experience.
3. Scope Out Their Current Social Media Presence
Take a look at the company's social media channels to determine what they're doing right and what they could be doing better.
Do they need to post more often? Grow their follower list? Engage in a more meaningful way? 
What about the voice and tone of their posts? Is it authoritative and educational or topical and funny?
What types of content do they most often post? Blog articles, trending news stories, gifs and videos?
You'll need to consider all of these points and see if this is something you can handle doing more of or upgrading to improve their outreach.
So jot down some notes on what you find and use these points in your cover letter and interview. The company will be impressed that you took the time to do so, and they may be more open to hearing your great ideas and feedback.
4. Look at the Skills and Experience You'll Need to Do the Job Right
Once you know more about the role's responsibilities and the platforms you'll be working on, you'll want to dive deeper into what's expected within these.
Again, look to the job ad to see if you'll need to:
Plan out a content calendar and schedule posts in advance

Come up with engaging content and themes

Upload and post content with images, videos, links, etc.

Manage internal team members or give direction to remote teams

Respond to comments, send out surveys, or host contests

Create a system for content edits and refreshes

Solicit guest contributor opportunities 

Monetize posts
While some of these tasks require an eye for creative details, others may demand managerial experience, light coding skills, sales, and even marketing.
You'll need to look for details like these in the job ad to make sure you understand what's expected of someone in this position.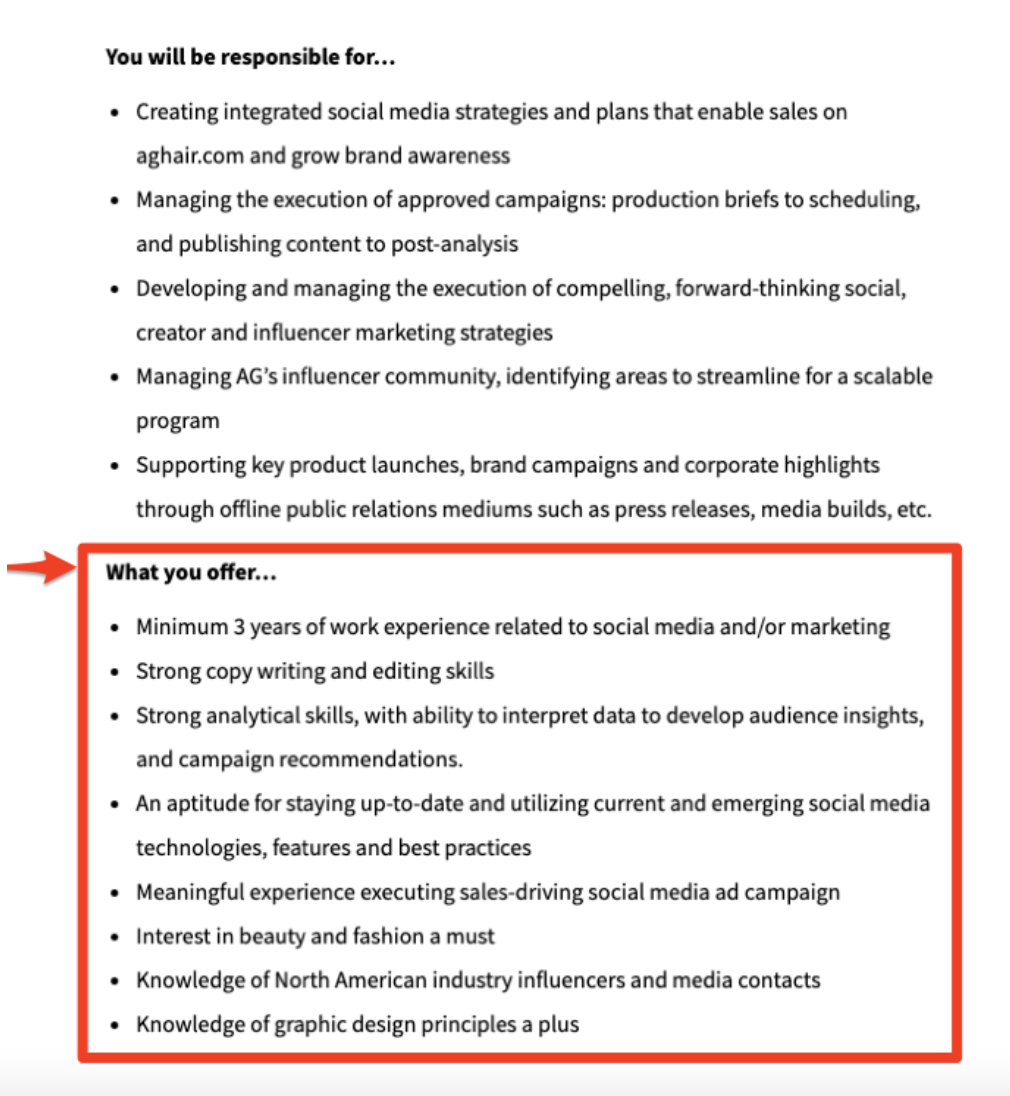 At this stage, you should also check how many years of experience the company is looking for. You'll want to make sure your experience and knowledge base matches this. And if it doesn't line up exactly, you'll need to go the extra mile to prove you have the skills they're in need of.
5. Check the Company's Culture and What They're About
A company's culture will have a huge impact on whether you feel included and aligned with the rest of your team for a purpose. 
So take a peek at the company's "About Us" or "Mission" to make sure it fits with your personality and your career goals.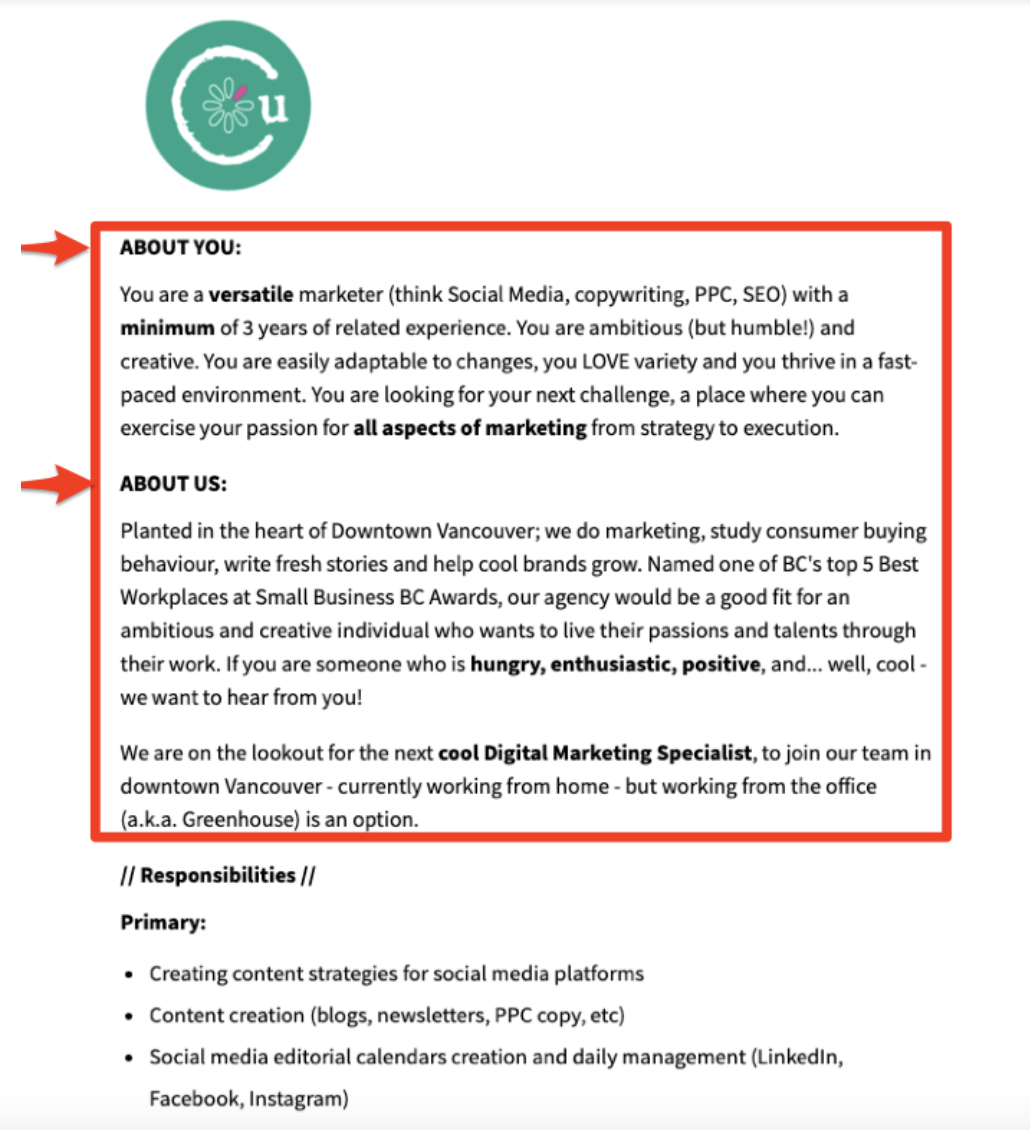 You should notice these details on the company's social media job ad, but if not, head over to their website to sleuth out these vital details.
If these are too formal/ informal for your personality, don't mesh with your values, or seem inauthentic, this company may not be the right fit despite checking all the other boxes uncovered earlier.
6. Note the Company's Location and Their Proposed Salary
Finally, look at the details of the job ad that aren't necessarily highlighted as much as the others, such as location and salary.
Is this company expecting their candidate to work in-house or remote?
If it's an in-house position, is it close to where you live? If not, can you easily commute? Would you be willing to relocate? What about if they can't help pay for relocation expenses?
Consider these details before you submit your resume.
Next comes the salary, additional compensation, and employee benefits offered. 
Many companies will leave off a salary completely or propose an ideal salary range in their job ads to create a more inclusive hiring process. If you see one listed, make sure it's in line with what you're looking to earn.
Even if it's not, don't get discouraged. You can always try to negotiate a higher salary when the time comes.
Don't forget to consider additional employee perks, such as a gym membership, childcare stipend, stock options, etc., when deciding on a fair compensation range for the position.
Add all these details to your notes, and you may see clear pros and cons to applying for each position sooner. 
Final Thoughts on What to Look for When Applying to Social Media Jobs
While it may be exciting to search for social media jobs, you still need to do your due diligence to make sure the jobs you're eyeing are the right fit.
A mismatch in company culture, job requirements, or compensation can throw a wrench into the spokes of your goals and career ideals.
So take this checklist along anytime you're job searching online to ensure promising positions and companies actually match up to what you're looking for, and you'll be in excellent shape.
Check out current openings for social media jobs in Canada by visiting this link now!