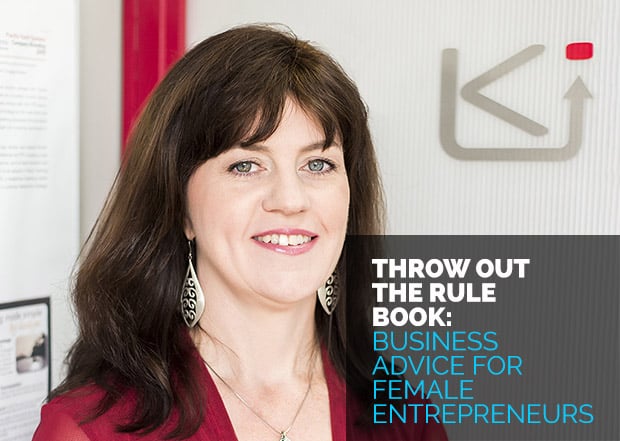 Paula Skaper is a marketer, a mentor, and a natural storyteller. A sought out speaker; she will be presenting at CIMC2017 about email marketing in a talk titled, "We've Been Watching You." In addition to being a serial entrepreneur, having built three successful businesses from her home base in Vancouver, she has recently launched Adizue — a business training company specialising in working with women entrepreneurs. Emma Bullen picked her brains on business advice for female entrepreneurs, email marketing, and speaking in public.
Emma Bullen: What does a typical day look like for you?
Paula Skaper: There's no such thing! Typically I'm up early in the morning and I'll check in and clean my inbox from all the clutter. I forward anything to the team that I need them to take care of. Then, I do the usual mom thing and take my kids to school. By 9.30 am, I'm in the office, and I'll be writing copy, reviewing analytics, or planning client strategy for a campaign. Our client base is quite varied, so I'm switching all the time. In the evenings, I go home and become a mom again. I usually check my email in the evening and I might go to a networking events, work on a presentation, or go out on date night. There's no typical day, which I love.

EB: You have a broad background of skills. What would you describe as your greatest strength and how have you put that to use in your career?
PS: I think the thing that's helped me the most has been my willingness to say yes and try something new. I love learning, and that has helped me immeasurably. I dive right into a topic. I'm not a course junkie; I tend to explore. I view the internet as my private library. I'll sign up for webinars, and I read copiously. Then, I'll talk about what I've learned with my team, and we'll test stuff out to see how it works.
EB: Tell me the story of how you came to went from opening your own video production company to mentoring female entrepreneurs.
PS: My husband and I started the company when my daughter was a toddler. I had returned to work after she was born, and the hours were insane. When the company changed direction, I saw it as a good opportunity to branch out on my own to start my own business and spend more time with my family. I talked to my husband about the decision and he said, "You'll be fine. What's for dinner?"
Fast forward a couple of years and my business was thriving, but I was absolutely exhausted. Looking back now, I've made choices during the 20 years I've been running my business, I made as a mom to accommodate my commitment to my family that most of my male colleagues probably wouldn't understand.
A few years ago, I felt frustrated that our company growth had started to plateau. So, I started interviewing my male competitors over lunch. We talked about what it was like to run an agency, and the challenges we faced. Even though my male peers had children the same age as my children, every one of them was out networking in the evening. They were very present in the business community and I wasn't. When I asked how they did it, each of them gave me the same answer, "I couldn't do it without my wife." I wanted a wife!
I started thinking about how I could show up differently in my business and in my life that would open up channels for me without compromising my values. I wasn't willing to give up my business, so I knew I needed to think about it differently. I decided to throw out the rule book. I started hiring differently, I operated my business differently. I began to make small changes that had a huge impact.
Once I'd changed my lifestyle, I began to hear from other women going through the same pain that I went through and I saw these wonderful, intelligent women closing their business and go back to full-time jobs. At the time, I was working with a coach, and I told her, "I have an idea for a book," and she told me it that my idea was bigger than that. So I started Adizue to help women throw the rulebook out and rewrite how they do business. That coach is now my business partner.

EB: Tell me about what the name Adizue means. Why did you choose it?

PS: When we started the business, we noticed that everyone was talking about finding balance. There's no such thing as balance. You cannot balance home and family life, it makes you feel like a failure. We need to find ways to live life in harmony. In a choir, there are different times where different singers take the lead — the tenor might have a solo, the alto might take the lead. Harmony looks different for everyone. We started to look for words that meant harmony. Adizue is an African name for girls and boys meaning to live in peace and harmony with yourself.' Our name is our mission.
Everything — my marriage, my business, everything got better when I stopped feeling like a victim and realised that as a woman, I had strength.

EB: Your website talks about being successful without feeling guilty. Why do you think so many female entrepreneurs feel so exhausted and overwhelmed?
PS: We are all pretending our lives are Facebook perfect and going home and crying. Being more open with each other about our weaknesses, can help us realize they're not weaknesses. We can come back to that sense of community and share the strategies we've learned. Lots of women feel like they're not allowed to be successful. And we need to stop that feeling of resentment towards men and start to carve out our own path. Everything — my marriage, my business, everything got better when I stopped feeling like a victim and realised that as a woman, I had strength.

EB: You're going to be talking about email marketing at CIMC, what do you hope to cover?
PS: We're peeking inside our marketing automation system, talking about data that's available to us, and how we use that to shape campaigns and inform content. Tools like MailChimp are great, but there's so much more information that you're not getting. We're going to be looking at the data that's available and how that can inform and improve the understanding of your customer. That's why the title of the talk is "We're Watching You" because we really are. I'll talk about how we use that information and how we make it available to the Sales team.

EB: If I could make just one improvement to my email marketing, what would that be?
PS: Segmentation. And being aggressive about it. Even if you're a small business with a small budget. There is so much batch and blast and there doesn't need to be. The one things that companies aren't doing, but should is personalized email marketing. You can do that with a simple system and benefit from it.

EB: What tools do you use for your own email marketing and why do you like them?
PS: It depends on what we're doing. We use Hubspot or SharpSpring for our full-fledged marketing automation. For our enterprise clients, where we're doing just email, we use a tool called Lyris HQ. We love them for two reasons — they have a very friendly user interface, and they have one of the most robust, fast architectures. Then we have SharpSpring Light that helps clients gather data, without committing to the full marketing automation system.
EB: Many people describe public speaking as their worst fear. When you present at a conference, what does your internal self-talk sound like?
PS: It's my favourite place to be. I'm in my element. I love it when I can connect with a crowd and take them on a journey. Networking is hard for me. It's terrifying to walk into a room and start a one-on-one conversation. Up in front of an audience, I get nerves, but once I step up onto the platform, I'm fine. I'm saying to myself, "you've done this before, get a grip." I find a few faces in the crowd to connect with and I have a great time.
EB: Tell us about CIMC this year. What are you looking forward to?
PS: It's a really strong line-up this year. I want to hear The Websites of the Future Panel with Andrew Dumont and Sam Mallikarjunan, How to Use Data to Create Winning Content with Joe Martin, The Client Agency/CMO Relationship Panel, and the Art of Storytelling with Matthew Luhn. I'll be there to the end, it's definitely worth sticking around to catch it all.
Hear Paula Skaper talk at CIMC2017, Western Canada's biggest marketing and PR conference. April 5-6, in picturesque Squamish, BC. Register for tickets using the code fresh200 to get $200 off!