Discover why Toronto is the fastest growing city for tech workers and top tech companies alike.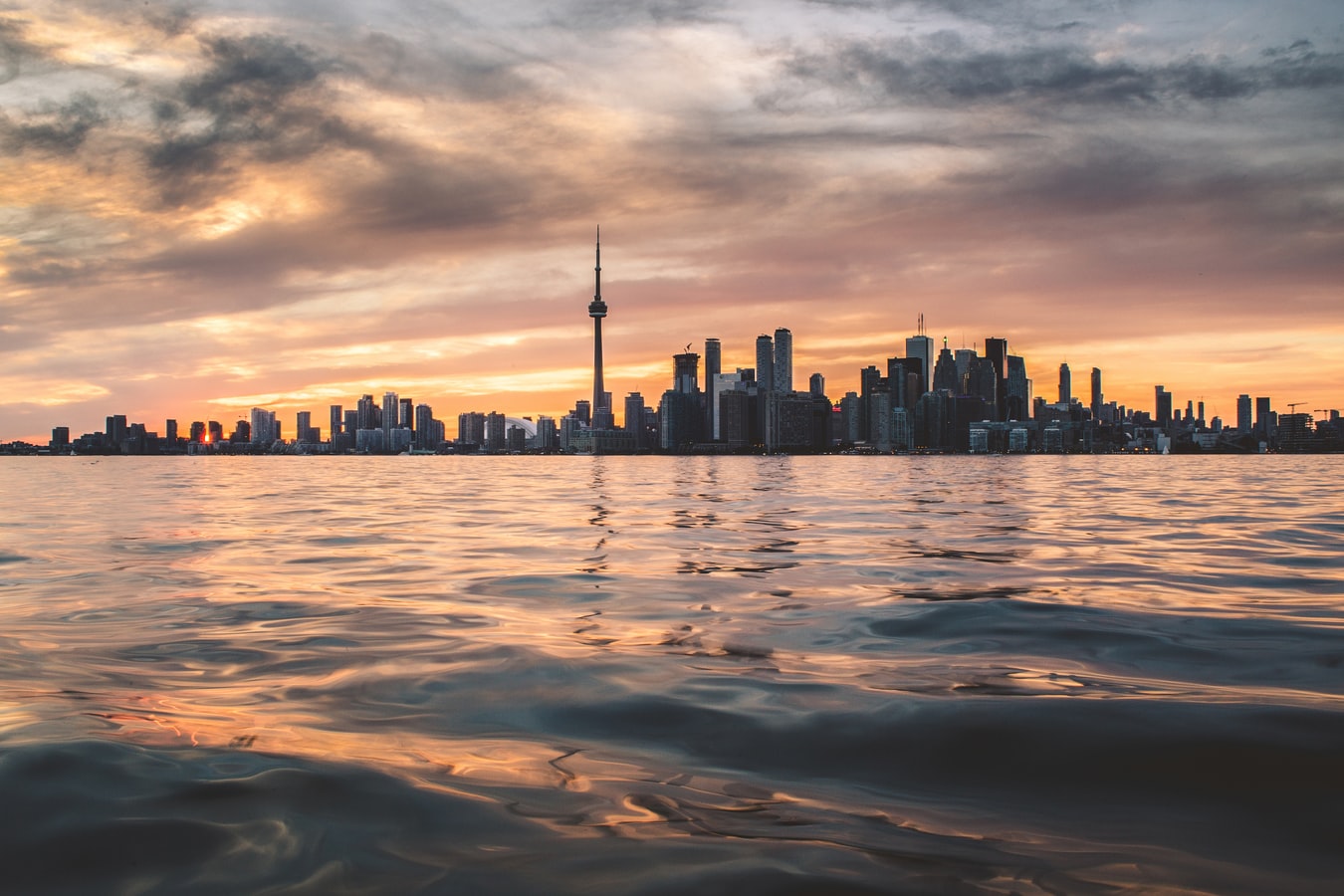 [Image Source]
Can you find awesome tech jobs in Toronto? 
Though often overshadowed by US cities like San Francisco and Seattle stealing the spotlight, Toronto has been flying under the radar and quickly becoming a top tech city for high-paying gigs.
With an overview of the top tech jobs in Toronto and their average salaries, you'll soon find out why tech workers and technology companies alike are flocking to this beautiful city.
And then you'll learn how to tap into the current job openings in Toronto for yourself.
But first, you may be wondering… 
Why Are the Top Tech Jobs in Toronto?
When you think about finding the top tech jobs, your first thought may be to check ads in cities like San Francisco, Austin, or New York.
While these cities are still very much on the tech map, one city has been outshining the others: Toronto.
#1. Tech Jobs Are Rapidly Growing in Toronto
The San Francisco Bay Area, Seattle, and New York were the top three tech cities according to research from a study conducted by CBRE in 2017[*].
However, fast forward to their 2018 report, and the figures change a bit.
Now, the San Francisco Bay area ranks first, Seattle still comes in second, but New York City dropped out of the third position — and fell to fifth[*].
This allowed Washington D.C. to jump up to third place.
Where did Toronto rank?
While it's not in the top three spots just yet, it did move from sixth to fourth position in just one year. So now Toronto is officially a top-five tech city.
And it showed much higher growth than other top cities.
Data reveals:
The San Francisco Bay Area went from 328,070 tech workers in 2017, to 329,200 in 2018 (a jump of just 1,130 workers).

Seattle grew from 136,910 tech employees in 2017, to 145,100 in 2018 (a bigger bump of 8,200 workers).

New York City jumped from 246,180 tech workers to 254, 300 during that same period — a gain of 8,120 workers despite slipping a few spots in the overall rankings.

Washington D.C. increased its tech base by 4,840 workers, up just a bit from 243,360 to 248,200.
While Seattle and New York City earned impressive jumps in their tech labor workforce, it's nothing compared to what happened in Toronto.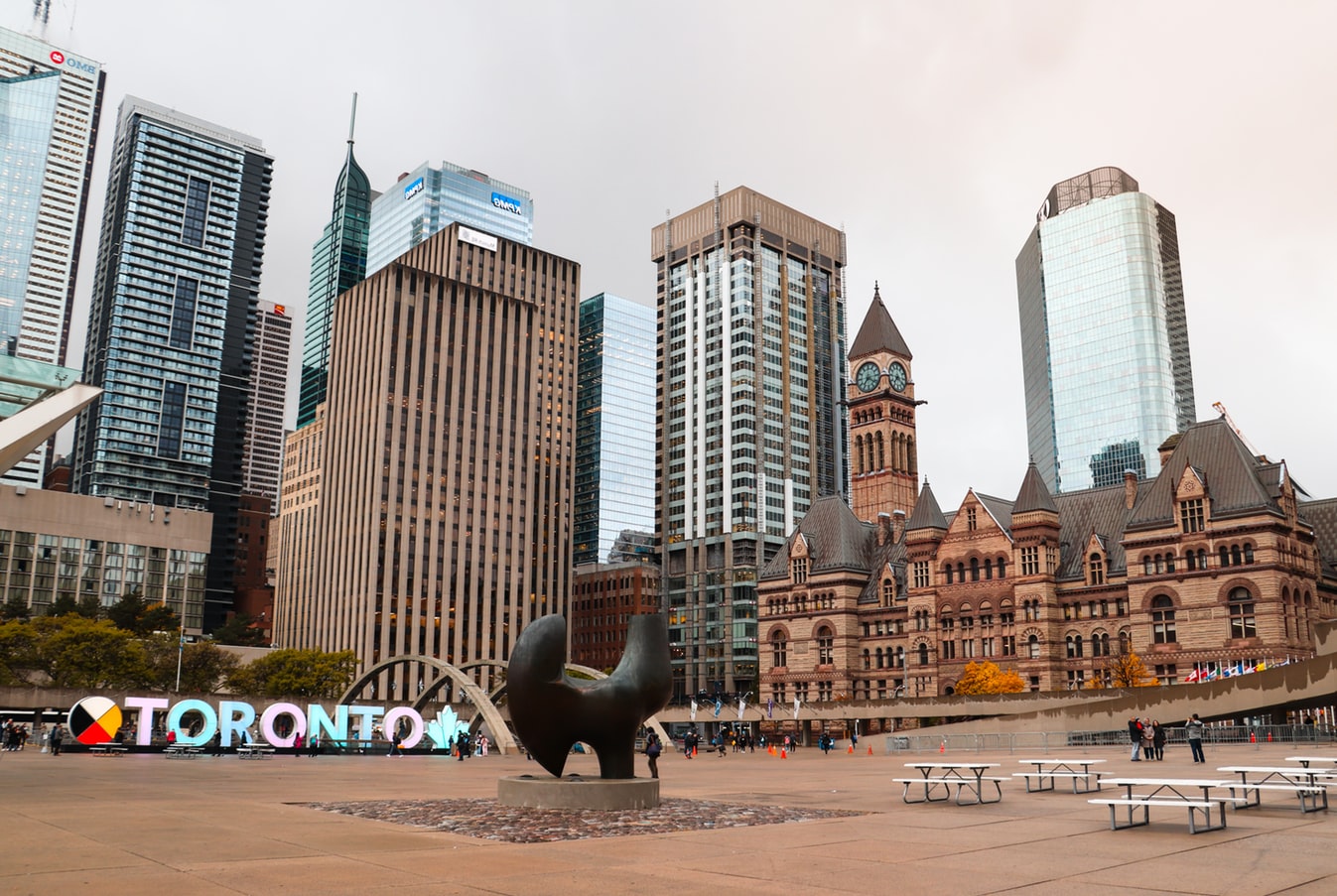 [Image Source]
During this same period, Toronto went from 212,500 tech workers to 241,400. That's a whopping increase of 28,900 employees, more than these top four cities combined.
And that may all be due to more tech companies moving in.
#2. Many Top Tech Companies Now Call Toronto Home
More tech companies than ever are seeing the appeal of headquartering their operations in Toronto. And this means they'll need talented employees like you to work there.
Here's just a small handful of great tech companies you'll find in Toronto[*][*]:
Shopify

Cisco

Oracle

Ecobee

Ubisoft

Top Hat

Limelight Networks

Hubba

Freshbooks

EventMobi
Besides the career opportunities, there's one more huge reason why you may want to consider finding your next tech job in Toronto:
#3. Pay Increases are On the Rise in Toronto
Compared to other popular tech cities, workers in Toronto, Boston, and Paris earned the highest salary increases in 2019: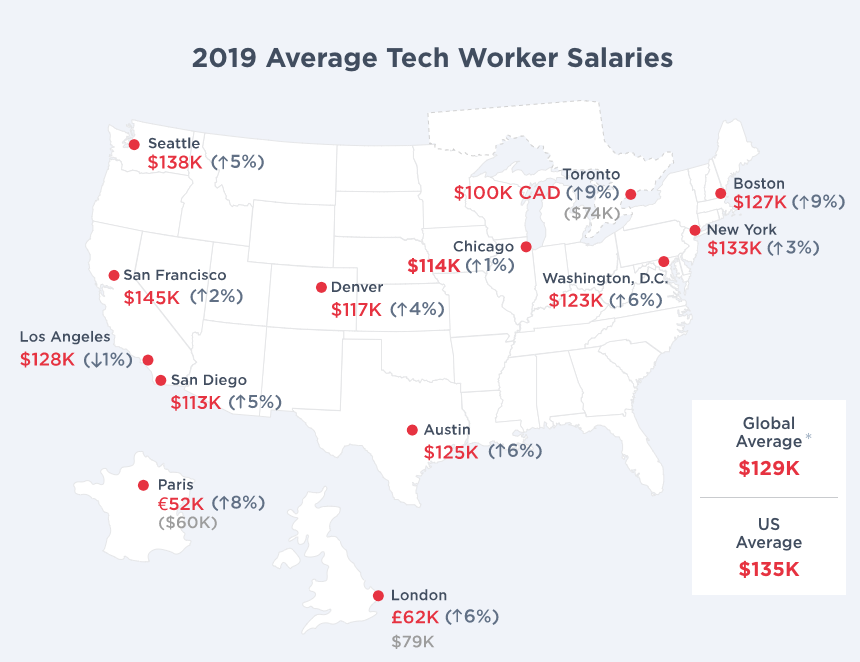 [Image Source]
Both Toronto and Boston tied for 9% increases in salaries; Paris came in close at 8%.
But that's not even the best part.
Since 2015, salaries for tech jobs in Toronto have been steadily climbing. They recently reached an average triple-digit earning potential: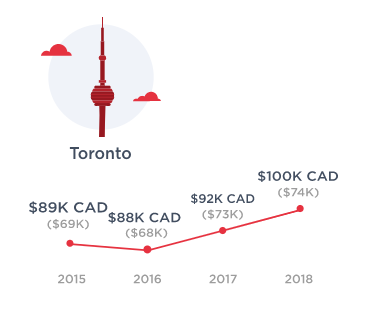 [Image Source]
So now that you're in the loop, you can see why skilled employees looking for the top tech jobs are headed to Toronto, right? 
But what types of tech jobs can you actually find in this hub of incredible opportunities?
The Top Tech Jobs in Toronto
Check out this list of the top tech jobs in Toronto, ranked by the highest to lowest average salary:
#1. Natural Language Processing Engineer
A recent report shows natural language processing engineers earn around $112,000 per year[*]. It's currently the top tech job in Toronto so your resume better stand out from the competition. 
#2. Machine Learning Engineer
Machine learning engineer salaries aren't too far off from the top. They earn about $108,000 per year[*].
#3. Blockchain Engineer
A hot and trending profession, blockchain engineers score an annual salary averaging $107,000[*].
#4. Software Engineer
Software engineers in Toronto may not make quite as much as employees in the first three tech jobs on this list. But their average salary of $85,000 per year is still attractive and competitive[*].
#5. Technology Specialist
Technology specialists earn a bit less than software engineers and come in around $76,113 per year[*].
#6. Mobile Applications Developer
Mobile application developers in Toronto can average $72,000 per year. However, above-average earners can reach as high as $93,000 annually, which puts them just under the top three tech job salaries[*].
#7. Systems Administrator
Systems administrators are in a similar position as mobile app developers. The average salary sits around $69,000 per year. But it has the potential to climb as high as $94,000 if candidates have superior experience and skills.
#8. Software Developer
Software developers also experience the same type of sliding salary potential. An average earner may score an annual salary of $68,478. Over time, this figure could grow exponentially to $91,000 per year[*].
Interested in any of these tech jobs?
How to Find the Top Tech Jobs in Toronto
Now that you've read about how fire Toronto is for tech jobs, you're probably wondering how to snag one of those lucrative positions.
So we've compiled a list of the top job opportunities currently open in the Toronto area.
Click that link and start browsing open positions at the best tech companies in and around the city. 
Spruce up your resume, submit your application, and you'll be one step closer to landing your next big tech opportunity and falling in love with Toronto for yourself.