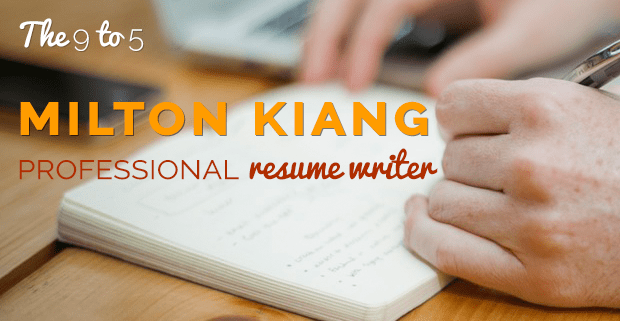 Welcome to The 9 To 5, our ongoing series where we highlight and interview creative professionals doing great things. Today's profile is on Milton Kiang, Professional Resume Writer.
It's also Resume Month! Check back every week to see how you can increase your chances of landing a job by improving your resume and cover letter—it's resumes, and resumes only, for this month!
1. How did you end up focusing on professional resume writing after attaining a law degree?
I practiced as a lawyer right after obtaining my law degree. I articled and practiced with a downtown Vancouver law firm, then traveled overseas to work in Hong Kong.
While in Hong Kong, I obtained qualifications as a Hong Kong solicitor, and worked at Intel's Asia legal department. After practicing for about 10 years, I wanted to do something different, so I became a legal recruiter (i.e. a headhunter) specializing in recruiting lawyers for in-house, law firm associate and partner positions.
As a legal recruiter, I reviewed and screened hundreds of resumes. Often times, I would correct or update applicant resumes. I knew what my clients (i.e. employers) were looking for in job candidates, but I found that many of the resumes did not emphasize the applicants' biggest selling points. So with the candidates' permission, I would make "tweaks" to their resumes. After making these adjustments, candidates would get calls from the employers for interviews. This is when I knew I had a knack for helping job candidates write good resumes.
2. Has your job changed over the past 10 years as people have started to get "creative" with their resumes (e.g. people creating videos, infographics, and websites to act in place of a resume)?
I wouldn't say that the job of being a resume writer has changed significantly. The basics still apply: you need to know what the employers are looking for; highlight your core skill sets; use clear, succinct language; ensure the margins are aligned and the document is tastefully formatted; and ensure there are no typos.
Of course, with LinkedIn being so popular, I am seeing a lot more job applicants who want to create a strong LinkedIn profile, as well as a professional resume.
Regarding your point about using videos or multimedia websites, I see this a lot with applicants in the creative field (e.g. advertising, art, music, design). It makes sense because multimedia and graphics do a better job of conveying the candidates' core skill sets.
For other types of non-artistic positions, I recommend using conventional media – that is, put your resume into a Word document or PDF, and refrain from using any colour or distracting graphics. Focus on clear layout, clean margins, good formatting.
I routinely get clients who write and tell me that they found a new job using my resume, and that brings me a great deal of satisfaction.
3. What's the best way for someone to begin a career as a professional resume writer?
Those interested in becoming a professional resume writer can take courses offered by resume writing associations or resume writing schools. There are books that you can borrow at the library that teach you how to write resumes. The rest of it is just practice.
Like many occupations, a lot about resume writing is "learn as you go." See if you can volunteer to work as a resume writer; community centres and immigrant service centres often hire volunteers who can help people write or improve their resumes. If your school or college has a career centre, ask them if you can volunteer to help students write their resumes. Bring along samples of resumes that you've written for friends or classmates.
4. How should people with very little work experience (e.g. university graduates) go about building a compelling cover letter and resume?
Many students approach me with this exact question, and what I tell them is this: "You've been in school for most of your life; you're not supposed to have a work history!"
That said, if graduates have any summer work experience or volunteer experience, I tell them to put that in their resume. Try to highlight some valuable skill sets that you've picked up from volunteering or summer jobs, and might be of use to your future employer. This can include things like customer service or dealing with customer enquiries, operating a cash register, filing or data entry, office administration, etc.
If you have co-op or practicum experience, then describe your job responsibilities and key learnings in specific detail. Highlight key skills that might be of use to a future employer.
5. What's the single biggest mistake you see most often when someone asks you to critique their resume?
I see resumes that over-emphasize a person's soft skills (e.g. ability to think creatively, being highly organized, being a strong team player, etc.). Don't get me wrong, these are valuable skills to have, but they are also skills that many people claim to have. I like to see resumes that emphasize a person's hard or technical skills; these are skills that not everyone may have.
These might include, for example, a person's ability to manage and train a team of 15 sales staff; the ability to operate cloud-based engineering software; expertise in full-cycle accounting practice. These are examples that I pulled out of the air, but you get the idea: these are skills that are marketable and are potentially what your employer is looking for. Emphasize your skills in those areas.
6. Do you suggest people apply to a job posting with a resume in Word format or PDF?
Usually, the employer will specify which format it prefers. If the employer hasn't specified its choice, I would choose PDF. With a PDF document, it can't be altered, and its format and margins can't be distorted by the reader's software application.
7. What's the biggest challenge of being a professional resume writer?
This is a profession that isn't regulated and the barriers to entry are low. Hence, many people can post an online ad and claim to be a "professional resume writer". So you get some competition from these people who offer to write a resume for between $40 to $60 and who may or may not have the skill sets to write a decent resume.
On the flipside, the clients I look for are professionals or executives who are willing spend the money to get a professionally-written resume, saving themselves hours to compose, write and format a resume, and don't have the expertise in writing a first-class resume.
8. What's the best part of your job?
One of the first things I ask when I meet people at a party or at a gathering is, what they do for work. In this profession, I get to learn about what people do, what they enjoy about it, how they got into the profession.
I also enjoy writing, and I do plenty of that in my job. Finally, I routinely get clients who write and tell me that they found a new job using my resume, and that brings me a great deal of satisfaction.