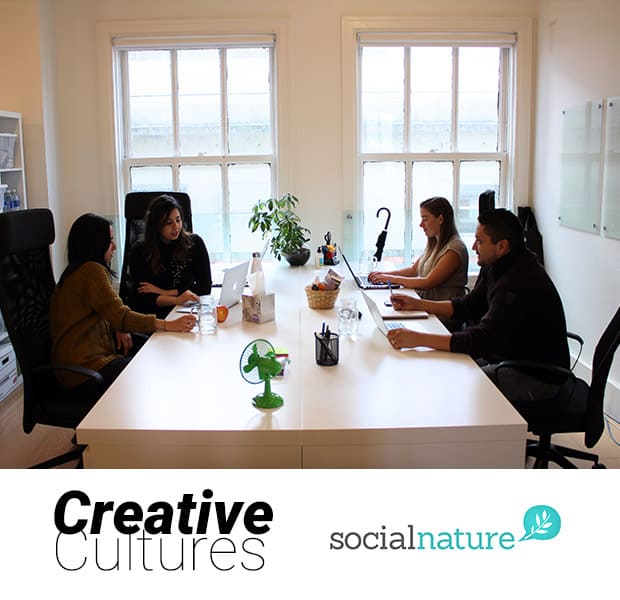 In our Creative Cultures series, correspondent Crystal Henrickson spends a day inside companies to learn how hiring, onboarding, and company culture play a role in employee happiness. From startups to design firms and all in-between, we're pulling back the curtain on what it's like to work in inventive and productive environments. Today she's with the healthy folks at Social Nature.
At Social Nature, building a high-performing, profitable business doesn't have to come at the expense of creating positive impact.
Launched in 2014, Founder and CEO Annalea Krebs (who's behind the now-acquired daily deals site, ethicalDeals) envisioned a company that would help millions make greener choices. Since then, Social Nature has built a loyal community of over 200,000 'everyday influencers' who try natural, green products in exchange for honest, authentic reviews shared on social media.
The company's mantras — profit with purpose — sums up perfectly a team culture that blends the growth and results-oriented mindset of a tech business, and the values of a mission-based social enterprise, without compromising one for the other.
"This is an environment where you can make a difference through your work, have a big impact on the business, and grow as an individual," says Annalea. The company, which currently has a ratio of 77% women, plans to double their team by the end of the year.
Making Time to Reflect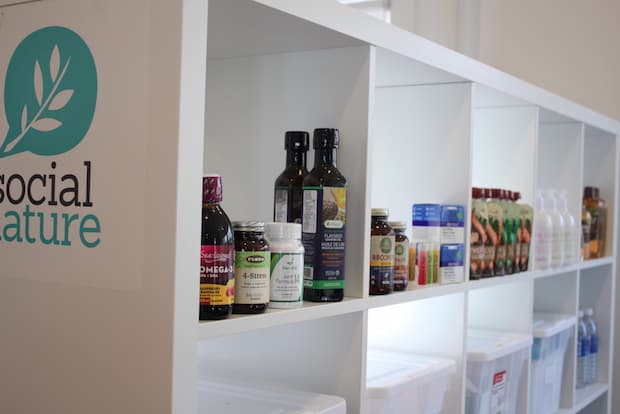 When I drop by to visit their office hugging the edge of Vancouver's Gastown, I am momentarily distracted by the well-stocked shelves of enticing product samples, which include plant-based soaps, natural supplements, and organic snacks. Along with an endless supply of healthy treats, employees also enjoy fair trade coffee and tea, not to mention team happy hours that serve up local beers as well as wine.
It's the end of the week, and the team gathers for a roundtable of 'wins, learnings and gratitudes' of the past week. As each team member shares achievements and challenges, I am struck by their candor, openness, and humility. For CTO, Mike Wilson, the regular practice of mindfulness and reflection keeps the high-performing team on the rails, allowing everyone to see how their input can create direct impact.
"Everyone takes part in setting goals, looking at the big picture and reflecting on what we've done. That takes the form of weekly meetings, but also regular company-wide exercises when we come together as a group to celebrate the things we've accomplished, realign our values and look ahead to the coming months."
High Performing, High Impact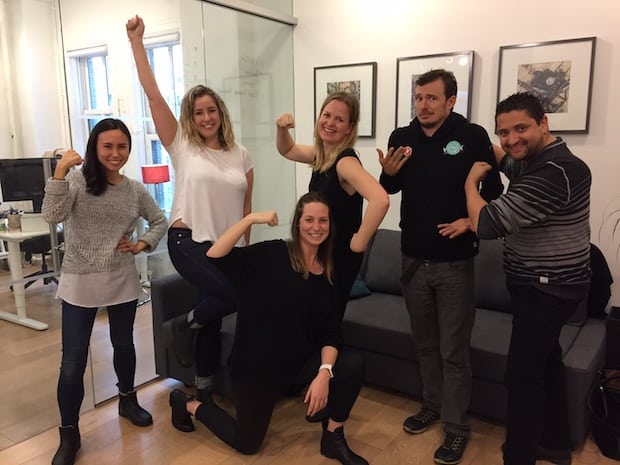 As Social Nature hits a critical high-growth stage, employees are encouraged to think big and embrace an entrepreneurial mindset. Team members remark on learning more in a year at Social Nature than they could in five years at another company. For those who thrive in creative and dynamic environments, it's the perfect opportunity to confront new challenges continuously and learn from them.
"An ideal candidate needs to understand that we move fast and have a short path from decision making to execution, so it's not a good environment for someone who wants normalcy or a set of tasks handed to them to complete," adds Mike.
Employees are encouraged to take advantage of paid professional development opportunities, from workshops to conferences.
"As a fresh growing team, you are consistently on your toes," shares Account Director, Richenda Smith. "With a sales focus, I am always testing and changing my approach, messaging and endlessly researching. I love it."
"This is an environment where you can make a difference through your work, have a big impact on the business, and grow as an individual."
Motivated and Open-Minded
So what can you expect from Social Nature's hiring process?
On top of having solid skills and experience, the right candidate should be a team player who is "intrinsically motivated to do good." The team is highly involved in the process and take great care in making sure that there's a good cultural fit with anyone new.
"I focus on understanding what the person will need to accomplish in the position and then use the interview process to find out if they have what it takes to be successful, including skills, experience and their level of motivation. I also let candidates interview me. I'm open and honest about what it's going to be like to work for Social Nature and like to give a realistic preview of the role and work environment," says Reem Ayyash, Director of Campaign Operations.
Candidates are often invited to join the group on their lively Friday socials to get to know the team over beers and organic snacks.
Think you're ready to join Social Nature's mission to inspire people to #trynatural? Currently, they are looking to fill several client service, account executive and software engineering positions. Apply here.