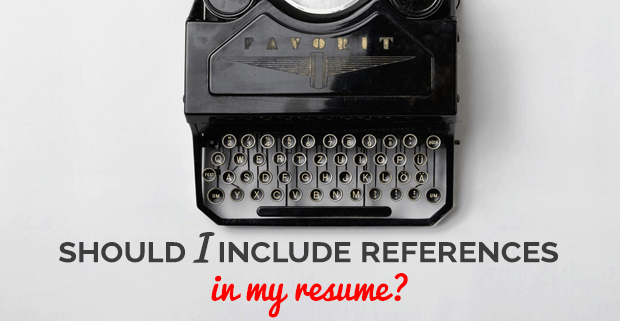 It's Resume Month! Check back every week to see how you can increase your chances of landing a job by improving your resume and cover letter—it's resumes, and resumes only, for this month!
If your job interview goes well and your prospective employer wants to make you a job offer, he or she will, without exceptions, ask you for references. So the question is, "should I list out the names of my references in my resume?" I tell my clients that it's not necessary to list your referees for two reasons:
First, if you state your referees in your resume, you don't know when the employer will call them up. Listing your references implicitly gives permission to the employer to call them up at any stage during the interview process. As a courtesy, employers usually let applicants know before they call references, but they don't always, or they forget to tell applicants. Ideally, you want to know when the employer calls your reference, and which referee it intends to call.
Remember: if an employer requires references, it will simply ask you for them. As you respond to an employer's request for references, you can also ask them when they plan to call them up. This is so that you can give your references a "heads up" as to when they can expect a call from the employer. You should also let your references know what job you've applied for, what the job role entails, and any other pertinent information that your reference should know about.
Listing your references implicitly gives permission to the employer to call them up at any stage during the interview process.
Second, when an employer calls you up for reference information, you can decide at the point, which one(s) of your references might best be able to speak about your work track record. For example, if you've applied for a job where people supervisory skills are essential, then you should choose a referee who can best speak about your successes in that area. Similarly, if a job calls for heavy project management experience, then you should call up a reference that can talk about your qualifications in that area. Leaving out your references gives you more flexibility about who you can choose to talk about your skills sets in a given area.
The only time when I counsel clients to list their references out is when the referee is a public figure (e.g. a civic leader or public official) or is renown in your industry. For example, your resume would gain instant prestige if you listed out a sitting judge (if applying for a legal position), a VP or senior executive of a large bank (if applying for a finance position), or a head of an NGO (if applying for a position with a non-profit).
While we're on the subject of references, you might ask if it's necessary to state that old phrase: "References are available upon request." As mentioned above, your employer will ask you for references anyway, so putting in that statement is considered a moot point. If your resume is cramped for space, then I say leave it out.
---

 Milton Kiang (B.A., LL.B.) is a professional resume writer and helps jobs applicants create powerful resumes and persuasive cover letters at his company www.resumeprofessional.net. He gives job searchers the advantage they need to stand above the crowd, and to land job interviews. Milton holds a law degree, and is a former executive recruiter with Major, Lindsey & Africa, the largest legal executive search firm in the world. He was a contributing writer for the "Business & Careers" section of The Lawyers Weekly, a national newspaper for Canadian lawyers.