I love looking through the online galleries of the "coolest," "best," and "most innovative" offices and workspaces in the world. It's like visiting an IKEA showroom on steroids, and a great way to find inspirational ideas for my humble home office.
Contemporary office design often reflects the needs and values of society at large. When we spend more or less half of our waking hours hard at work, it only makes sense to be in workspaces that are both functional and conducive to personal well-being.
After combing through the design galleries and recent research on effective workspaces, three common themes were evident in the coolest, best, and most innovative office spaces: productivity, purpose and play. These themes will likely continue to form the essence of design in new office products and spaces throughout the rest of 2013.
In an effort to boost collaboration, more and more employers have replaced old cubicles and corner offices with open office floor plans.
Productivity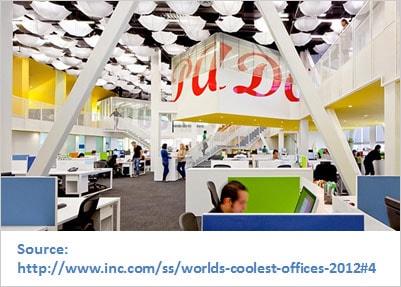 The bottom line of any business is business, which is why employers spend a lot of time thinking about employee engagement, retention, creativity and efficiency. In an effort to boost collaboration, more and more employers have replaced old cubicles and corner offices with open office floor plans.
When interviewed by Bizjournals.com, interior designer Carrie Malatesta said that the shift away from the hierarchy of corner offices and cubicles towards offices with low walls, no walls, or glass walls, "is about transparency."
The open concept office design is a reflection of modern social values. Consumers demand transparency, and businesses have incorporated transparency into their company culture.
A sense of purpose beyond productivity is evident in the best, coolest and most innovative office designs.
AdBuzz.com's video tours of Dare Vancouver and Toronto's Nurun show what typical open concept offices look like.
Will the open concept office trend continue? While there is no desire to go back to ugly grey cubicles, early adopters of the open design have found that it does not work for every business. Employees say that the arrangement encourages distraction, and argue that their well-being and productivity would actually improve in workspaces that are both quiet and collaborative. Therefore, we can expect new office designs to incorporate this feedback and add back elements of private, quiet workspaces without bringing back the dreaded cubicle.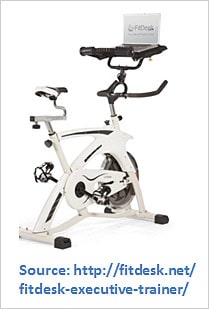 A new trend in office products aimed at improving employee well-being is the desk redefined. With obesity rates on the rise, and scientific studies that tell us what we already know—that sitting for long periods is bad for us— the desk of the future may be an improved design of the FitDesk laptop exercise bike or TrekDesk Treadmill Desk. Currently these desks look like home hack jobs, but with a sleeker design and the right price point, companies might be more inclined to purchase these new products, thereby helping to shrink their employees' bottoms while boosting their own bottom line. For now, standing desks are the more economical alternative.
Purpose
A sense of purpose beyond productivity is evident in the best, coolest and most innovative office designs. This purpose is values-based and includes consideration of employee health by incorporating lots of natural light, as well as a consideration of eco-friendly, sustainable design and corporate social responsibility. For example, the Government of Canada has a Workplace 2.0 initiative to create workspaces that are "smarter, greener and healthier" for public servants.
M Mosser Associates, a global firm specializing in the creative workplace environments, whose long client list includes Ogilvy & Mather, DDB Worldwide, Leo Burnett, Edelman Public Relations, and companies across diverse industries such as pharmaceutical, finance, and technology, put together a report identifying the business case for an integrated sustainable design. According to their report, sustainable design offers social, economic and environmental benefits:
Sustainably designed, healthy and well-planned offices can help:
Achieve energy savings of between 20% and 40%
Raise employee productivity and health levels, reduce absenteeism and increase attendance
Make it easier for employers to recruit and retain the talented individuals they need to drive their businesses forward
Enhance companies' CSR image within local communities
In certain countries, qualify organizations for financial grants
And, of course, their office designs are beautiful.
Play
The third theme evident in companies with the coolest workplace design is the concept of play. Of course, play has always been a mainstay in the interior design of creative agencies, but the trend has since moved into start-up and high-tech companies, such as Google's Toronto office.
With the next generation of workers valuing work and play as an integral unit of life, we can expect elements of play to be incorporated into even the most conservative of work environments.
The Xerox Enterprise Business Group reports that:
Individual freedom is non-negotiable for the next generation of workers who want and expect a seamless blend work and life — "My work and life are the same. I am the workplace." The demands that work must be fun, joyful, are blended as part of the fabric of life and a shared purpose.
The Xerox group predicts that:
Connected communities, whether working miles apart or around the globe, will lift from the "gaming" industry toolbox, where community scorecards, dashboards, and playing fields become commonplace ways to share work progress, provide the social context and meaning around individual work and see a direct impact and results of their work on the goals of the organization.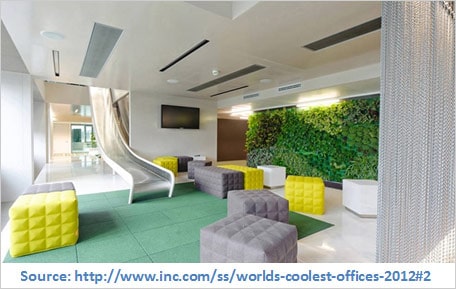 Incorporating play can be as simple as using citrus colors. "Tangerine, lime, and similar shades energize and invigorate workers," says the author of an Architecture blog. Or it can be as audacious as putting an adult slide in the middle of your office, like Microsoft and Red Bull. Even co-working spaces—hybrids between traditional offices and home offices—often furnished with low-cost DIY decor, aspire to be "like a Romper Room for adults," says Sharon Ann Lee, founder of the co-working space Jellyfish Cartel, in Wired Magazine.
But, if you're company has not achieved Romper Room status with a slide that leads into the boardroom, you can always find something playful and colourful for your desk at IKEA.