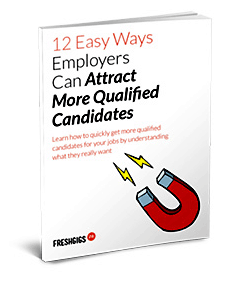 What is the most important factor for candidates when choosing a job? And how are the best employers attracting more candidates?
These are just two of the many questions we've answered in a new FreshGigs.ca report titled "12 Ways Employers Can Attract More Qualified Candidates"
The data in this report comes from a survey of over 12,000 Canadian professionals in the Marketing, Advertising and Design fields.
We've already shared some of the highlights from this report on the blog here: Most Important Factors When Applying for a Job and Job Seekers More Senior Than Most Think
The full report not only reveals important data and its implications on hiring for employers, it also includes 12 specific recommendations of what employers can do to attract more candidates for their jobs.
The report is available here: 12 Ways Employers Can Attract More Qualifed Candidates Report