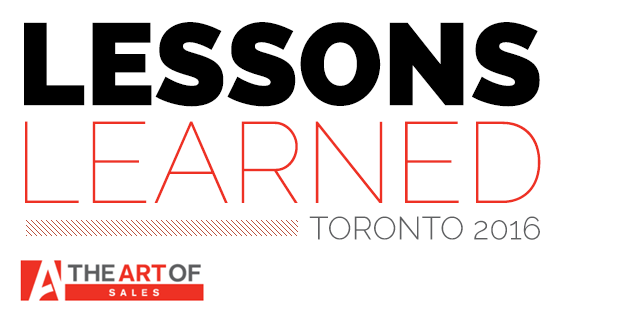 The Art of Sales conference wrapped up its Toronto edition on January 26, with an impressive lineup that included:
Daniel Pink – #1 New York Times bestselling author of To Sell is Human: The Surprising Truth About Moving Others,  A Whole New Mind: Why Right Brainers Will Rule the Future and Drive: The Surprising Truth About What Motivates Us
Keith Ferrazzi – #1 New York Times bestselling author of Who's Got Your Back and Never Eat Alone
Richard Robbins – Co-Founder & CEO of Richard Robbins International and author of Deliver the Unexpected & Six Other New Truths for Business Success
Mitch Joel – Bestselling author of CTRL ALT Delete: Reboot Your Business.
Reboot Your Life. Your Future Depends On It. and Six Pixels of Separation: Everyone Is Connected. Connect Your Business To Everyone.
Ian Chamandy – Co-Author of Why Should I Choose You? and founding partner of Blueprint Business Architecture
Here are the key lessons from each presenter:
Mitch Joel
His speech focused on consumer behaviours and how to attract new customers. He identified three main points:
Transformation: Not on an external level but internally. What tools are you providing your sales team and organization to help them transform?
Innovation: Asking your staff to be innovative is like asking them find a cure for cancer (an analogy Mitch provided); it's out of reach. Discover new services (like digital) that add value to your customer and become new streams of revenue. Focus on value instead of energy on a campaign to aim for more sales. For example, iTunes became a revenue model for Apple by offering value to their customers.
Transaction: Micro conversion is just as important as macro. Micro is getting an email address to have the opportunity to connect with your customers to build stronger relationships. It can potentially become profitable in the long-term.
Ultimately, consumers adapt to little changes. However, companies experience big changes when little things are taken into action. Examples: Netflix, Snapchat, Spotify, etc.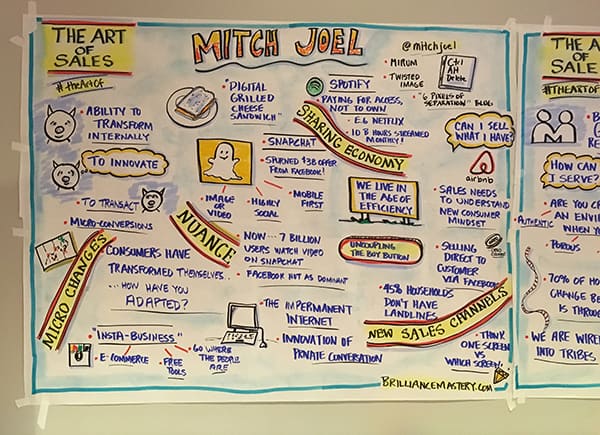 Keith Ferrazzi
Keith says great sales are defined by two things: 1. strong relationships and 2. providing value.
As we build relationships, it's important to be authentic by understanding empathy through vulnerability. Using the example of a mean and difficult co-worker, it's important to understand that their behaviour is based on insecurities. Knowing this information, we can make a choice of bringing a different energy to the relationship. We change the perspective by offering a genuine interest to the relationship.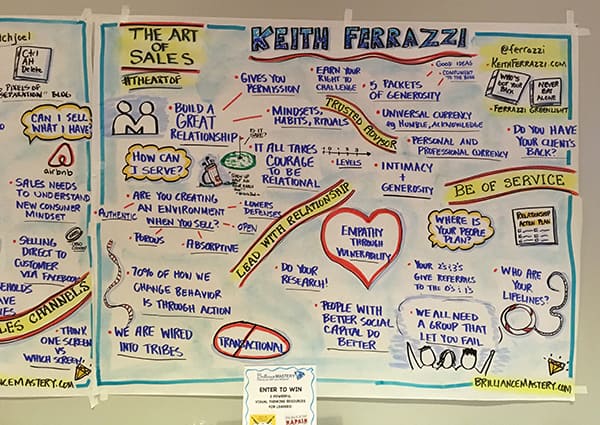 Ian Chamandy
Why should I choose you?
Ian started the presentation with that question, which is also the title of his book. If you can answer it in seven words or less, that is your company's core proposition.
"What customers are buying differes from what you are selling," he says. For instance, Just Do It is Nike's core proposition. However, customers are buying into an attitude and lifestyle, rather than apparel or shoes.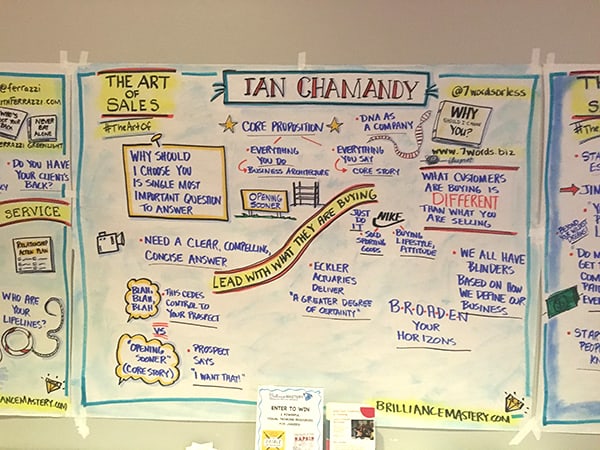 Richard Robbins
Filling in for Brent Adamson, Richard's presentation focused on how to add value to the marketplace.
He also quoted John Rohn: "You have to provide a lot of value. Do more than you get paid and the day will come when you get paid more than you ever have before."
Abundance is defined by what you give, not what you have.
Only 10% of people want the best price, 90% want the best value. Compete on value, not price. – Richard Robbins

Daniel H. Pink
Daniel started his presentation quoting the ABCs (Always Be Closing) from the movie, Glengarry Glen Ross, then reframed it with his own: Attunement, Buoyancy, and Clarity.
Attunement: Get out of your head and take the perspective of the other person. Understand their interests and then find a common ground.
Buoyancy: Can you afloat in an ocean of rejection? Doors will close (a lot in sales) but can you deal with rejection by adding more grace.
Clarity: Instead of the accessing the information, think about curating information. Offer the most valuable nuggets to your customer and become the expert.
He also addressed the question of which make better salespeople – extroverts or introverts? While there is no evidence that confirms one or the other – they perform equally well – ambiverts seem to perform the best.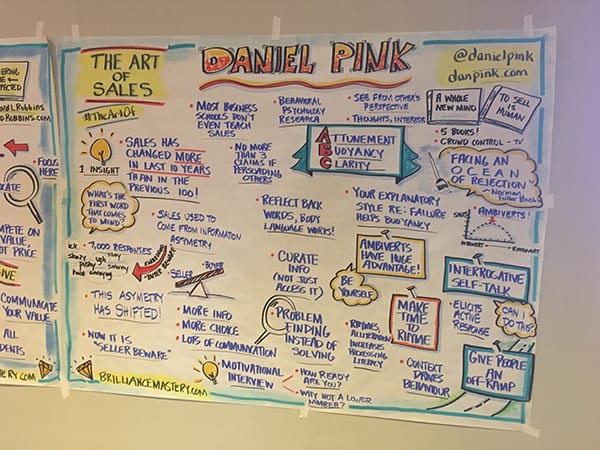 ---
Did you attend The Art of Sales? What were some standout moments or speaking points? We'd like to hear from you! Leave your comments below.
---