Creativity is an elusive beast at times. It can be difficult to capture and it can be even more difficult to not let it slip through your fingers.
So what happens when your creativity goes missing?
Creativity needs to be nurtured. It needs to be fed a steady diet of inspiration and outside influence
Staring blankly at your screen, waiting for the moment of brilliance to hit you is extremely frustrating. So how do you shake it off? How do you get over that wall?
Creativity needs to be nurtured. It needs to be fed a steady diet of inspiration and outside influence – be that art, film, conversations with intelligent people, or even just getting lost for a few hours in a good book.
HOW TO NURTURE CREATIVITY OUTSIDE THE OFFICE
I created a quick survey and asked some of my colleagues what they did outside of work to keep their creative motor running.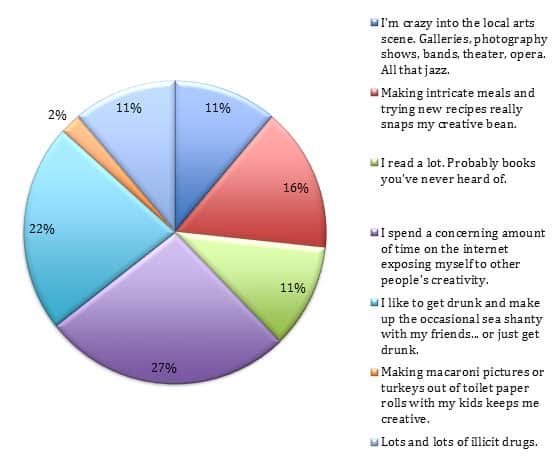 One respondent provided another answer "Take pictures, participate in other's art shows, and contemplate purchasing a cat."
Not a cat person? Maybe none of those ideas snapped your bean.  Then get online! The Internet is a veritable treasure trove of ideas on how to light a fire under your creativity's butt. I recently came across a post on Hongkiat.com that gives some really great suggestions for resurrecting creativity.  One of my favourite ideas on their list is to take your work outside. (A close second is the recommendation to take a nap! I love naps.)
Doing the same thing day in and day out was at the top of the list of creativity killers.
Grab your laptop and sunglasses then set yourself up on your balcony, your front porch, or at a café in your neighbourhood. A change of scenery can do wonders, especially if you work from home.
WHAT HAPPENS IF YOU CAN'T LEAVE?
We can't all be so lucky, though, and many of us are unable to leave our offices for long periods of time when we hit the wall. So I asked some folks "what do you do when you can't leave the office but you need to recharge your creativity?"
23%     Throw on my Beats by Dr. Dre, play my favourite jams and power through.
20%     Eat. Isn't that the answer for every problem?
20%     Check my Facebook or tell everyone on Twitter about my mental block.
18%     Clear my thoughts by staring blankly out the window – or at my cube mate until they become uncomfortable.
12%     Go down to the lunchroom and grab a cup of what the company considers "coffee".
7%        Update my resume in hopes that I'll find a job where I CAN leave to recharge.
CREATIVITY KILLERS
Understanding what kills your creativity is also important. Our survey responders unanimously agreed that monotonous projects were the worst. Doing the same thing day in and day out was at the top of the list of creativity killers. Followed closely by 'poorly managed projects', and – not surprisingly – 'client revisions' came in third.
Other killers that our respondents identified include:
Having a zombie boss.
Working with Negative Nelly's. They never have anything positive to say. They stifle any and all creativity.
Sitting in front of the computer expecting brilliance to come. It almost always comes when I'm NOT in front of the computer. I even bought a waterproof notepad for the shower!
KEEPING THE CREATIVE FIRES BURNING
As you can see from the survey results, it's different strokes for different folks. Everyone has his or her own way of revving the creative engine. It's just a matter of identifying what works – and what doesn't work for you.
And while I don't condone heavy use of illicit drugs or the willy-nilly purchase of a feline friend, I do encourage you to try new things. Change your scenery. Go to an art show. Write a blog. Start a Tumblr. Take a yoga class. Push yourself to do something that you've never done before – and you might just surprise yourself.
You never know when creativity will hit you, so keep those waterproof notepads handy. And if you DO decide to purchase a cat, please adopt… and have your pets spayed or neutered.