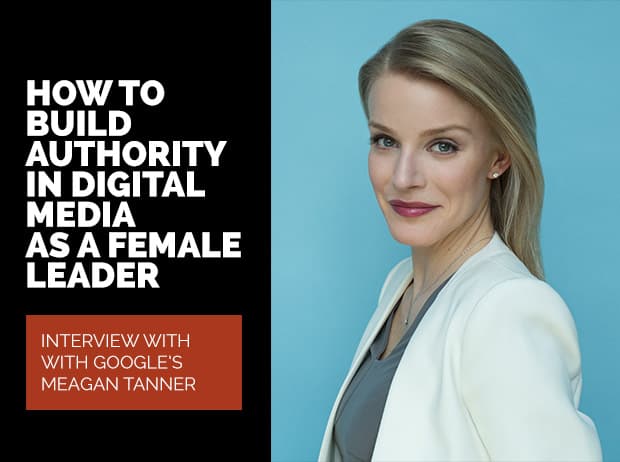 Meagan Tanner is passionate about facilitating excellence in the digital space. A Strategic Partner Manager at Google, Meagan is responsible for working with some of Canada's largest media companies to help them navigate through digital transformation, and empower local SMBs with the right digital solutions to grow their business. Meagan loves to travel and connect with people, and has worked in Asia, the Caribbean, Europe, and Canada, and is a regular speaker at industry events across North America. Emma Bullen caught up with her to talk about local business and career advice for women.
EB: Tell me about how you came to be Strategic Partner Manager at Google
Meagan Tanner: My career path was not one that was necessarily marked with intention. I started out in a very different field; I did a BA in International Development Studies.
I started working in a consulting firm that created and ran entrepreneurship education programs in developing countries to alleviate poverty. I spent my time on the business development side, pitching programs to international financial institutions. I was also helping to launch these programs in the countries where they would be run by local stakeholders.
I moved to the Cayman Islands for personal reasons, and there was really no work in that field there. I was trying to figure out what I was going to do and I met someone who was as living in my Condo complex. She was a Canadian lawyer who had moved to the Cayman Islands and was selling advertising for Yellow Pages. She was leaving her role to go and live in Paris, and she said, "you should take my role." I thought, "I'm not so sure I want to do that!",  but she ensured me that it was a great way to meet people on the island – I met 200 local business owners in my first year. So I went in, and I interviewed, and I got hired that day. That was my jumping off point into the advertising industry. I got really good at selling digital because I realized that's where the future of the industry was going.
I came back to Canada in 2012, and I worked for Yellow Pages Digital & Marketing Solutions in Canada as a digital subject matter expert and as a Senior Sales leader. They were going through a massive digital transformation in the company and I learned so much about managing through change — a skill that has been immensely valuable throughout my career. My next role was at Postmedia where I was brought on board to build their suite of digital marketing services that they offer to local advertisers. Eventually I found my way to Google, managing relationships with large media companies who resell Google advertising products, like AdWords, as part of their local marketing services offering.
Even though I had a non-traditional path to Google, the one thing I always really focused on was being at the forefront of what the next thing was for the business, even though I was working in traditional media. I got outside of my comfort zone, focused on learning where the industry was heading and I made sure I stood out in that area. In some incredible, fantastic way, that's how I ended up at Google because they were looking for someone with my background and expertise.
EB: Was there a point in your career when you worried that you weren't focused on the right thing?
MT: There was a time in my career when I really worried. I asked myself, have I pigeon-holed myself in a traditional media world? Which, by the way, is an incredible world with some forward-thinking people working to transform their brands and organizations. I worried about it at the time, but it was actually that experience that got me to where I am today.
EB: You're passionate about empowering local business owners and marketers with the right solutions to help their businesses thrive. If I was going to do just one thing to improve my business, what would you recommend?
MT: Mobile, mobile, mobile! We live in a mobile first world. Make sure you have a strong mobile presence and provide a great customer experience on their mobile device. If you don't, you will lose them.
Think about what your customer wants, what they are trying to do, and what makes the most sense to get them from A to B as quickly and seamlessly as possible on their device – whether they're in an app or on a website.
Too often, we focus on what's new & cool in technology. What we need to do is put ourselves in the shoes of our customers & understand what they want out of the experience.
Too often, we focus on what's new and cool in technology. What we need to do is put ourselves in the shoes of our customers and understand what they want out of the experience.
EB: Over the last ten years, how has digital marketing changed the landscape for small business owners?
MT: The digital landscape has evened the playing field for small business owners. It's created a way for local businesses to compete against some massive brands that have a lot of advertising dollars at their fingertips.
It used to be that if you were a local business and you wanted to think about selling across the country or across borders, it was a ten-year project. Today, it takes some thought and due diligence, but you can start marketing through AdWords in other countries overnight. It's made it easier for local businesses to reach their customers with the right message. Now, they can capture those customers in the moment that they're looking to take action.
EB: You do a lot of local industry events. How important is it to get out and meet people who use your products and services?
MT: I try to get out into local markets as much as possible to do events with local advertisers. It's important to understand what's happening at the ground level. You need to speak to the end user. It's too easy to end up in a bubble when you work in a big city, like Toronto.
What you need to remember is that sometimes your end user is a roofer in Saskatoon. It's important to understand how they are using the product. You don't get that until you go to Saskatoon and you meet them.
EB: Are you hiring right now?
MT: I can't say specifically, but I can say that if you are interested in working at Google in Toronto, there is a Google Toronto careers page. We also hire interns in the summer.
EB: What do you enjoy about working with Interns?
MT: Interns are unbelievably smart. They bring a passion to the role, an incredible focus and a different perspective than someone that's been in their career for ten years. They have a short amount of time to make an impact, so they're focused, they're all in.
EB: What qualities do you look for when hiring those interns?
MT: We look for the same buckets that I would assume that everyone else is looking for. The ability to do the job, role-related skills, and leadership characteristics. Even if it's not a leadership role, you will need to make leadership decisions in the future.
What is very important at Google is something that we call "Googleyness."
What is very important at Google is something that we call "Googleyness." This is a really important part of our corporate culture — identifying people who like to have fun, who are extremely conscientious, who are comfortable with ambiguity and who've taken courageous, interesting paths in life.
What struck me when I started working at Google was how nice everyone was and how willing to help they were, even when they were incredibly busy (which everyone at Google is) and when there was no direct benefit for them. I don't think you get that everywhere and I think it's because we hire for it. We identify people that exhibit those tendencies.
EB: Who inspires you?
MT: In my role, I meet people who inspire me every day. But, there are four people who stand out who inspire me both personally and throughout my career.
The first is my mom, who is a single parent. She took exceptional pride in her career, and she's the champion of my ability to do anything I set my mind to. Growing up, we talked openly about equality. We talked about the glass ceiling, we talked about women's rights, and I saw my mom fighting for these things on picket lines and at rallies from a very early age.
The second person is a high school teacher and a volleyball coach. She taught me that I didn't need to pretend to be something I wasn't to fit in, which was powerful especially at that time in my life.
The third is my first female boss. She is smart, disciplined, ambitious. She embodies women championing other women in the workplace, and she's still a very close friend to this day.
The fourth is a recent male boss who is an ally for equality. Working with him was the first time I ever heard a man in the workplace acknowledge that women face different challenges in their career. He prioritized ensuring that the women on his team were respected and heard in a very traditional industry.
EB: What's the most useful piece of career advice you've ever been given?
MT: The most useful piece of advice that was given to me was from a female boss. She said to me, "There are times in your career where you put your head down and you do the work. And everything else takes a back seat."
I got asked this question on a panel recently, and I said, that if you want to be successful in your career, you're going to have to show up and do the work. Sometimes the work is going to take priority. Not always, but there are sprints you go through.
But just doing the work isn't enough, especially for women. You've also got to make sure the right people know the work you're doing. Sometimes that means self-promoting or finding people who are champions on your behalf. Women, in particular, are often really uncomfortable with this, but it's important.A McKinsey report found that men are often hired or promoted based on their potential, while women need to prove their experience and track record. We fall into the trap of thinking, if I put my head down and do the work, someone will notice and I'll get rewarded, but that's not necessarily true.
EB: What book do you most often recommend to friends?
MT: Lean In by Sheryl Sandberg. That book was given to me as a gift by the same female boss and was given to all of the managers on her team, regardless of whether they were male or female.
I think it's something that every man and woman can benefit from reading regardless of where they are in their career because it's really important to understand the reality women in business face. It's important for men to understand how they can be allies because most men want to help. They believe in equality and inclusion, and they want to be a part of the process. But it's difficult to be able to help if you don't understand what that reality looks like.
That book was incredibly meaningful because it made me realize that the things I was experiencing from very early in my career that made me feel "less than" or uncomfortable were things that a lot of people were experiencing. It wasn't just me and I didn't have to wonder, am I crazy or imagining this? I'm extremely fortunate to work for a company that is focused on diversity and inclusion at every level, and where open, respectful discussions on this topic are encouraged. I'm optimistic about the conversation taking place right now in the tech industry and am proud to be a part of it.