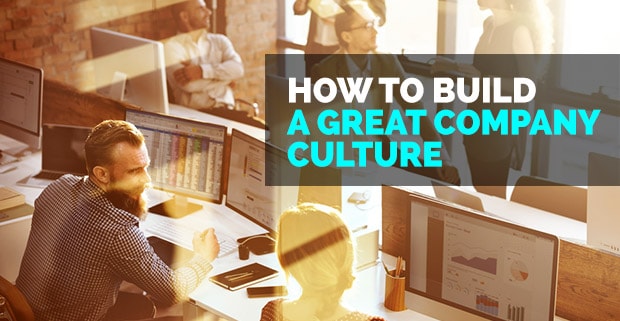 Whether you're looking for a new role, or you're looking for a new hire, company culture can make or break your decision. According to a recent survey, 81% of employees think a company lacking in culture is doomed to mediocrity. Yet, it's something we can all play a part in building. We spoke to Corey Wagner, Co-founder and CEO of Bananatag, whose own company culture went from broken to brilliant, about how to build a great team culture. 
Bananatag started in 2012 as a tool to help sales teams measure how clients interact with their emails. But the close-knit startup was quietly surprised when their audience started using their service to track employee engagement. Initially, they didn't understand why their customers needed to measure internal engagement. But as the team moved into new offices and began to rapidly expand, they realized they had engagement issues of their own.
"As we grew, we concentrated on hitting our targets and tracking metrics," says Wagner. "We implemented all these processes, but forgot to do personal check-ins, or to spend time getting to know people like we used to. One day, I told a team member about our amazing statistics, and they told me that they felt like just another number at the company. That was when I realized there was more we needed to work on."
Today, the growth-stage company has offices in Vancouver and Kelowna, BC. Their tools are helping large companies track engagement metrics in internal communications, and they're leading by example when it comes to creating and driving company culture. So how did they turn it around? Here are Wagner's top five tips for engaging employees and creating team culture:

1. Make Company Culture a Priority
If you're carving out time to think about and discuss culture with your future employer, or your existing employees, you're already ahead of the game. Consider what's working, what's not working, and what can be improved. It's a big step that many fail to take.
"The biggest mistake we see people making is not thinking about company culture at all," says Wagner. "We'll talk to companies who have 1000+ people, but they don't have someone in a role who is trying to improve the culture, or they aren't thinking about it holistically. When we weren't thinking about it, it became a problem."
2. Define and Communicate Your Values
If you want to create a great company culture, defining and communicating your values frequently is essential. If uncertain of your company's values, chances are you're not walking to the beat of the same drum. Ask your employer what their values are — and if they're not documented, rally together to define them.

"We defined our values when we were about eight people. We took feedback from everyone — what they liked and we were striving for — and melded that together to create the company values," says Wagner. "We've grown a lot since then and while goals have been reworded, they've essentially stayed the same."
3. Hire the Right People
The hiring process can complement, or dramatically shift a company's culture. It may seem counterintuitive, but prioritizing cultural fit over skill set will benefit the individual and the organization. Before you take a role, and before you hire, think about how that decision might might complement or rattle the team dynamic.
"We're very selective about who we hire," says Wagner. "We look at a person's skills, and how they're going to fit with the team. When we interview, the most important thing for us is cultural fit. It's not — 'is this a nice person, or a bad person?' It's 'will they gel with the three people they will sit next to?' Sometimes there are people who you know will get along and there are some that might ruffle some feathers."
"When you have a strong team that works well together, and you bring someone in who behaves like a dick, issues will bubble up to the surface quickly. That's the one great thing about building a critical mass of great people; it becomes much easier to spot and address problems."
4. Invest in Personal Development
There's a saying that goes "no one cares about your career as much as you." But when your future employer invests in your personal growth, that interest makes employees more engaged. As an employee, it's something to look for, and as an employer, it's something to cultivate.
"We believe that personal development is a key to success," says Wagner. "We want everyone to leave here better than they came. We want people in the future to say, "Wow, they worked at Bananatag — we know they're going to be great."
"We believe that personal development is a key to success," says Wagner. "We want everyone to leave here better than they came."
"I love using the book, So Good They Can't Ignore You by Cal Newport as a set-up. It questions the idea of pursuing a passion and shows you how to find work you love by becoming an expert. This sets up the stage for how to become a rockstar and why you should become one."

5. Find Reasons to Celebrate
Fun workplaces make the day job feel less like hard work. It may seem sensible to skip celebrating successes when you're busy, but you'd be passing up on the opportunity to connect with your team. Don't have anything to celebrate? Find something — no matter how small.

"People like to hang out less in winter, so we make more of a point to plan more celebrations and events," says Wagner. "We used to do Halloween and other big events, but now we find extra things to celebrate. We had four or five 'Bananaversaries' recently and threw a 'Bananimals' theme party, where everyone dressed up like animals."
"It doesn't have to be flashy, as long as the team connects," Wagner says. "For our Christmas party, we got both offices together and went to some cabins in the mountains. We try to bring our employees and their significant others together every six months. You learn so much about your team and it really builds culture."

As the Bananatag team move into new offices, it won't surprise you to learn that they're prioritizing space where people can meet up. It also won't surprise you to hear that the company is well respected in the tech community. After all, who doesn't want to work somewhere that puts people first? So, whether you're looking for a role — or looking to hire for a role, remember that a commitment to culture is a commitment to success. 
 How has your company's culture impacted your enjoyment of your job? We'd love to hear from you! Share your experience and give your advice in the comments below.