"Examples of Awesome Company Culture" Click to share and ReTweet
What defines an awesome company culture? A company where employees can answer yes to the following questions:
Do you look forward to going to work every day?
Does your company have great perks and benefits that you value?
Does your company have a clear understanding of the business priorities?
Do you have an opportunity for growth and advancement?
Do you feel like the work you do is valued?
Of course, not every employee in a company will answer yes to all of these questions, but companies with awesome cultures strive to create an environment in which most of their employees feel as if they could answer yes to most or all of these questions.
We have people who are so passionate about their jobs they want to work all day
Do such work places exist? Yes. Two newspapers, as well as creative firm Penna, Powers, Bryan and Haynes, surveyed satisfied workers by asking them to respond to the prompt, "I love my job because…." The answers given can be summarized in the reasons identified above.
Award-winning examples:
One company that has consistently won awards for cultivating an awesome company culture is The Great Little Box Company (GLBC). In 2012, the Richmond, BC, company was recognized by Waterstone Human Capital as one of Canada's 10 Most Admired Corporate Cultures. It was also listed in the Globe and Mail as one of Canada's Top 100 Employers for 2013.
Though not a marketing/creative company per se, GLBC specializes in manufacturing materials used in marketing, such as custom and stock corrugated boxes, point-of-purchase displays, folding cartons, labels, and flexible and protective packaging. The company was dubbed "the happiest place on earth" by BC Business because of the GLBC's high employee satisfaction. With perks such as a company-wide annual incentive trip to Las Vegas or Mexico, it's no wonder the turnover rate is less than 5%.
Other benefits and perks that make this company cool:
The company's location was selected after extensive consultation with employees.
Employees also provided feedback on the design and layout of their work areas.
Clean facilities, with lots of natural lighting.
Fully-equipped fitness facility, an outdoor volleyball court, a horseshoe pitch, and even a dock where employees can launch a kayak and enjoy an afternoon paddle.
Outdoor gazebo, barbeque, rooftop deck with great views of the surrounding mountains, free snacks (including seasonal fresh fruit), free coffee and tea.
Secure bicycle parking, reserved parking for 20 year plus employees and carpooling employees, car wash bay with washing suppliers.
Plenty of social, sports, and culturally diverse events.
Employee engagement programs.
RRSP matching program and other financial, health and family-friendly benefits.
Employees receive tuition subsidies for courses related to their position. Employees may also receive tuition subsidies for courses unrelated to their current position.
Community involvement with a number of charities. For example, the company has donated a truck to Quest Outreach Society, as well as storage for up to 250 pallets of non-perishable goods at any time. The Marketing Manager also donates his expertise to the charity.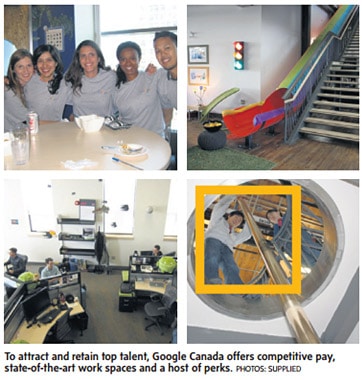 The most well-known company that has consistently scored awards for employee satisfaction is the innovative search engine, Google. Google Canada was named No. 1 Best Large and Multinational Company in 2012 in the Globe and Mail, by the Great Place to Work Institute. In addition, employees love to rave about how amazing the Google work experience is, giving the company a 90% rating on Glassdoor.com. Glassdoor.com is an online career community that offers an inside look at jobs and companies.
Above image source: http://v1.theglobeandmail.com/partners/free/sr/gptw_apr_19_2012/Great%20Places%20to%20Work%20April%2019.pdf
The Globe and Mail reports that Google takes care of its employees by offering free meals at its onsite cafés in Toronto, Waterloo, Ottawa and Montreal, where the regularly changing menu is full of healthy food choices.
Steve Woods, Director of Engineering, Google Canada, tells the Globe and Mail, "We have people who are so passionate about their jobs they want to work all day, so Google takes care of them by ensuring they have healthy food available throughout the day."
We know that the creative, collaborative energy integral to our success comes from engaged people
In addition, the company offers competitive pay, state-of-the-art work spaces and other perks.
Another creative company that cultivates an awesome work culture is DIALOG, a unique multi-disciplinary design and building firm with offices in Vancouver, Edmonton, Calgary, and Toronto. Like GLBC, DIALOG was selected as one of Canada's Top 100 Employers for 2013.
While they don't boast as spectacular an array of perks and benefits that GLBC and Google offer, what makes DIALOG awesome is their interdisciplinary approach to design and engineering as applied to complex challenges such as: healing patients with fewer staff; improving the passenger experience while reducing an airport's carbon footprint; and revitalizing abandoned urban neighbourhoods.
This is a highly creative place with a highly educated group of people working there. At the studio's Edmonton office, the 19 structural engineers hold "a remarkable 12 bachelor's degrees, 15 master's degrees, and 2 doctorates" between them, while the company staff in total hold more than 260 bachelor's degrees, over 180 diplomas/certificates, 90 master's degrees and 4 PhDs overall, according to Miguel Strother, New Media Manager at DIALOG.
"The work being done in the studios is really cool.  It is a super interesting bunch with a very distinct culture," says Strother.
But it is also a flat organization which recognizes that good ideas can come from anywhere.
They state:
We know that the creative, collaborative energy integral to our success comes from engaged people, no matter what their role in DIALOG. We are committed to continuous learning and educational programs, and training and mentoring are a key part of our culture.
In addition to creating beautiful architecture for others, they work in beautifully designed spaces themselves.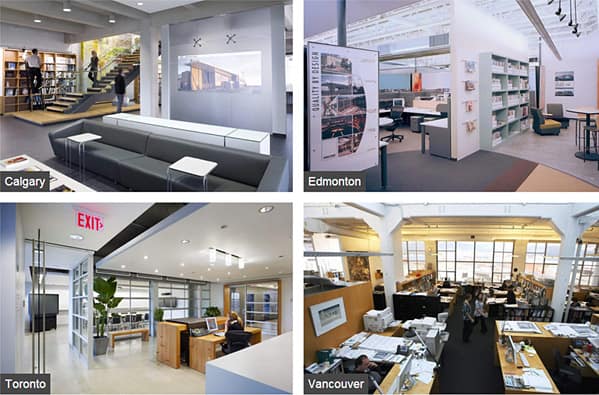 Above Image Source: www.designdialog.ca/#about-us
I would certainly look forward to going to work in such a beautifully designed creative space every day. Couple that with valued, meaningful work, as well as great training opportunity for growth, and you've got a company that cultivates an awesome company culture.
Now if only every workplace had a company-wide trip to Mexico……