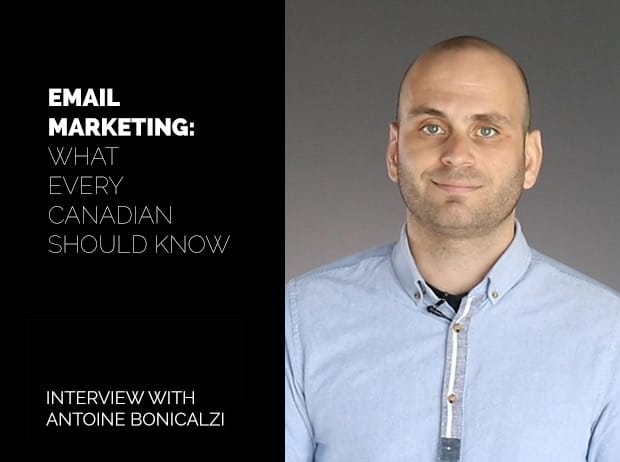 Antoine Bonicalzi's career path has taken him from swimming pool salesman to Director of Marketing at an influential Canadian email marketing company, Cyberimpact. Emma Bullen caught up with him to talk about how he got to where he is today, tips for eye-catching emails, and what marketers should learn in 2018.
Emma Bullen: Tell me about yourself. How did you get to where you are today?
Antoine Bonicalzi: I was born and raised in Montreal, and I've worked in Marketing for almost ten years now. I was attracted to business and marketing in my early 20s. I went to college, but I never studied marketing formally; in fact, my degree is in kinesiology. Although I had a genuine interest in it, I knew when I finished university that I wasn't going to pursue a career in that field.
I thought that working in Sales would be a good introduction to the business world. If I were to run my own business, I would need to be able to sell my ideas, my products or my services. So I worked in retail for a few years. I was a swimming pool salesman, different sales jobs like that. On the side, I took courses about online marketing, how to put together a WordPress site, SEO, and keyword optimization. I built a website, and I made a little bit of money with affiliate programs.
After a few years, I got my first real job in the marketing industry, but it was a sales job. I sold online marketing services to small businesses in the Montreal region. After a year or so, I became too knowledgeable and too interested in what the agency was doing for the clients. So I became part of the production team as the SEO/SEM manager. I managed the department there, I learned a lot, and I handled lots of client projects.
After a few years, I went on my own as a freelancer. I had enough work to hire a few people, and I started running my own agency. After two and a half years, I had an offer to sell my business to a bigger agency in Montreal, and I stayed with them a little bit more than a year to ensure a good transition. I had an offer from Cyberimpact at the same time that I felt it was time to move on. It was appealing to me because I wanted to work in the SAS industry and it was the next step in my career. I accepted the role of Marketing Director. Each step was a decision of 'what do I feel like learning?' For me, the salary is important, but the learning is key.
EB: Tell me about Cyberimpact. What service do you offer?
AB: Cyberimpact is an email marketing platform. It's a tool that you'd use to grow your mailing list, send out newsletters, or set up marketing automation sequences. A lot of people reading this will be familiar with MailChimp or Constant Contact. Cyberimpact is a Canadian company with a complete focus on serving the Canadian market. 98% of our audience are Canadian small businesses. That means that we develop our platform to make it easy for Canadian business to follow Canada's anti-spam laws.
The way the tool is made/modified makes it very easy to manage all the different types of consent, business relationships with clients, prospects, etc. There are automated tools to make it easy to comply with the law. Canadian organizations can relax knowing that they're compliant.
At the same time, we have some clients in government organizations and financial industries who have to have their databases stored in Canada. We're also 100% bilingual. You can use the tools in English or French, and it's very easy to send emails in both languages.
EB: What tips can you give me for creating an email that can't be ignored?
AB: When you send out promotional emails, the worst thing that can happen is being ignored. You want people to see and open your message and take some sort of action. You put a lot of effort into crafting an email, and only a small part of your list see your efforts. There are a few things you can do:
My general advice is to keep it simple, don't try to create an email that feels crowded, has a lot of colours, images or calls to action (CTA). You don't want to overwhelm someone. If I take a glance and it's overwhelming, I'll probably ignore it. A clean white background with your logo will make your content and your message the star. Create a design that looks good on mobile and then worry about making it look good on desktop. Most people will open your emails on their mobile. We try to teach our users that your email shouldn't look like a magazine design on a small device. Say less but make it clear.
When you send out promotional emails, the worst thing that can happen is being ignored. You want people to see and open your message and take some sort of action.
Focus on one CTA, where possible. Sometimes you can send an email newsletter where there's more than one link to different articles. That's fine. But when I send an email with a strong CTA that I want them to take, subscribe to a webinar, a workshop, I would say focus on one CTA, one main message that you want people to do.
Spend a lot of time working on the subject line. Sometimes you spend time crafting the perfect email, and the subject line is an afterthought. You should spend as much time crafting the subject line as you do the content itself. Your subscriber's inboxes are crowded. If this is not eye-catching, they'll discard it. Make it so that people are curious about what's there. Give a preview of what they're going to learn, ask a question, think of it as a teaser. You don't want to mislead or trick people into clicking, but you do want to have a hook and poke at their curiosity.
One little detail people often forget to use the preview text. You'll see a snippet from the text, think about it and use it to your advantage. You can make sure it's a complete sentence, and it's a preview of what they can expect.
EB: What one thing should a marketer learn in 2018?
AB: I was interviewing a marketing expert recently, and I asked a similar question. 2017 and 2018 in his opinion are years of implementation. All the tools are there. We know email, and we know social media, digital ads, all the channels are there, it's about trying lots of things trying what works for you and focusing on doing better. The online marketing toolset is extremely mature. It's about digging deeper and optimizing what we do to make it work. You don't need to look for the next shiny object; you need to optimize.
The online marketing toolset is extremely mature. It's about digging deeper and optimizing what we do to make it work.
That being said, if you're not already taking advantage of marketing automation, I would encourage you to look into that. If you just scratch the surface, try to dig. There are so many things you can do, from lead generation to user onboarding. Think about your automatic sequences and optimize them.
EB: How would you describe your company culture?
AB: We value communication as a team but also with our customers. A lot of people have been here for a long time, and the company has a strong family vibe. Sometimes there are disagreements, which happens with family, but afterward, you can laugh it off. We also value respect and having fun. Today, we had a group yoga session and a communal meal at lunchtime. We want people to live a healthy life and encourage healthy eating.
We're a modern workplace. I work remotely about half the time. I wouldn't like to be at home alone all the time, but I also wouldn't want to commute every day. We can arrange schedules around family obligations. It's not a big deal to say; I'm coming in later because I have an appointment with my daughter. A lot of us have young children, and work/life balance is important.
EB: Are you currently hiring?
AB: I'm actively looking for an online marketing specialist, an English speaker with some knowledge of French. In the last ten years, we've become well-known in Quebec because we're available in French. Now our challenge and our goal is to grow all across Canada because we think our tool is good for all Canadian organizations. We're also looking for professional Customer Support Reps because we're onboarding people all the time.
EB: What's the most useful piece of career advice you've ever been given?
AB: When I started my business, a lot of the time, I didn't feel like I knew what I was doing. There are a lot of times when you're doing something for the first time. My business partner at the time taught me that it was okay to get out of my comfort zone. One of the secrets of the business world is that nobody knows what they're doing. We're all figuring out as we go. Whether you're starting out or you're someone who has a company with 100 employees, you have to figure it out at each step.
One of the secrets of the business world is that nobody knows what they're doing. We're all figuring out as we go.
One piece of advice that I like to give is that it's okay to try a different thing. I used to feel guilty about having a lot of different jobs, but today, I don't regret it at all. As long as you change jobs because you want to learn something else, it's okay. It's okay to figure out what you want to do by trying a bunch of different things.
EB: What book do you most often recommend to friends?
I'd say that a book that changed the way I look at life was Rich Dad Poor Dad by Robert T. Kiyosaki. It influenced a lot of things that I did in my 20s. Looking back, there are things I don't necessarily agree with, but I took a lot from that book.
Another classic is the 4-Hour Work Week by Timothy Ferriss. There's a lot in the book that I like and lessons that I took from it. It led me to start my own business. It was a catalyst at the right time.
Now, I listen to more podcasts more than I read books. I like to listen to The SAS Podcast, and I pick up tricks from entrepreneurs. I also like How I Built This from NPR. It's a very simple format that details the stories about successful entrepreneurs.