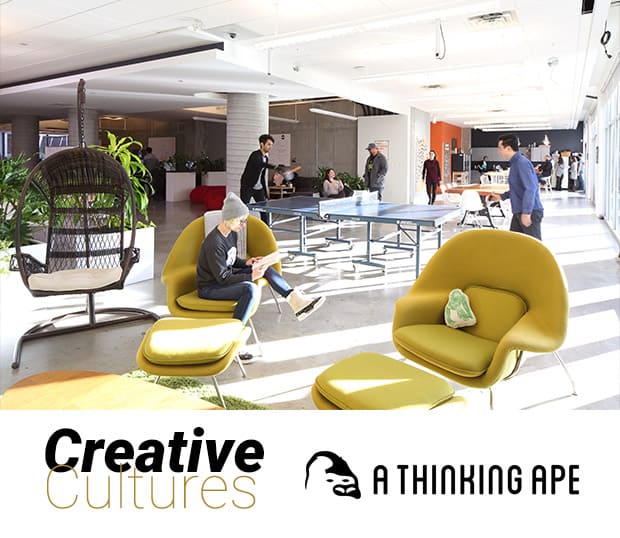 In our Creative Cultures series, correspondent Crystal Henrickson spends a day inside companies to learn how hiring, onboarding, and company culture play a role in employee happiness. From startups to design firms and all in-between, we're pulling back the curtain on what it's like to work in inventive and productive environments. Today she's with the talented folks at A Thinking Ape.
Ask anyone who works at the near-decade-old game studio, and they'll tell you that A Thinking Ape doesn't build games. In fact, their much grander mission is to build vibrant communities, by strategically fostering strong connections with and between their users. This unrelenting focus on long-term engagement has led their team to produce several successful social and mobile games, including the top-grossing Kingdoms at War and the upcoming Kingdoms of Heckfire.
When I interviewed leadership at their Vancouver office about how this community-focused philosophy translates to their internal culture, it became clear that A Thinking Ape practices what they preach. Using the same philosophies that they use to build player communities, they've been nurturing a collaborative and supportive environment for their growing team.
Own it & Keep Growing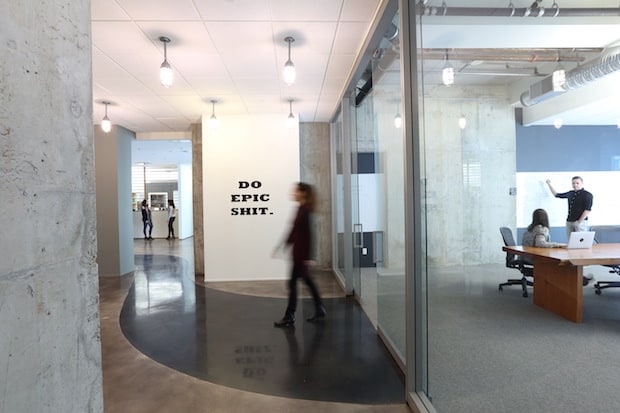 With north of 60 employees, A Thinking Ape continues to pride itself on running like a lean startup. A smaller, more independent, team ensures that employees enjoy a level of ownership and autonomy that is hard to recreate at most game studios. Focusing individuals to take initiative and be accountable drives each team member's own growth and learning.
"I would say it's a pretty strong trend that as soon as I'm feeling comfortable with the things on my plate I'm given a new challenge that helps me grow again. Like, 'Oh, hey you seem to have this down pretty good now, you can definitely handle this, off you go!'", shares Creative Producer, Jodie Bjarnason, who has been growing strong with ATA for five years.
"Growth means going outside your comfort zone and ATA is really good at helping you continue to be there, as much as you are willing to be. Your growth is in your own hands, but fostered and supported by the company." she continued.
The company's dedication to learning and development takes many forms, from the regular one-to-one meetings for accountability and career planning to company-wide open forums, coaching workshops, and a professional development budget for each employee.
Supporting Community Within A Team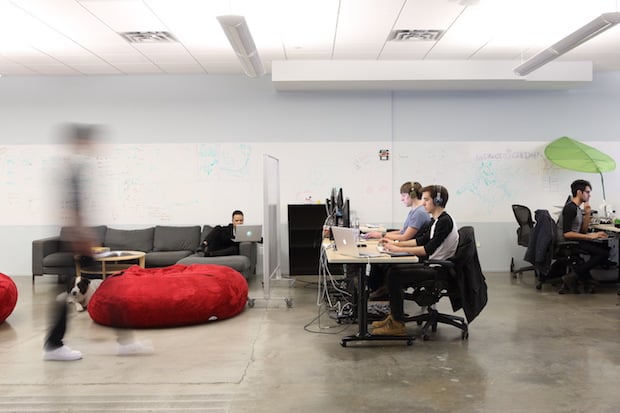 Transparency and regular communications are also key tenets of team culture, which helps build a sense of trust and community between all levels of the team.
"We focus on constantly striving to be transparent about our decision-making process. We share data with everyone in the company and we are willing to talk through any decision we make down to the core principles," says Director of Product, Tayber Voyer.
As a result, people are highly motivated about what they are doing and are able to see the direct impact of their work on the company's success. "No one ever feels like this isn't their job because they care about the products as if they were their own," he adds.
We focus on constantly striving to be transparent about our decision-making process. We share data with everyone in the company and we are willing to talk through any decision we make.
Teams are encouraged to nominate and recognize their peers for exemplifying their core values and recognition is applauded and acknowledged during quarterly meetings. Once every two weeks, the team also congregates for "Trade Secrets & War Stories", where employees share learnings, side projects and new tools with their coworkers.
Sometimes, these learnings prove impactful far beyond the workplace. Earlier this year, during one of these sessions, a co-op student, Rasha Nasri, volunteered to share about her life in Syria and the current political climate she lived with. Team members felt so connected and touched by her story that, during a charitable team-building event, they chose to support an organization for Syrian youth in Canada, resulting in a $1500 donation.
Honing in on Culture Contributors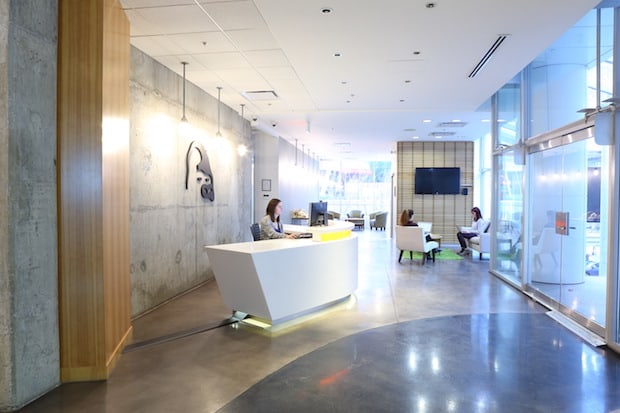 Through each evolution of ATA, the Talent Acquisition team continues to develop a knack for sniffing out the best talent that will not only enhance their existing technical expertise but also adapt and add to their culture.
For Tayber, it's a key reason why A Thinking Ape has been so successful: "[We] hire the best people we can find and give them an exciting problem to solve. People want to do great work and build amazing products. It's really easy to make things complicated, but what people really need is to be challenged and supported. If you have a team of people focused on solving a great problem, and each of those people feels like they have the support of their team, that's when great things happen."
Interested candidates can expect a thorough interview process that usually includes a take-home assignment and a meeting with both hiring managers and the respective team. Only those who are agreed upon unanimously are hired. For those who end up joining the team, the possibilities for growth are limitless.
It's really easy to make things complicated, but what people really need is to be challenged and supported.
New team member and Software Development Engineer, Michael Atavine shares: "ATA offers strong learning potential given the wide variety of disciplines that work here: engineering, design, art, product management, etc. Responsibility and ownership is core to everything that we do and combined with minimal technical limitations and no bureaucracy, this creates an environment for everyone at ATA to make a big impact on the company's procedures, direction, and technology."
Think you might be the perfect fit for A Thinking Ape? They're currently hiring for a few positions including Software Engineer (Machine Learning), Growth Marketing Analyst and UI Artist.