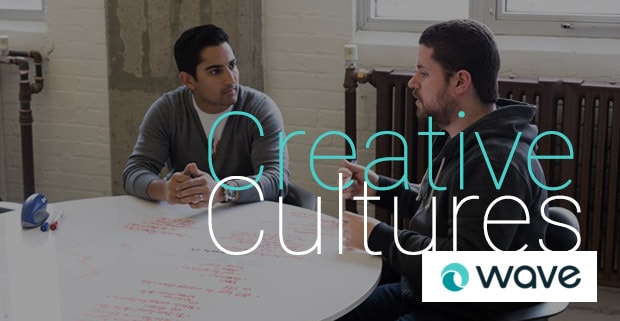 In our Creative Cultures series, our writers day inside companies to learn how hiring, onboarding and company culture play a role in employee happiness. From startups to design firms and all in-between, we're pulling back the curtain on what it's like to work in inventive and productive environments. Today, writer Leila Pejman takes us through a day at Wave.
Toronto's Wave is the unsung hero of Canada's Financial Technology startup scene. A humble company that has transformed the way small businesses manage their accounting and finances, they are now expanding into the small business lending space.
Wave's journey began with a handful of people in a sublet corner of the basement in a Leslieville building. Now, it has 90 employees and occupies a full floor of the same building. They have 1.9 million customers in 200+ countries, with 2,000 new subscribers joining every day. It has tracked 236 million transactions totalling $80 billion in income and expenses in its five-year history.
I visited Wave's offices just after the company expanded to the new floor. Every department is housed in a large open working area, and the executives have their own meeting rooms – decorated in different styles to suit their personalities. There are also three boardrooms and a number of smaller meeting spaces for private team discussions.
Thinking big
Wave is a company built on constant innovation, which means they hire smart, creative people, and trust them to try new things and allow them the room to make mistakes in a safe way. They learn as much from the things they get wrong, as they do from the things they get right. Everyone at Wave feels the potential to do something bigger than they've ever done before. As office manager Amanda Steel notes, "it's exciting and refreshing how collaborative everyone is within and among teams."
Courtney Thompson is an analyst who's been with Wave since its early days, and has had three promotions within the company. She says she's stayed with the company because Wave encourages her to test her limits.
Only the strong survive
Finding talent in a competitive market is hard; and the interview process is intensive and focused. Before a meeting is confirmed, there is an initial phone call. The in-person interview can take three to five hours, and, depending on the department, the applicant may also have to complete an assignment.
For instance, engineers are provided with a coding challenge that is used for discussion in the interview. Candidates must meet with the department's leader and team members, along with staff from a different department for a cultural fit interview.
Though the process might seem intense, they are honest about where a candidate stands. "After three or four hours, we have a good sense of whether the candidate is right for the role and if they are a fit with our culture, and then we write an offer that day or the next," says Ashira Gobrin, VP of People and Culture.
Collaborative and cohesive
Equally as important, candidates also have a good sense if the company is a fit for them. Wave has a keen eye for discovering talented people who want to build something great and be a part of it. Ashira mentions that they look for people who have an intellectual curiosity and level of depth and expertise to take a problem and collaborate to build an innovative solution; a sense of collaboration is key as the company supports multifunctional teams.
"It's exciting and refreshing how collaborative everyone is within and among teams." – office manager Amanda Steel
A decision on one part of the software can have major impacts on another part of the software – and more importantly, on their customer's businesses. And to ensure the focus is on building great software, ego and hierarchy have no place at Wave. Employees are inspired to support one another for optimal success. With that in mind, the company has been able to attract a team that is smart, creative, committed, and ambitious.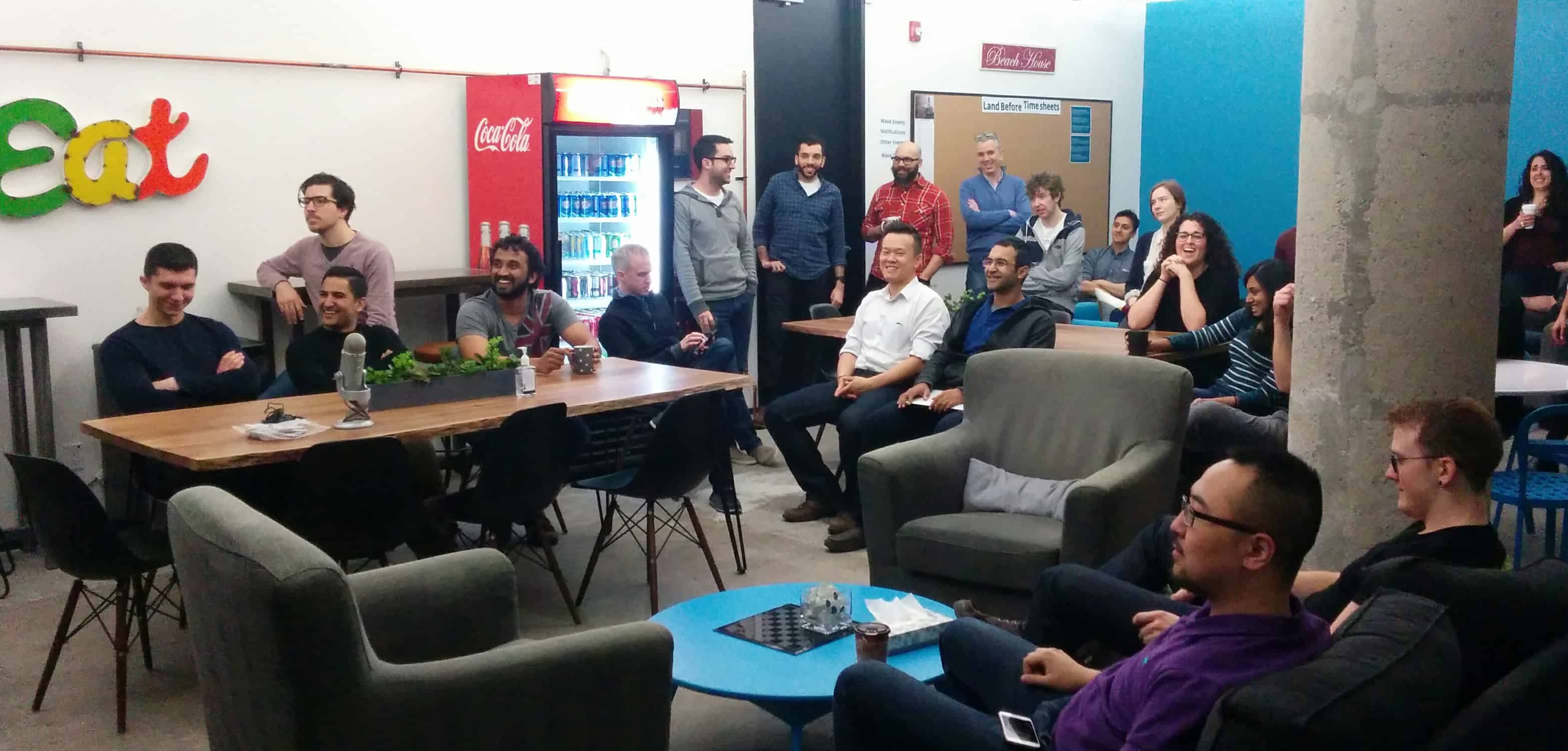 The value of trust and transparency
Trust and transparency are among Wave's core values. And although it's not a public company, staff are regularly kept abreast of the company's financial performance. Kirk Simpson, co-founder and CEO, knows that the people working at any tech startup put a lot of heart and energy into helping it grow. "It's important that our staff know where the company stands and how the work they are doing is moving the needle," he asserts. Ultimately, he adds, transparency elicits trust within the company and gives its employees confidence to invest their time and energy in building their vision.
The end result of trust and transparency, is respect. "Everyone understands the importance of each department," says ad sales manager Carlos Sanatmaria.
At Wave, teams work effectively both internally and with one another. The culture is built to move beyond the individual employee by working as a single high-performing team to push boundaries in an authentic manner. Wave is a place where employees can test their limits and move with heart.
---
Want to suggest a company you think should be featured in Creative Cultures? Drop us a note.
---