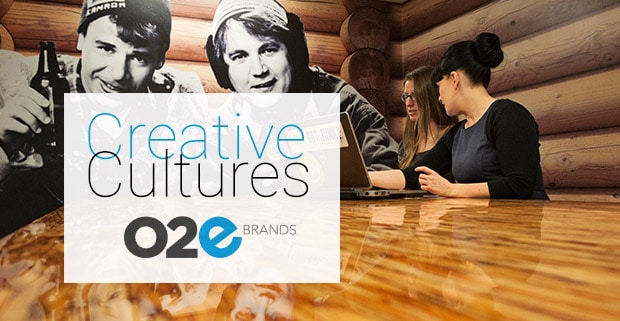 In our Creative Cultures series, we spend a day inside companies to learn how hiring, onboarding, and company culture play a role in employee happiness. From start-ups to design firms and all in-between, we're pulling back the curtain on what it's like to work in inventive and productive environments. Today, writer Crystal Henrickson is at O2E.
O2E: it stands for Ordinary to Exceptional, and their first brand, 1-800-GOT-JUNK? has paved the way for other home services brands like WOW 1 DAY PAINTING, You Move Me, and Shack Shine. You might be thinking this is the least sexy place to build a career, but there are plenty of reasons why Brian Scudamore's home services empire, has become one of BC's most desirable employers.
Putting People First
"It's all about people," stresses Scudamore, Founder, and CEO. As a new business owner, 27 years ago, Scudamore realized his small business had the potential of helping so many people build their own businesses. But he knew that to execute his vision he'd need to surround himself with a team who shared the same vision. And so, he made a decision to start again, including some very hard decisions to build a core team from scratch; a team who would be true to his values.
Putting company culture first isn't an easy task, it requires courageous and bold moves, living true to values, and developing daily rituals. But for Brian, it's all there is: "You've got to have the right people and treat them right. When people walk into the Junktion (the affectionate name for O2E's HQ) they can see the culture and they get a feel for what we're doing. Some people say 'it's electric,' it's happy, and there are lots of smiles, and it's real because we focus so carefully on finding the right people."
Making an Impact
It starts with getting mindset aligned people onto the team in the first place. O2E's environment works best when filled with individuals willing to think big, to try things they haven't done before and who ultimately, want to make an impact on the organization. Functional managers, executives, and team peers have the opportunity to weigh in on new additions.
Jerry Gratton, VP of People and Culture, speaks with the majority of new candidates joining the corporate team: "What I'm always looking for is passion for what they do. We have this incredibly engaged and passionate culture and for me, it's not about a person who just wants in. If they exude that 'I love what I do!' then they get a little check mark from me."
Digital Marketing Coordinator, Aziza Farah adds, "If someone has the drive or the will to do that, this is a really great environment to test drive what you want to do." Buckle up, it's common for interviews to last several weeks as hiring teams get to know the candidate, and give every opportunity for the candidate to know the company.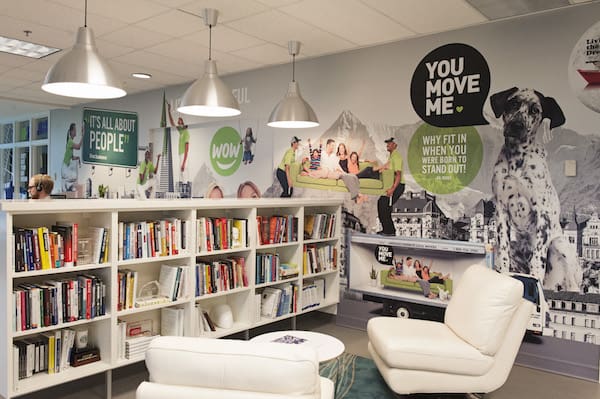 And how does O2E continue to grow a strong culture? Employees that are interested in a new area, but unsure if it's a fit they want to pursue can put in a request to job shadow someone within that department to test it out. Aziza is a case in point: two and a half years ago, she started in the sales centre, and soon, was being supported on actualizing her Individual Development Plan: "It's like goal setting. And one of the goals I had when I first started here was to work in marketing within one year."
Overhearing some individuals on the marketing team talking about missing gaps in their department, Aziza offered to help and began taking on small marketing projects in addition to her regular responsibilities, which then progressed to working part-time on some initiatives within marketing. Just shy of her one-year goal, Aziza joined the marketing team full time. Aziza is a great example that the IDP program coupled with a hiring process that seeks out overall fit versus relying on qualifications alone creates an environment where employees can stretch into other roles.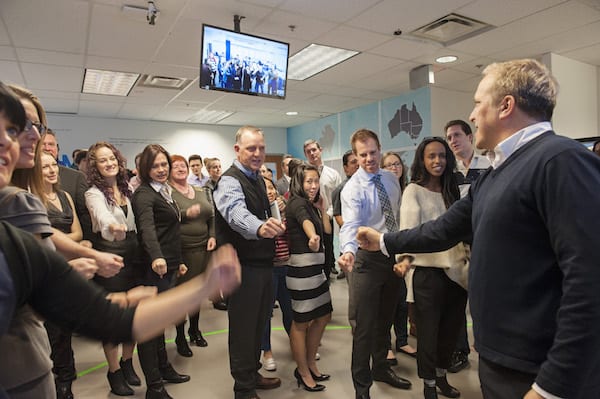 "Huddling" every morning with more than 200 team members in two offices, in Vancouver and Toronto, is no easy feat. However, a core value of O2E is transparency, and the stand-up meeting, that lasts seven minutes, embodies this value. To some, this may seem like time wasted, but O2E's leadership team recognizes the intrinsic value it has on the entire company: It helps save time by eliminating small back and forth email exchanges and ensuring everyone receives the same information simultaneously. It's a daily ritual that sets the tone for the day, unifies the team and highlights what can happen when you prioritize your company's values first.
Find out more about O2E's culture by visiting www.o2ebrands.com.
---
Want to suggest a company you think should be featured in Creative Cultures? Drop us a note.
---