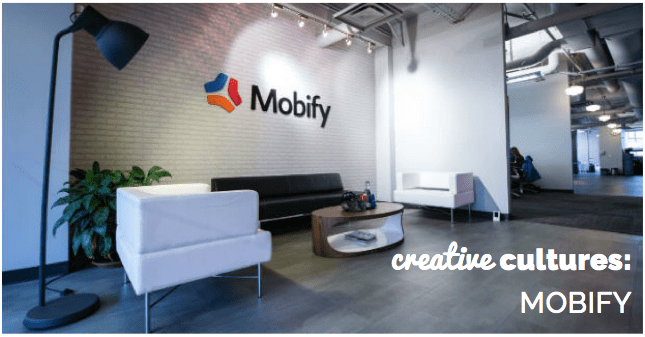 This week, we launch a new series at Fresh Gigs called Creative Cultures. Our correspondent Crystal Henrickson spends a day inside companies to learn how hiring, onboarding, and company culture play a role in employee happiness. From startups to design firms and all in-between, we're pulling back the curtain on what it's like to to work in inventive and productive environments.
It's Wednesday, and I've been invited to Mobify for a lunch and learn. To learn what, I'm not quite sure, but when I arrive, I'm delighted to hear that the topic has nothing to do with work at all. Instead, the Mobify staff and I are going to learn how to play Quidditch – the very game made popular in J.K. Rowling's Harry Potter series – as Mobify is preparing to play in an upcoming tournament.
"Fitness helps us keep sharp. People are happier, creating better products, living better lives," says Mobify's CEO Igor Faletski. It's just one of the many ways he strives to ensure that his employees are proud to work where they do.
Weekly kettlebell and yoga classes are also offered on-site. Photo courtesy of @mobify.
Situated in Yaletown, Vancouver, Mobify is a global technology company that powers mobile sites, apps and messaging for retailers. In the past two years, the company has doubled in size and moved into a new office that fosters Igor's devotion to culture and team building.
Igor says culture is the "operating system of Mobify," and it's been that way since he and his co-founders launched the company from his mom's basement in 2007. In fact, he's so passionate about the topic that he even gave a TED talk about it. "Mobify was built around key values that support business goals and create a great working environment. That attracts people we need to get to next level and build a legacy," he says.
Tanya Kensington is the Director of People at Mobify and shares Igor's excitement for cultivating talent. She describes a rigorous screening process that includes a half-day commitment called Mobify Day. Candidates are invited to work the company for the day, meet the team, and complete an assignment. It's as much about the candidate as it is the company; a two-way opportunity to assess the right fit.
Igor meets with new hires after they've been working for a few days and at the end of their first month. He asks them a series of questions – it's important that there is vision fit: what's surprising, what's not clear? Is there excitement about working on mobile or the future of commerce being mobile?
"A lot of companies spend so much time looking for the right person, but then drop the ball in onboarding, leaving the new hire frustrated. Success is tied to the people who work at the company and people need to be onboarded well. We're good, but we want to be great."
Tanya adds that a company's success is based on the quality of the people, and culture is key. "Giving and receiving feedback is the norm. It's grown into a 360-degree feedback program that is conducted three times annually, with 100 per cent participation."
Even meetings are given the Mobify treatment: at "Super All-Hands" meetings, thumping music plays, individual contributors deliver presentations, and at the end staff members divide into teams and compete for points in games like Family Feud. These regular All-Hands meetings ensure the team is up to speed on what's going on in the business while adhering to the core values of communication and culture.
A glimpse into the whimsy that is the All-Hands meeting. Photo courtesy of @sben_.
Talent Acquisition Manager Laura Crawford gives a tour through Mobify's unique environment. Hammocks are strung throughout the office; there are quiet rooms for independent work and an employee lounge. A standing desk pod is a recent addition. Every Wednesday the staff is treated to healthy, hand-delivered lunches.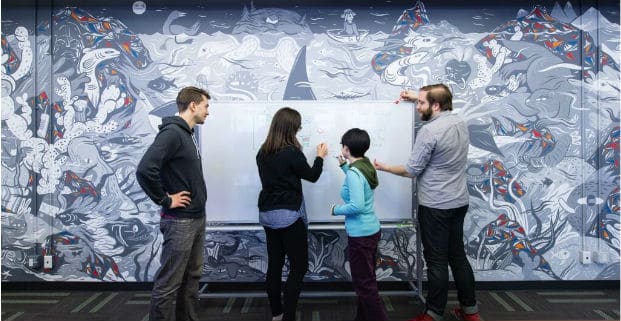 The Orca Pod, where Mobify team members meet and collaborate on ideas.
Photo courtesy of Ross Howard-Jones
Mobify also heavily invests in personal and professional development; staff members attend various conferences and share their learnings upon their return. Viewing the company's instagram page and searching the hashtag #mobifydays gives a glimpse into the company's colourful work-play culture and what makes Mobify a unique and enviable place to be.
Other companies would do well to take some creative inspiration from this bunch.
---
Have a company you'd like to see featured in Creative Cultures? Drop us a note.