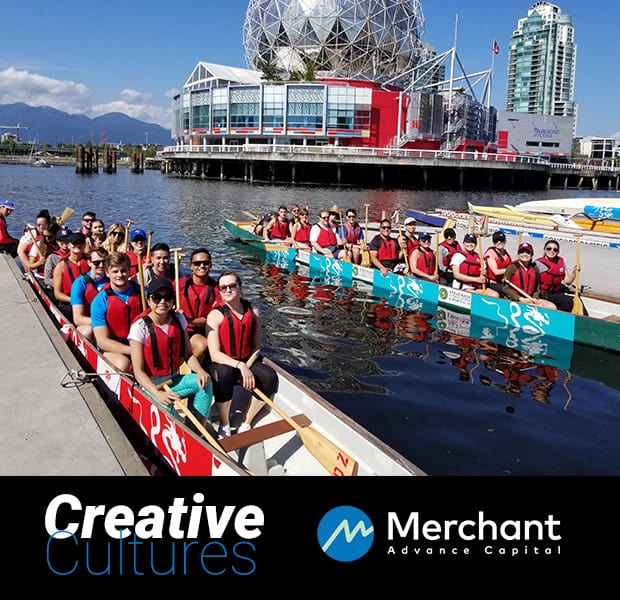 In our Creative Cultures series, correspondent Crystal Henrickson spends a day inside companies to learn how hiring, onboarding, and company culture play a role in employee happiness. From startups to design firms and all in-between, we're pulling back the curtain on what it's like to work in inventive and productive environments. Today she meets with the energetic team behind Merchant Advance Capital.
With a beautiful open office overlooking scenic Stanley Park, Merchant Advance Capital is the definition of a homegrown success story.
Since launching out of Founder & CEO David Gens's apartment in 2010, the fintech company has found its niche using innovative technology and big data to help small businesses in Canada access financing and grow their business.
Today, the company operates two offices in Vancouver and Toronto, and manages more than 50 employees, with roles ranging from portfolio managers to marketers to software engineers.
Cultural Contribution, Not Fit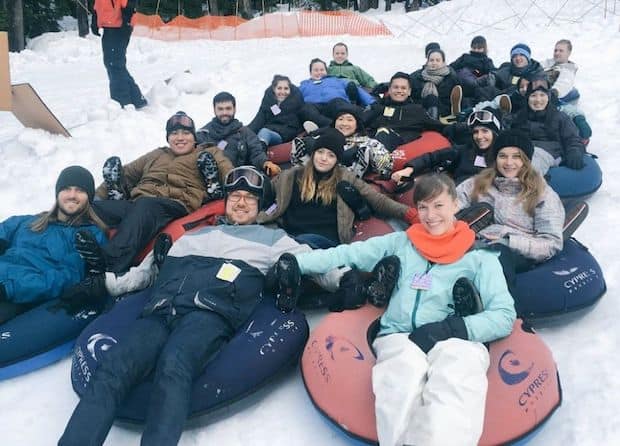 Hiring for culture is a huge priority for the growing company, but speaking with their talent team, I discover that it's less about fitting in and more about adding to the mix.
"It's not so much about cultural fit [here], as it is cultural contribution. The culture changes every time somebody is hired or leaves — it's constantly evolving. It's about what they can bring to the company." explains Cultural Ambassador, Ada Tran.
Newly minted in her role, Ada works closely with all levels of the organization to ensure a welcoming and family-like environment for employees, which include team-building activities like Sports Days, Plank Clubs and fundraisers. Employees also have access to company benefits like flexible health spending and employee assistance programs for personal finance and stress management.
"At first glance, culture at Merchant may seem typical of a West Coast fintech startup—staffed with millennials, sustained on locally-made granola, later burned off during planking breaks. And even though these things may be true, there is, of course, so much more to it. A message that I find constantly driven home is that we always find a way to have fun in what we do while taking pride in building the business together. Being such a close-knit team, it's easy to see the direct impact of our hard work. If you were a fly on the wall of our Slack channels, you would see shout-outs paired with high five and ice cream parrot emojis. It's nice to be reminded that no matter how serious the work at hand is, everyone makes the time to check in with each other, crack jokes, or email the occasional otter gif to their team." shares Aziz Ahmed, VP of Product Management.
Learning as You Grow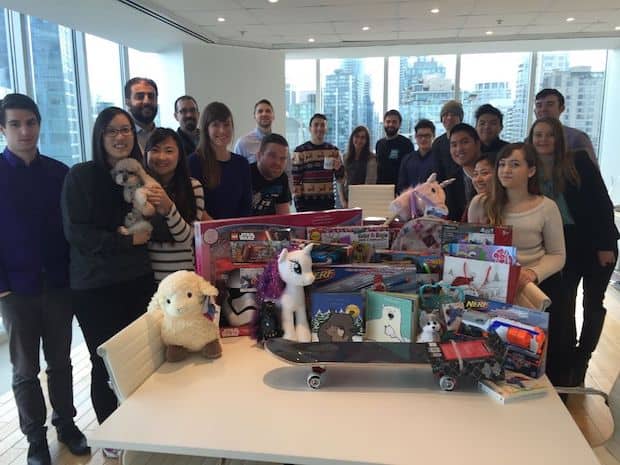 Continuous learning and development are deeply ingrained into the company's processes, from their internship program (which they run in partnership with Vancouver Community College) to weekly progress meetings, to the training of new managers and executives.
Employees are encouraged to take full advantage of professional development opportunities, which range from online courses and conferences to internal lunch and learns. These complement Merchant's open communication policy and regular performance reviews which empower employees to explore their own career paths and goals within the company.
"We believe in an open-door policy and encourage staff to be vocal with managers and senior execs when they have feedback of any sort — not just when a problem needs to be solved," says Alex Chisholm, VP of Marketing.
When a new role becomes open, team members are encouraged to apply internally, allowing the staff to grow as the company grows. Aziz shares his path in the company: "I started working at Merchant three years ago. I've had the opportunity to try my hand at a few different roles in customer service, administration, and technology. [It's] given me an appreciation for how easy everyone makes their jobs look, even though the truth is that everyone here is just hyper-efficient and manages ever-changing requirements with a smile. Today, I help translate business needs into technobabble that can be actioned by our team of Development Jedis as a Product Manager."
Prioritizing Candidate Experience
So what's the hiring process like for Merchant Advance Capital, from the candidate's perspective? "Our candidate experience is extremely important to us. It is their first experience with our company, and we wish to make it as frictionless as possible," says Ada. Before a candidate is brought in for a face-to-face interview, she connects with qualified candidates individually for a phone interview and follow up assessment.
Our candidate experience is extremely important to us. It is their first experience with our company, and we wish to make it as frictionless as possible
For her role as Cultural Ambassador, it's an opportunity to look for aligned skills and strengths, but also a chance to make potential new team mates feel welcome. "It gives me a good sense of the person and helps me start to develop that relationship with them even before they're hired," she says.
Looking to join the Merchant Advance Capital team? They are currently looking to hire a Junior Accountant to join their team.