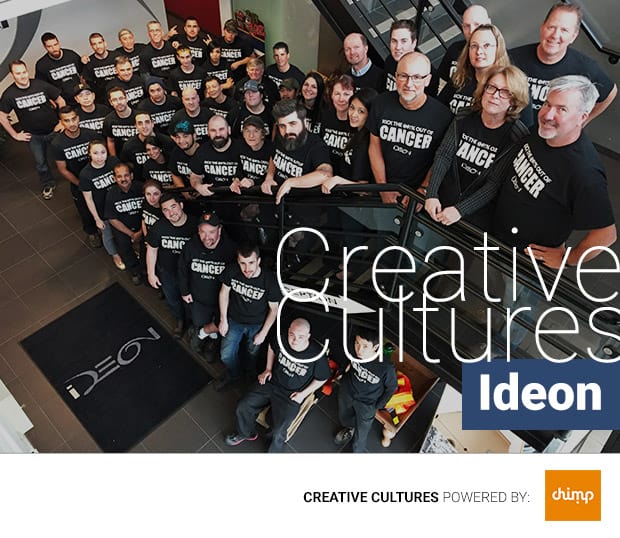 Creative Cultures is powered by Chimp, bringing people and charities together.
— — —
In our Creative Cultures series, our writers day inside companies to learn how hiring, onboarding and company culture play a role in employee happiness. From startups to design firms and all in-between, we're pulling back the curtain on what it's like to work in inventive and productive environments. Today, writer Crystal Henrickson takes us through a day at Ideon.
What if you were told to think inside the box? In this case, it's more like thinking from inside the box company. Based out of Richmond, British Columbia, Ideon Packaging makes attractive and effective packaging, while building a strong and supporting internal community. I was invited to lift the proverbial lid on this company and experience a day in the work life at Ideon.
For a company that puts packaging around products for a living, one of the first things that struck me about Ideon's office space was its lack of walls. In fact, there isn't one person in the entire company with an office. Even the CEO and president, Rick Van Poele, prefers to roam, shifting from desk to desk. An approachable environment, for team members and customers alike, most meetings are held with the door open. And monthly Town Halls congregate on the production floor where leaders communicate important updates, performance details and inspiring presentations.
Each year, Ideon empowers the company to strive for important goals, both inside and outside of work. This year, the focus is on Health and Wellness. To set employees up for success, they've engaged the help of Adam Hart, best-selling author of the Power of Food, to provide quarterly motivational talks at the Town Halls and personal 1:1 coaching to support every single staff member in their pursuit of living a healthier life.
Carly Fairbank was the first graphic designer Ideon ever hired. "Over the years I've grown into this position and made it my own. [The company] has supported me so much along the way. Anything I want to bring in, they're on board with." The fun and relaxing environment, with friendly and easy-going co-workers has factored into what Carly really values at Ideon. "I can't imagine going anywhere else."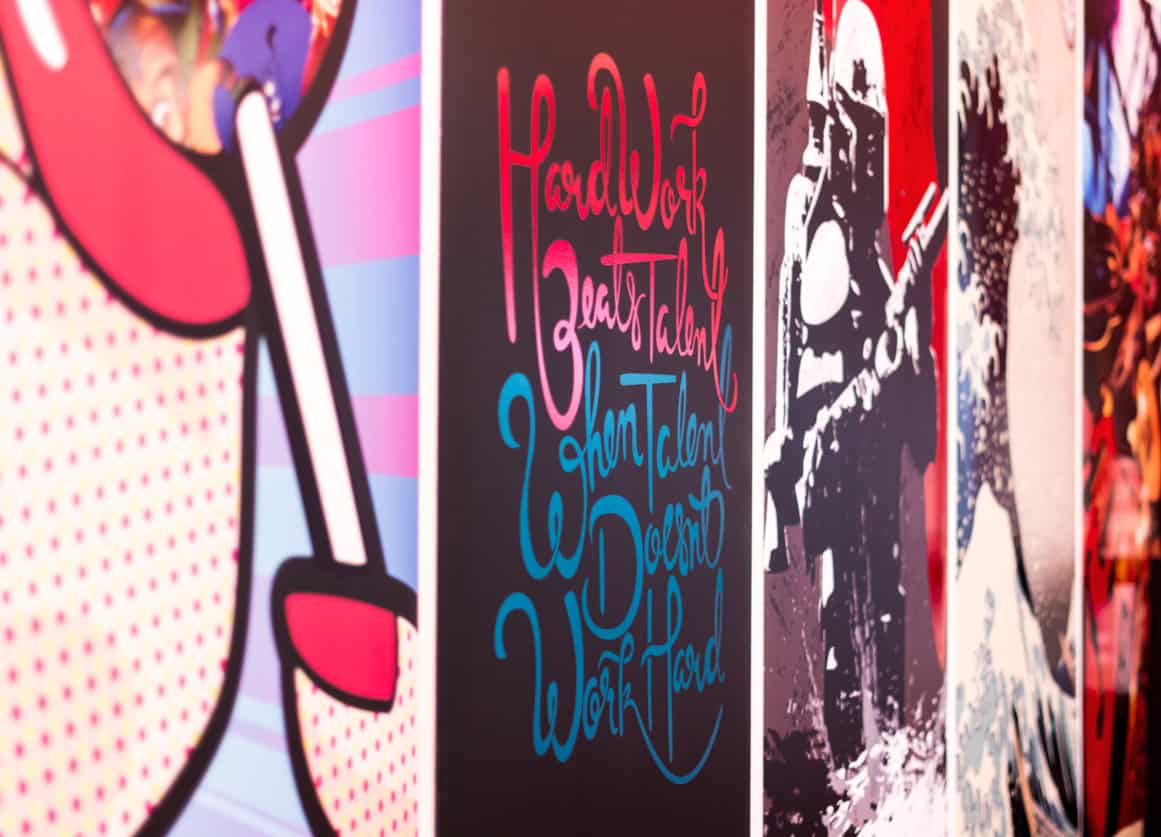 From an engaged social committee to company-led initiative, 4TheKids, the spirit of giving back and uplifting others is woven through Ideon's values. The social committee is tasked with creating memorable and engaging experiences for team members throughout the year. They hold reverse draws for flights to anywhere the winner wants to fly. 4thekids empowers team members to create a better world through a variety of fundraising initiatives. "We can't help everyone, but we can remain committed to help as many as possible," says Colin Piro, Customer Service Representative and Co-Chair of 4theKids committee.
In the past, charities have included the Richmond Christmas Fund, Canuck Place, Michael Cuccione Foundation, Clothes on Wheels and Ruben's Shoes. Ideon seeks out causes in their community and abroad where they can have a direct impact on children's lives. And of course, sporadically throughout the day, you might catch friendly fire of a nerf gun war that erupts.
"I love to see people succeed. It's about unleashing the potential of the people here. I feel good about that." – President and CEO Rick Van Poele
The focus of Ideon isn't on the bottom line; it's on wowing coworkers and customers. The promote from within ethos is reflected in current team leaders who have grown up through the company. Ideon has embraced a philosophy of active coaching and leadership stewardship. They look for self driven employees with well developed people skills, who seek out win-win solutions and have a passion for what they do. and they pursue this vigorously. Job specific skills can always be trained.
While interviewing for a role in Customer Service, Cory Boldt was inspired by these kinds of growth and learning opportunities offered. "My dad is my biggest inspiration," she admits. After being laid off from a B.C.-based plant position in the late 80s, the company saw his potential, hired him, invested in him, and now he's Vice-President. "If you get yourself into a good organization and assert yourself and work for it really hard, you can make a really good life out of it. That's what I want to do."
"I love to see people succeed," praises President and CEO Rick Van Poele. "It's about unleashing the potential of the people here. I feel good about that."
---
Want to suggest a company you think should be featured in Creative Cultures? Drop us a note.
---