Do you appreciate perks that are crazy, fun and outrageous? Or would you prefer that the company you work for spend its employee retention money on great perks that make your life outside of the workplace easier? Read on, and then tell us what matters to you.
Perks Defined
The term perks is slang for the original word perquisites, which are privileges granted to employees in addition to their salaries and benefits. 'True' perks  have little or no cash value or tax implications and may include large and small luxuries such as a company car, vacations, reserved parking space, and spacious offices.
Nearly one-third of employers (32 percent) reported that top performers left their organizations in 2012, and 39 percent are concerned that they'll lose top talent in 2013
Why Perks Matter
Companies trying to build and sustain highly profitable businesses want to motivate good employees to stay. However, nearly one-third of employers (32 percent) reported that top performers left their organizations in 2012, and 39 percent are concerned that they'll lose top talent in 2013, according to a recent survey of 2,611 hiring managers and human resource professionals and 3,991 workers (employed full-time, not self-employed, non-government) by CareerBuilder. While most workers (66 percent) stated that they are generally satisfied with their jobs, one in four (25 percent) said they will change jobs in 2013 or 2014.
What Workers Want
Flexible schedules, half-day Fridays and increased employee recognition (awards, cash prizes and company trips) ranked highest in terms of incentives to stay with a company, according to the survey conducted by CareerBuilder.
But not all incentives are viewed equally by everyone.
"There are significant differences by gender and age in what both job candidates and existing employees expect," writes Karie Willyerd in Harvard Business Review.
Willyerd suggests that companies should match the perk to the person to retain great talent. The three infographics below summarize findings from, "2012 HR Beat: A Survey of the Pulse of Today's Global Workforce," and break down the differences in worker expectations by gender and age: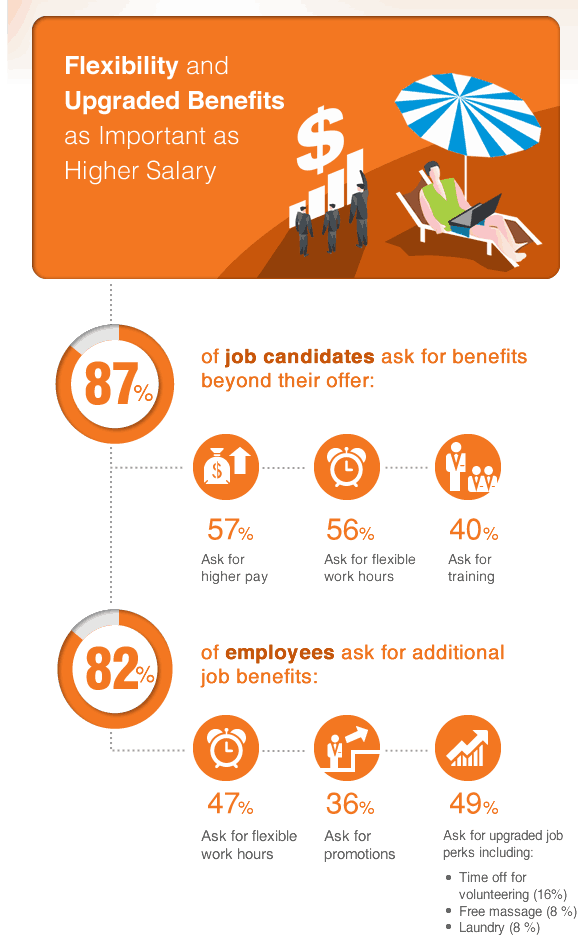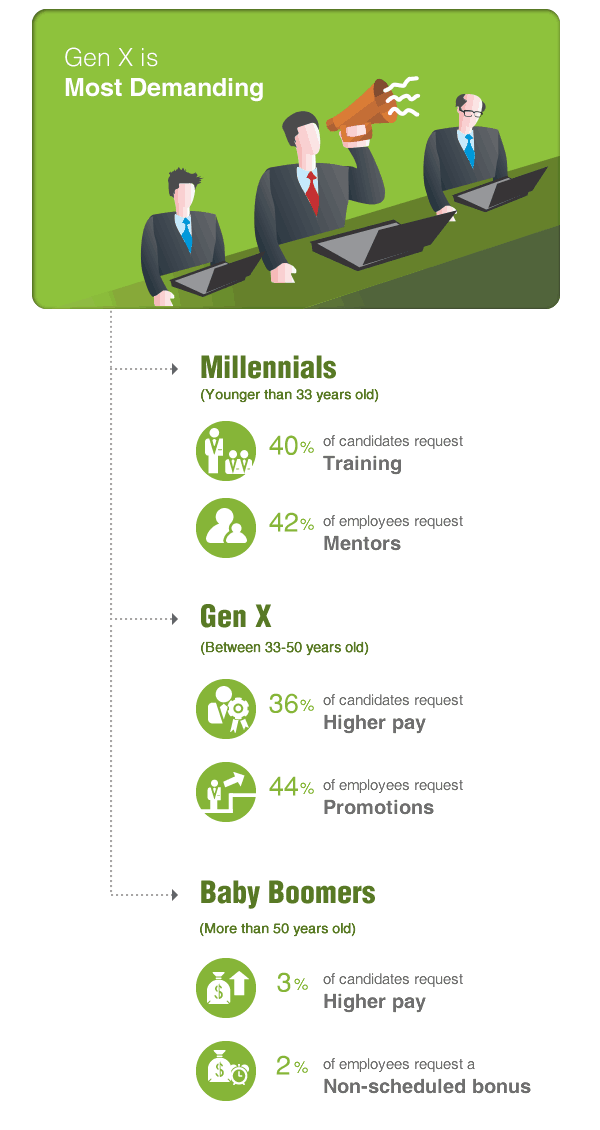 Above Infographics Source: HBR Blog
Cool and Crazy Perks
With flexible work schedules high on the list of employee desires, companies are responding by either offering flexibility as a perk, or by providing solutions that get at the reason behind this demand.
"The workplace was built on the assumption that there was somebody at home dealing with the home front," Anne Weisberg, a human resources executive, tells the New York Times.  But since that is no longer the case, people are stressed and overwhelmed both at work and at home.
Progressive companies like Evernote, a digital note-taking service, recognize this and offer services to ease the burden of overwhelm. According to the New York Times, Evernote's 250 employees — every full-time worker, from receptionist to top executive — have their homes cleaned twice a month, free.
Andrew Sinkov, 31, a vice president of marketing at Evernote, is happy that he and his girlfriend do not have to quibble about cleanup duties. Sinkov tells the New York Times that the value of the perk is greater than the money saved.
"It eliminates a decision I have to make," Mr. Sinkov said. "It's just happening and it's good, and I don't have to think about it."
The New York Times further reports that Phil Libin, CEO of Evernote, also gives employees $1,000 to spend on vacation, but it has to be "a real vacation."
"You can't visit the in-laws; you have to go somewhere," Mr. Libin said, adding that he did not see these perks just as ways to keep his work force — and their families — engaged.
"Happy workers make better products," he said. "The output we care about has everything to do with your state of mind."
Fresh-cooked dinners is another perk being offered by employers. According to the New York Times,
Stanford School of Medicine is piloting a project to provide doctors with housecleaning and in-home dinner delivery. Genentech offers take-home dinners and helps employees find last-minute baby sitters when a child is too sick to go to school.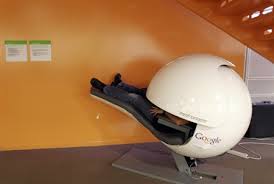 Sleeping on the job is also becoming a workplace perk for companies requiring mentally alert employees. Google once again made news for offering the use of nap pods to their employees, but did you know nap pods were used as far back as 2006 for staff at Vancouver, BC's St. Paul's Hospital?
If your idea of a good perk is something a little on the lighter side, Business Insider highlights some of the crazy ad agency perks that make going to work for these places fun, such as:
Creativity Stipends: DDB Canada offers every employee $250 to buy something that fuels creativity.
Free food: bbq lunches (72andSunny), ice cream truck and snack wagon (McGarryBowen), catered dinners (Droga5), hot dog days (DDB Canada), bagel days and donut days (Deutsch LA), waffle wednesday (Mother New York)
Happy hour at an agency's in-house bar (JWT)
Free beer (Mother New York, 72andSunny, HUGE, Wieden + Kennedy, Big Spaceship, Venables Bell & Partners)
However, if outrageous is what you're looking for in a company perk, your career plan should probably revolve around climbing the corporate ladder. Leave it to Forbes to outline the most outrageous executive perks, like $1.2 million in personal flights on the corporate jet by Barry Diller of Expedia.
So, what's your idea of a great perk? Have you ever worked for a company that offered cool or crazy incentives to attract and retain you? We'd love to hear about it!