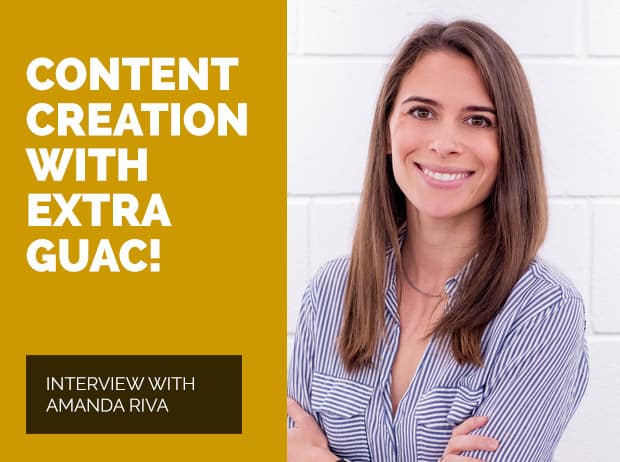 So far, Amanda Riva's career path has been… absolutely delicious. As CEO of THP (The Hot Plate), she has launched a one-stop shop for brands that offers an affordable and on-demand solution for content creation and social media marketing. Emma Bullen caught up with her to talk about her career path, company culture, and what it meant to win the Ernst & Young Entrepreneur of the Year award.
EB: How did you get to where you are today?
AR: I come from a very entrepreneurial family. My Dad is a successful tech entrepreneur, and I worked at his company underneath his VP of sales when I was 17 to help make some beer money for school. It gave me a work ethic and an understanding of how to pitch an idea and to get people to buy in and not being afraid of rejection.
I started The Hot Plate as an online cooking show in university. I had moved into my first apartment, and I loved to cook. One of my girlfriends suggested I record myself and put it on TV McGill at McGill University. At the time we were the first people speaking to Millennials about food. We went on to win the Dobson cup at Miguel for Entrepreneurship.
When I moved to Toronto, a lot of my girlfriends were working in the advertisement industry. I started freelancing as a food stylist to pay the bills while I figured out what I wanted THP to be. As many entrepreneurs would say; I was in the right place at the right time. I was exposed to a lot of incredible companies like Craft and Unilever and was given the opportunity to work alongside top-tier agencies and learn about content production. It was through that feedback that THP grew from a cooking show, teaching people how to cook into a vehicle for producing content to help brands teach consumers how to cook with their products.
EB: What's the agency best known for today?
AR: When we came to the scene our goal was to productize our content production services. We wanted to offer recipe development, photography, videography. Marketing agencies are traditionally formed on the notion of long-term relationships, agencies of records, and retainers. I used my experience from having worked in the technology sector to productize these services. Technology is very fast growth, and it's also very profitable. I took inspiration from that and translated it into the marketing industry.
Technology is very fast growth, and it's also very profitable. I took inspiration from that and translated it into the marketing industry.
Today, we are well known for our content production services and for offering an on-demand model for purchasing social media and marketing services. We've been very fortunate that marketers have found a lot of value in that and it has contributed to our success and our growth as a company.
EB: What does winning the Ernst & Young Entrepreneur of the Year award mean to you?
AR: That meant so much to me. It was a thorough process of financial reviews, interviews, panels and business speed-dating rounds over the course of six months. The level of support, cheerleading, and solution-oriented thinking throughout the whole process was incredible.
It was nail-biting sitting at the awards ceremony all dressed up having no idea of what's going to happen. They left the Young Entrepreneur award to the last one of the night. We were seated in the very back of the room which I joked about in my acceptance speech; they knew we would make it to the stage because we were all under 30.
It was an incredible testimony to what our team has accomplished because this is not an award that is driven just by innovation, it's driven by our success as a company and the ability to achieve our revenue targets and profit targets. The recognition for us as a company is a testament to our desire to disrupt the industry in an impactful way.
EB: How big is the team right now?

AR: We are a team of 81 full-time team members in our Toronto office and we have 3 team members in our UK office in London. The London office was a great natural next step for us. It opened the door not just to the UK but also to the rest of Europe as well.
EB: How would you describe that company culture?
AR: Well, we are hungry all the time in both senses of the word. We eat all the time in this office, and our team is incredibly driven. They cherish that shared common goal that we have as a company to make every one of our customer a crazy raving fan of THP.
The recognition for us as a company is a testament to our desire to disrupt the industry in an impactful way.
I myself sit up with the team, I don't have an office. We keep a very flat organization because it forces us at the senior leadership level to look at our growth in different way. Instead of adding more and more layers, we look at what skill sets we need, and how to train and develop our team.
We have been able to build a great team. We do a lot of fun things, like Thirsty Thursdays, where we all have a beer together at 4'clock. We had our annual Flavor Trend Report come out each year where we cover the top 10 trends in food to watch for in the upcoming year. We have a big meal as part of the launch which our test kitchen prepares for us which is always exceptional. And on Fridays, we take all of the perishable items out of the kitchen and our team grocery shops for free out of the office, which is really fun.
EB: Are you currently hiring at the moment?

AR: We are always on the hunt for great people. Right now we are hiring in our social media department for social media specialist. We are also hiring what we call a partner development coordinator; it's our version of account coordinator level. And we are always looking for entry-level inside sales representatives.
EB: What quality do you look for in every employee?
AR: When we are hiring team members, we are looking for individuals that have determination. These are people that are highly motivated self-starters they want to make every customer a crazy rating fan of THP. They have a hunger and desire to learn.
We want to hire great exceptional people, but we acknowledge that some want to execute and others want to lead. Everyone has to be a worker bee since we are all responsible for helping to drive the company forward. Because our team is comprised of all different types of people, different ages, different career backgrounds, we trust them explicitly in the hiring process. As a result we give our team veto power over all new hires. If a team member isn't onboard with a new hire, then they are not going to feel accountable to the success of that person being onboarded and trained properly.
One of the most significant changes we made as a team was making sure everyone knows what we are looking for when we are hiring. We make sure the team knows what we're looking for in terms of skillset and we also empower them to make a decision based on personality fit. Ultimately, they're going to be part of their day-to-day lives as a team member. Do they want to sit next to that person for 8 hours every day?
EB: What do you think the one thing a marketer should learn in 2018?
AR: I think marketers in the position of brand management need to work very hard this year to understand the role that eCommerce is going to play in their marketing plans. It's a very challenging retail landscape right now with so much evolution happening. How can you rise above all the noise and be seen by your consumers?
2018 is also about learning how to be more flexible and empathetic. What we are seeing right now in the industry is decoupling and specialization. Brands are looking to decouple their services from one agency and instead have a few agencies that are experts in what they do and then having that same agency service all the brands under that company's umbrella. What happens is an increase in streamlined communication and efficiency from an internal communication perspective. We are very lucky at THP that we are very well poised for that transition to decoupling and the specialization because that's how we built our business model.
EB: What the most useful piece of career advice you have ever been given?
AR: "Shoot for the stars, land on the moon. Shoot for the moon, land in the outhouse." Not the most eloquent thing I've ever been told, but the truest.
"Shoot for the stars, land on the moon. Shoot for the moon, land in the outhouse.
We tend to aim for the targets that were set up in front of us. But if you aim for the target, you are likely going to end 20% behind. If you aim for 50% above the target then you will probably reach your target. You always need to be on a path of continuous improvement.
EB: What book do you often recommend to friends?
AR: The two books I typically recommend for any of my friends who are entrepreneurs or who are in the business community looking to get ahead and think differently about their career, I always recommend "Good to Great" by James C. Collins. It is such a terrific book, I mean, its not the newest book on the market but it rings so true.
When I read for pleasure, I love anything by David Sedaris and Crazy Rich Asians by Kevin Kwan. I can't get enough of them.