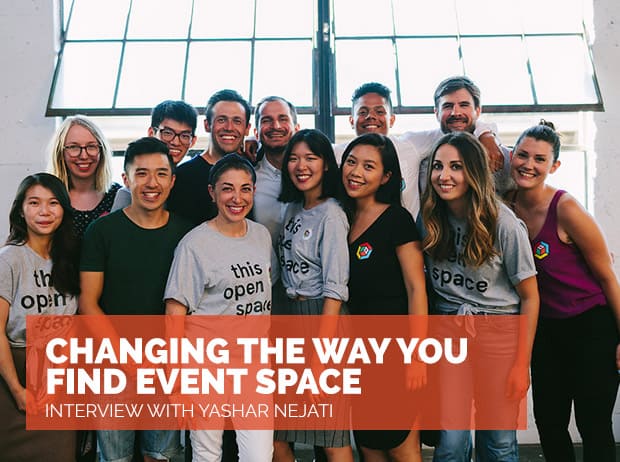 Changing the Way You Find Event Space
thisopenspace is on a mission to connect people and space to bring ideas to the world. They are an online marketplace for people to list, discover, and book unique short-term spaces from around the world. From an empty downtown retail store to an art gallery inside a heritage building, it can all be found on thisopenspace. Emma Bullen spoke to Co-Founder and CEO, Yashar Nejati.
Emma Bullen: Tell me about your background. How have you got to where you are today?
Yashar Nejati: My background is in business, marketing, and biochemistry. I worked in business and life sciences for about a year out of college, then I switched to enterprise technology sales. I've always wanted to start my own business and my first business was food manufacturing. We made organic dips and sold them into Whole Foods and had some success doing that. In around May 2013, we were planning an event and wanted to open a pop-up cafe for a couple of weeks and couldn't find anywhere to do that in. It's really the classic story, I solved my own problem and found the space. And after the event, we got feedback that accessible short-term space is a problem that a lot of entrepreneurs face.
There are a lot of brands who start online-first and they're looking to take a step from online into IRL (in real life). Maybe they're just getting started and they want to do a launch party they can't really get short-term space they need to do that in. We kept doing it as a side project, but when we saw that the market had moved in that direction, we decided to launch thisopenspace. We launched in January 2016 and since then, we've grown and have locations in Toronto, New York, Vancouver, Montreal and Los Angeles.
EB: What are some of the coolest events that businesses have held using thisopenspace?
YN: Our mission is to connect people and space, to bring their ideas to the real world and we've had some incredible things happen. The world's top leading brands like IKEA who did a pop-up play cafe in Toronto, the Weeknd and Kanye West have booked for merchandise pop-up stores. Everlane did a shoes and flower market for a couple of days in New York.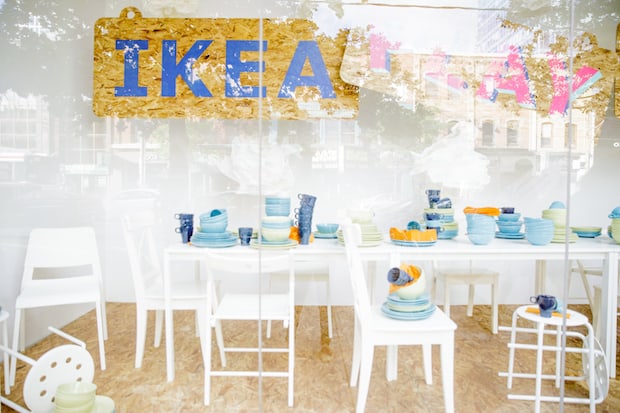 EB: How are marketers changing the way they approach event planning?
YN: There are a few macro trends that are happening. There are a lot of brands that are closing their physical stores. That creates a lot of vacancies, but it also frees up a lot of budgets and brands are looking at where they can place that budget. They're placing it into experiential retail stores. I always compare it to when you invite people into your home, you're starting to get to know them and you're telling them your story. And brands are creating pop-ups for that same reason, to invite their fans into their brand home to tell that story.
In addition, with a lot of technology that's coming up, brands can create a lot of content for a larger campaign. So, for example, when IKEA opened their Play Cafe, it was an opportunity to create a lot of content that will live digitally. But they're also using it to collect a lot of data about how people are interacting with their products, which products people are picking up, and who is coming into the store. They can use that data to improve their online presence.
EB: How has is your partnership with Shopify changed things for you?
YN: It's really step one in what I call an affection with Shopify. What we'd like to do is make it as easy to sell IRL as Shopify has made it to sell online. Shopify recently released a POS terminal, which makes it easy for people to do commerce from anywhere. Our partnership allows our users to get one of those POS terminals for free. As well, we're looking to create more spaces that are for pop-up retail, so when an online retailer hosts pop-ups, their store is ready to go.
EB: What advice do you give people who are creating their own pop-up stores?
YN: We have a pop-up playbook that outlines everything you need to do. One thing I always say is to be clear on why you're doing a pop-up. Are you doing it for market research, are you doing it to create content, are you doing it to generate sales, or are you doing it for another reason? It's very hard early on to do all of those things, but if it's your first one it's better to pick one and have that goal in mind. Don't overcomplicate it.
We have a lot of diversity in spaces on our site. Brands don't just need physical retail space, they might need a space for a photo shoot, or a team offsite, or a company event like a product launch.
EB: How big is the thisopenspace Team?
Right now, we're a team of 20 with 15 full time. We're a dispersed team with headquarters in Vancouver and offices in Toronto and New York.
EB: How would you describe your company culture?
YN: We have a hard working culture. Everyone who's on the team is really motivated by our mission. Everybody who's on board has at one point or another experienced the problem that we're solving first hand. There are a lot of creative people on our team, our head of product creates ceramics and our visual designer is also an illustrator. I think people with creativity really inform a unique product.
EB: You recently wrote an article about how being a refuge prepared you for life as an entrepreneur. How has your background shaped the culture of thisopenspace?
YN: I have a mindset that no problem is too big. In a startup, you have a lot of ups and downs and when we have those downs, I can stay optimistic and keep the team optimistic, because, in the grand scheme of things, anything can be overcome. Having that perspective allows us to take bigger risks and be okay when things aren't always going right. I like to think that having me as the leader of the team instills that in everyone else, we can keep moving ahead even when things are tough.
Be okay with people running off with their own ideas and learn to thrive in a chaotic environment. It sounds counter intuitive but it ends up serving you better.
EB: Are you currently hiring?
YN: Yes, we are. We're looking for everything from Customer Support to Head of Growth, Engineers, Account Managers, and Location Scouts. Take a look at our jobs page for more info.
EB: What's the most useful piece of career advice you've ever been given?
YN: The best piece of entrepreneurship advice that I've ever heard is to embrace the chaos. Be okay with people running off with their own ideas and learn to thrive in a chaotic environment. It sounds counter intuitive but it ends up serving you better.
EB: What book do you most often recommend to friends?
YN: A book I really like is Zero to One by Peter Thiel. It encourages you to take on the mindset that when you're creating something, you should not make it incrementally better than what's already out there, you should create something that will move the world forward by leaps and bounds.