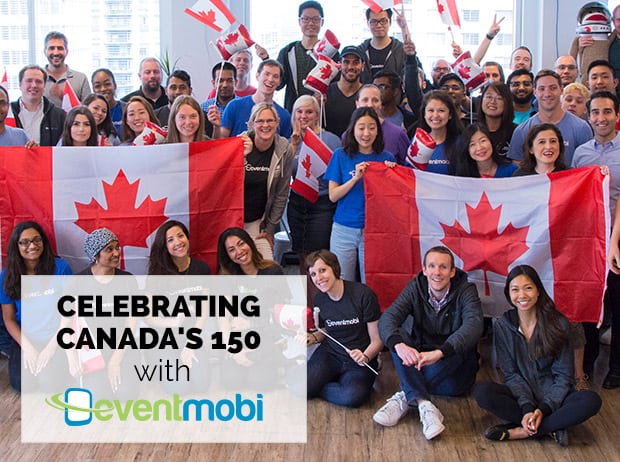 This year marks the 150th birthday of Canada, also known as the 150th anniversary of Confederation or the sesquicentennial anniversary. With businesses across the country starting special initiatives in honour 150 years, tech startups are no different. We spoke to Toronto-based EventMobi, who are launching a new program, 150 Days of Action.
Tell us about EventMobi
EventMobi are the global leader in conference and meetings technology. We make it easy for event planning and marketing professionals to create and manage their online registration and event app. Our platform is trusted by over 12,000 event professionals in 72 countries and has reached over 10,000,000 attendees worldwide. We're proud to say that we're revolutionizing the way event organizers leverage technology at conferences and meetings around the world.
What is 150 Days of Action?
150 Days of Action is a program which kicks off July 1st to provide employees with meaningful opportunities to give back to their communities. As a company, we are incentivizing our employees to contribute to a total of 150 company days dedicated to volunteer work of their choice. We are excited to launch this program on Canada Day and inspire our staff to be Helpful and Empathetic – values that are core to our company and part of Canadian culture.
How are you encouraging your employees to take action?
We are empowering our employees to pursue volunteer experiences tailored to their interests and passions. Some of EventMobi's initiatives include: a recognition program; real-time 150 day online dashboard gauge; blogging and social sharing; and ongoing internal communications. In addition, employees are able to pursue team-based volunteer opportunities to support team building and engagement.
We are committed to building an environment where employees feel they are doing meaningful work and are inspired to make a positive impact in the world.
What are you hoping to achieve with this initiative?
The EventMobi Canada 150 program aims to empower our team of talented and passionate individuals to take action and give back to their communities in ways that are meaningful to them. We want to encourage, recognize and support volunteerism in the workplace and ensure that EventMobi is doing its part in an innovative and inclusive way. As a proud Canadian company, we also want to honour the values, freedoms and opportunities Canada offers by giving back.
How does 150 Days of Action reflect your company values?
We are committed to building an environment where employees feel they are doing meaningful work and are inspired to make a positive impact in the world. In developing the EventMobi 150 Days of Action program, we wanted to ensure it provided flexibility, freedom of choice and created a shared goal everyone could get behind.
How are the EventMobi leadership team getting involved?
Wait and see! As part of the program kick-off, the EventMobi leadership team is getting set to reveal their chosen volunteer opportunity.
Sounds Cool! Where can we find out more?
Visit the EventMobi blog and follow EventMobi on Twitter @EventMobi, Facebook and LinkedIn.
Are EventMobi Hiring?
We sure are! Click here to view a list of our available positions.