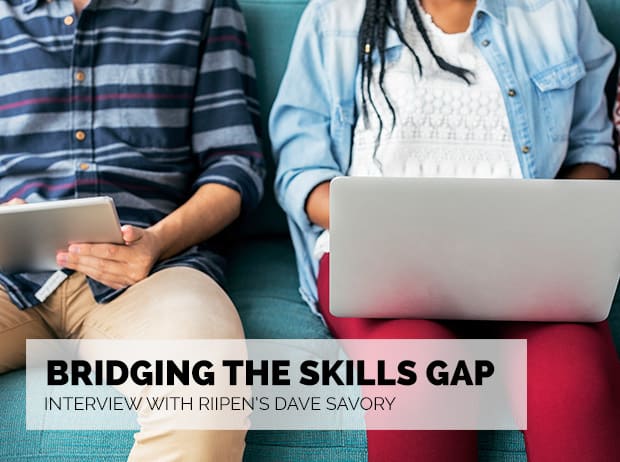 Riipen is a technology platform that connects the greater business community with higher ed students, recent graduates, and educators through meaningful project-based experiences. Emma Bullen spoke to Co-Founder and Director of Industry Partners, Dave Savory
Emma Bullen: Tell me a bit about you. How did you get to where you are today?
Dave Savory: I grew up in Southern Ontario and moved out to the University of Victoria when I was 19. I ended up getting a business degree, and I ran a college pro-painting franchise for three summers to get some real-world business experience while I was still at school. I met Dana, who I started Riipen with, in the program at UVic. We were in an entrepreneurial class in our last semester, and we had to come up with a business idea and do all the planning for a potential venture. We wanted to do something that could potentially be taken outside of the classroom. We went through doing a mandatory Co-op program where we went through the process of sending out a million resumes and not getting anything back from companies. It was frustrating. Thinking about all the different projects and assignments that you do through your academic career that demonstrate real world value are often siloed in an academic bubble. From there, we started asking, "what if projects we were doing for course credits were for real companies?"
EB: Tell me about Riipen – when did it launch and how many users are on the platform?
DS: The concept started about 4 and a half years ago in the  last semester of our undergrad. The platform  launched in January 2014. We're currently working with over  150 post-secondary schools; we sell to professors and academic institutions to help them manage and track all the experiential learning that's happening on their campus. We started with two in Toronto and Vancouver, and now we have schools in Texas, California, Florida, and New York. There are currently  about 10,000 companies engaging on the platform with various projects, and will facilitate over 10,000 student experiences just this year.
EB: How does Riipen work?
DS: Professors upload assignments that are part of their curriculum, and invite the growing network of industry partners to participate by submitting a real project scope. Companies pay a small participation fee if they're connected to a student team in the class. It's free for individual professors, but schools pay an annual license to have a private branded portal and have access to the data on each experiential engagement happening on their campus.   Every project has skills tagged to it, and the company will validate those skills with an uber-type rating. If the students like the ratings they receive once they've completed the project, they put it on their portfolio to show off to employers. The premium plan gives schools access to what companies are saying about their students so they can adjust curriculum to meet the rapidly changing needs of industry.
EB: How do organizations get involved with Riipen?
DS: It starts on the academic side; we have professors in Texas, for example, then we go and look for companies in Texas. We do a lot of outbound — we have a sales force of people that do cold calling and email campaigns. We have a growing list of community partners, like accelerator programs or board of trades. We partner with these groups who connect us to their members to leverage research or find talent. There's no better way to do that than to participate in a project and assess the skills of young people who don't often get the chance to prove their worth. We haven't established a world-class marketing strategy; Dana and I are from a business background, so we started with what we knew. Going from here is our next challenge.
EB: I noticed a Google Analytics Certification on the platform. Do I have to be a student or a recent graduate to enjoy the benefits of Riipen, or can anyone use it?
DS: That's one of our challenges and building those challenges with companies was actually how we got started. We knew that schools would be slow to adopt the platform, so we went to companies and asked them to post skill specific challenges and turn it into a competition where you have prizes or interviews for top performers. We partnered with student clubs and said, "HootSuite just posted this software development challenge, if you want to get onto their shortlist, check it out." We had 4-5000 students came on the platform to take part. It wasn't tied to the curriculum. It was a tough model to start with because you need to keep both sides, the companies and the students engaged. We pivoted to target professors and then market it to companies. It was far easier to get companies engaged. To bring that full circle, we starting to bring in more open challenges and competitions with companies like Google, Hubspot, Hootsuite so we can provide students with skills that they won't necessarily learn at school. Those challenges are open to anyone. If companies see something that they're really impressed with, that could be your ticket into that company.
EB: What's next for Riipen?
DS: We're transitioning from being a sales/services company into being an automated technology platform. That's really going to accelerate over the next twelve months. We'll be automating a lot of the processes that we're doing manually right now. If you want to go to and engage students in an experiential learning project, you'll be able to self-serve and find different opportunities. Right now we're building a recommendation engine that will help organizations push opportunities out to people who have the skills they're looking for. We're also starting to integrate with other tools, such as Microsoft.
EB: How big is the team at Riipen?
DS: This time last year we were about six people. Now, we have a team of 33 – 27 in Vancouver, 4 in Toronto and 2 Account Executives based in New York and LA. Most of the growth this year has been in business development and sales. There are a lot of challenges there, but it's what we raised our seed round to do.
EB: How would you describe your company culture?
DS: We've attracted an interesting mix of people who are focus driven and here for the right reasons. We have senior team members who are established in their career who have an idea of where education and employability needs to go. Most of the 20+ people we've hired in the last six months are recent graduates who are aware of this problem and are passionate about fixing it. Everyone is really aligned on our mission to eradicate graduate unemployment.
EB: Are you currently hiring? What roles are you looking for?
DS: In the Fall, we'll be looking to bring on more senior team members including senior marketing talent with experience and strategic vision. We're also looking for recent graduates to work in our customer success team and sales development. We want them to learn all the systems and processes with the goal to move them up into leadership roles within 8-10 months.
EB: What's the most useful piece of career advice you've ever been given?
DS: When you try to start a business straight out of school with student debt, you get a lot of conflicting recommendations. Some people said, "you've got to do it now," some people said, "go out and get a job and pay the bills." We didn't pay ourselves for two and a half years. The first year, we still had full-time jobs, and it was a real challenge to get things done. The best advice I had was to surround yourself with people that are better and more intelligent than you are. You should be excited about adding those people to your team if you can get them. We've followed that advice, and it's really raised our game.
EB: What book do you most often recommend to friends?
DS: I really like The Power of Habit by Charles Duhigg and the Hard Thing About Hard Things by Ben Horowitz, a successful founder in Silicon Valley. Most of the book is about his business. It's a no-bullshit story, and he's very candid about the mistakes he's made.