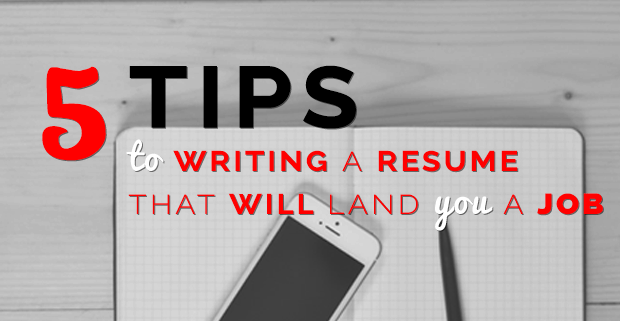 We've covered five tips to writing a killer cover letter, now it's time to switch gears and discuss five tips to writing a killer resume that'll land you a job.
Writing a resume involves fitting your entire work experience onto a one-page piece of paper. As you're well aware, it's not easy. What makes writing a resume even harder isn't the simple act of what to include on the resume, but rather how you should phrase and organize your inclusions in a manner that will appeal to hiring managers to ultimately land you an interview and get you a job.
With that in mind, there are five tips to writing a killer resume:
1. Frame Your Strengths Using a Google Tested Formula 
The effectiveness of your resume in helping you land an interview resides in how you write your workplace achievements and accomplishments.
Laszlo Bock, who leads Google's people function, responsible for attracting, developing, retaining, and delighting "Googlers," has a simple formula that you should use when framing your strengths and achievements on your resume: I accomplished X, relative to Y, by doing Z.
Using numbers in your resume validates your accomplishments using fact-based evidence.
"Most people would write a résumé like this: 'Wrote editorials for The New York Times,'" said Bock in an interview with The New York Times. "Better would be to say: 'Had 50 op-eds published compared to average of 6 by most op-ed [writers] as a result of providing deep insight into the following area for three years.' Most people don't put the right content on their résumés."
2. Quantify All Your Accomplishments
Continuing off of the first point, you should always try and quantify the impact you made at each of your jobs. When it comes to resumes, the logic is simple: numbers are more powerful than words.
Did you decrease the bound-rate for your company's website? Don't simply state "decreased bounce-rate," but be sure to include the actual percentage. This applies to everything—if you're a writer, how many articles for your last company did you write? How often were your articles shared on social? If you work at the gap, how many customers do you serve each day? If you're in sales, how much revenue did you generate in 2014 Q3?
Using numbers in your resume validates your accomplishments using fact-based evidence. It shows the hiring manager that you know what you're doing, and you have the numbers to back that claim up.
3. Scrap the References, Keep Education Short
"References Available Upon Request." What?
It's understood that the hiring manager will contact your references should he or she be considering you for the position—stating that your references are available on request serves no purpose.
Shorten up your education, too. Name of the university (or universities), program, and years attended is enough—GPA can be included depending on the position you're applying for. There's no need to including things like what campus clubs you were a part of.
Scrapping the references section and keeping the education section short helps create a killer resume by giving you more free space to work with. You can take advantage of this free space by either adding more points to your work experiences or simply leave things be and give your points more room to breathe.
4. Replace Your Objective with a Professional Summary
Much like "references available upon request," placing an objective on the top of a resume has always been the unquestioned norm. But if you truly want to take advantage of every inch of space that you have available to you when building a resume, you need to switch out the objective in favour of a professional summary.
An objective simply states what you hope to get out of the job you're applying to. But what good does that do for the hiring manager? You need to show what you bring to the company, and how you can help the company grow. A professional summary highlights your core competencies and explains why you'd make a great hire in no more than two sentences.
5. Replace "Responsible For…" With More Decisive Words
Starting your accomplishments off with "responsible for" makes them sound weak.
"Having been responsible for something isn't something you did — it's something that happened to you," says Charles Purdy, author of 10 Words and Terms That Ruin a Resume.
You need to be specific as possible with everything you do on your resume. "Responsible for" is vague and diminishes your achievements. Use strong, commanding words, which can lead into something quantifiable (as we previously mentioned), such as "managed" or "directed."