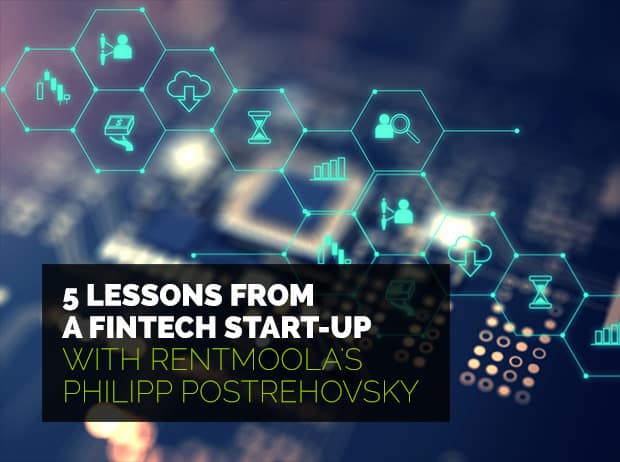 Ever wonder why in 2017, you are still paying your rent with a cheque? Last year in the United States alone, tenants paid $600 billion in rent, $300 billion by check. RentMoola is a company that's looking to change that through an online global payment network that allows users to pay rent simply — and get rewards that include travel, lifestyle, and home services. Emma Bullen spoke to RentMoola's Philipp Postrehovsky about his lessons as Co-founder and COO of a fin-tech Start-up.
RentMoola launched in April 2013 out of a real need. Philipp Postrehovsky's brother and RentMoola co-founder was living as an expat in Shanghai. Daily ATM limits meant Patrick had to withdraw cash for four consecutive days at the end of each month to amass the funds to pay his rent.
Patrick realized he could purchase local currency at Vancouver International Airport's foreign exchange office for a small service fee using his rewards credit card. He quickly turned his rent payment into numerous free flights, and the idea of PAYING RENT IS REWARDING™ was born.
Fast forward five years and RentMoola are a growing team, mostly based in Vancouver, with Philipp's brother Patrick now based in San Francisco. RentMoola have come a long way from their early days. Working in the growing fintech industry, the lessons Philipp has learned are universal.
1. Solving a Real Pain Point is Rewarding
Doing something that you are passionate about as an entrepreneur is a big part of your success. It gives you the energy you need to push through the finishing line, where you might have given up.
"One of the best things about being a co-founder is the knowledge that I am solving a real pain point," says Postrehovsky. "We are making lives easier and more convenient. That is the philosophy behind our tagline—paying rent is rewarding."
2. Leverage Your Experience to Benefit the Company
Postrehovsky is an award-winning marketer and lead brand for Mogo Technologies, Wonga Canada, and Vancity. His background as a marketer combined with the talents of his team has been instrumental to the success of the RentMoola brand.
"From the beginning, we made positioning a priority. We put considerable time and effort into building the RentMoola brand."
"From the beginning, we made positioning a priority. We put considerable time and effort into building the RentMoola brand; we talked about the feelings paying rent evoked and how we wanted that to change. Those decisions have impacted everything from the tagline to our website design."
3. Great Networking Can Pay Dividends
Making time to attend networking events can provide opportunities that take your company to the next level. Last year, RentMoola were chosen as winners at Metabridge, an event that connects Canada's Start-up talent with some of Silicon Valley's best-known tech executive.
Attending the retreat allowed them to make key relationships and receive unprecedented advice from entrepreneurs and investors.
"Metabridge is a well-respected program, and we are proud of this award. I would definitely recommend attending an event like this from a networking perspective. It has paid dividends for RentMoola."
4. Never Underestimate HR
One of the biggest mistakes you can make in a start-up is failing to nurture your company culture. As important as it is to meet deadlines, nurturing a positive culture results in higher employee retention and a more productive workplace.
"One of the most challenging aspects of my role is making sure that everyone is happy and on the same page," says Postrehovsky. "HR is one of those things that people underestimate. In the complexity of a tech start-up, our people are the company."
Creating a great culture starts with your hiring practices. When interviewing a new employee, Postrehovsky says, "We always look for a culture fit. You can teach a skill, but you can't teach fit. Culture fit should always be a priority."
"HR is one of those things that people underestimate. In the complexity of a tech start-up, our people are the company."
5. Make Time for Fun
Under the wire, it is easy to get carried away with chasing the next client, press opportunity, or delivery date. While stress can push employees to achieve, it can lead to long-term health issues and counterintuitively to employee disengagement. Having fun is every bit as important to your success as hard work.
"Obviously, as a company dealing with finance, the RentMoola team does have a serious side, but we also like having fun," says Postrehovsky. "On the first Friday of the month, we get together for guacamole and beer, we do monthly lunch and learns (MoolaIQ), and we have quarterly team events to foster a healthy team dynamic. We believe in having a good time, as long as things are getting done."
---
Now in its 9th year, Metabridge brings senior technology leaders to British Columbia to showcase Canadian talent. This year, 15 Start-up founders will be traveling to Kelowna, BC to receive mentorship from serial entrepreneurs, international tech executives, and investors in an exclusive three-day retreat.
Ticket sales are now open for the Metabridge Live community program which includes workshops and roundtables with investors and mentors, and a networking event at Mission Hill Winery with a live concert from singer-songwriter Andrew Allen. For details, visit Eventbrite.