The clothes don't make the man (or the woman), but they definitely play a role in his or her success. Michael Nguyen, owner of Garrison Bespoke, shares four rules to live by when dressing for an interview:
1)  Wear a suit.  It's the most flattering garment a person can wear.
2)  Wear clothes that fit you. Nothing makes you look more put together than clothing that complements your body shape. This is as true for women as it is for men – good tailoring is not a male-only art. It's amazing what happens to your posture and confidence when your clothing is perfectly tailored.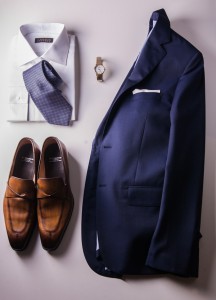 3)  Polish your shoes. Poorly kept shoes make an otherwise professional outfit appear sloppy.
4)  Iron your garments. A freshly-ironed shirt is a must for men, but steamed or ironed garments are equally as important for women. You may be very well-prepared for the actual interview, but a wrinkled wardrobe will suggest otherwise.
Michael Nguyen is the owner of Garrison Bespoke, a luxury menswear boutique in Toronto's Financial District that creates custom garments to help clients make their mark. For more information, visit www.garrisonbespoke.com.
photo credit: Mike Paul