On June 8-9, 2012 Social Media Camp will be held in beautiful Victoria BC. This is an event you definitely want to check out.
Why?
Chris Brogran will be there. So will Simon Salt, Chris Breikss, Maya Grinberg and many many other thought leaders in the social media world. Not enough?
How about because you'll get 15% off when you use the promo code "freshgigs"
Still not enough?
Check out some of the great workshops that will be held:
Growth, Engage, Monetize: Understanding Every Stage of Social Media Marketing Success for your Brand.
How to Create and Run a Contest on Your Blog.
Grab More Attention and Sales through Simple YouTube Videos.
Building Facebook Pages for Business.
Community Engagement and Strategies.
B2B Sales Essentials: Effective Prospecting & Lead Generation with LinkedIn.
Local Marketing and the Importance of Reviews.
Do or Die: Why the Adoption of Google+ is Essential for Canadian Businesses.
Facebook Commerce: Making Ecommerce Social.
5 Steps to Train a Social Business Intern Army.
The ROI of Social Media, Metrics that Matter.
Social Location Marketing – Connecting With Real Customers.
And many more sessions and keynote addresses.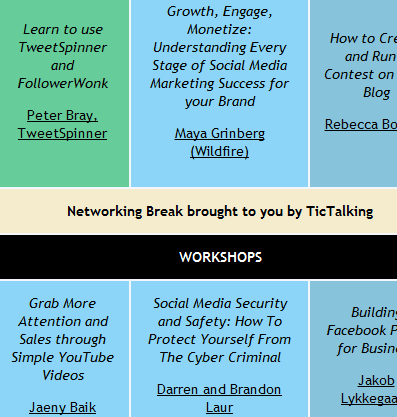 Want another reason? Some of the top minds from around North America will be in attendance and all under one roof. This is a great opportunity to network and build meaningful relationships.
Full details on Social Media Camp can be found here: www.socialmediacamp.ca
If you want to go straight to the registration page you can do so here: Here's the registration link: http://smc.eventbrite.ca/ (don't forget to enter "freshgigs" to get your discount)
I'll be at the event and look forward to seeing you there. Get in touch if you'll be there, I'd love to meet you.