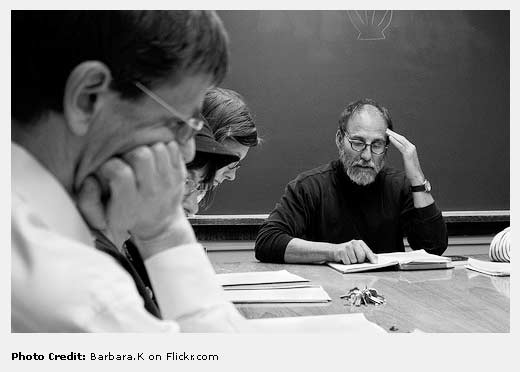 At a recent conference, we had the honour of having Warren Bennis speak to us about his life and his insights into leadership. If you aren't aware of Warren Bennis, then pick up a copy of any of his zillion books on leadership, or his recent memoir, aptly titled Still Surprised. I firmly believe that there are many lessons contained therein for entrepreneurs and creatives.
Bennis spoke to our group for over an hour, and I listened so intently that I didn't take any notes except for one. At the end, when Bennis was open for some questions, an audience member asked him when he knew that he had finally clicked onto his rightful work path, working towards his life's meaning.
Bennis put his face in his hands, carefully considering the question. And then he spoke about his mentors – how all along his path, he has had excellent mentors, including the great management guru Douglas Mcgregor (of Theory X and Theory Y fame). How, without these mentors, he doesn't really know where he would be, and what he would be doing. Bennis concluded with this advice that he also gives his students: Stalk your mentors.
So who are your mentors? Sometimes this is referred to as your very own personal Board of Directors. When you think about who you are, what your business is about, your creative direction – where do you seek inspiration, support and direction? And who else would you want as a mentor? Bennis found mentorship and observed his mentors keenly and astutely, and formed the basis of his own work in leadership as a result. Through his own humility and hard work, seizing opportunities and helping others, he became great. But nothing would have been possible without his mentors.
Stalk your mentors. And, I would add, pay it forward – because someone is looking at you thinking that you should be on their personal Board of Directors. We all have something to share, and ever so much more to learn.
—

Lisa Sansom is the Founder of LVS Consulting. A certified coach and positive psychology practitioner, Lisa helps businesses, teams and individuals be at their best. For more information, please visit LVS Consulting or email Lisa directly at lisa.sansom@gmail.com.