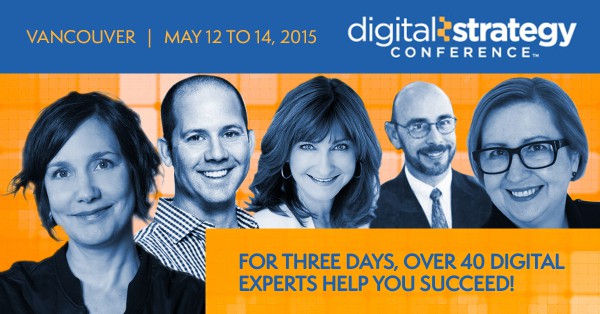 Yes that's right, we've arranged to give away another completely FREE ticket to the epic Digital Strategy Conference coming up in Vancouver from May 12-14.
The conference promises three exciting days of case studies, amazing speakers, best practices and candid discussion.
Here are a few agenda highlights:
Leading the charge: Sport Chek commits to a multi-year initiative to digitize.
Adobe warns and encourages quality over quantity as audiences say no to "content pushers".
Measure what's critical: Success, failure, disaster, Cisco measures tasks.
Leapfrog competitors: Mediative exemplifies how to align local and social audiences.
Not a mission impossible: CP overhauls their lead-generation site in 90 days (and lives to tell us the tale).
And Score! Canucks deliver more value with content creation and curation.
FREE Ticket Give Away to all 3 Days! (Value $1495)
In order to enter this free ticket giveaway you only need to do two simple things:
Good luck on this one folks we'll choose a winner by next Wednesday the 29th of April.