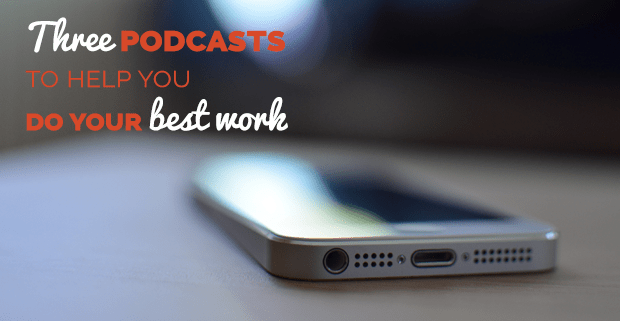 My daily commute means (at least) 45 minutes of sitting on public transit. For years, this time was spent with my face in a book, but I've found it harder and harder to focus on reading – particularly when I'm reading non-fiction and like to take notes.
Instead, I now listen to podcasts. For those of you who are unfamiliar with podcasts, they are essentially on-demand radio shows. You can download them to your mobile device (such as your iphone) and listen to them whenever you like. They range in length and subject matter, but you can rest assured that no matter your area of interest, there will be at least a couple of podcasts discussing that topic.
Personally, I like podcasts that inspire and educate. I want to feel energized when I get to work (or, at the very least, feel a little smarter than I was when I woke up). Something with a sense of humour doesn't hurt, either. If you're looking to dip your toes into the world of podcasts, here are three that I recommend to get you started. Each will stimulate and provoke you, and will hopefully help you do great work.
Let me declare my bias right now: I'm a Tim Ferriss fan. I've read all of his books, and I knew as soon as he started producing a podcast that it would be something I would enjoy. Tim spends an hour or so talking to top-performing individuals from a wide variety of industries, breaking down their habits, thoughts and practices to provide insight into the common behaviours of successful people. Guests have included Jon Favreau (director of Swingers and Iron Man), Arnold Schwarzenegger, and Rick Rubin. Rarely an episode passes without at least four fascinating insights.
An episode to start with: Rick Rubin. An interview held in a sauna, covering the remarkable breadth of Rick's career, and how he helped a huge variety of artists produce their best work.
I like podcasts that inspire and educate. I want to feel energized when I get to work (or, at the very least, feel a little smarter than I was when I woke up).
This is the mother of all podcasts. An hour long public radio show, produced and hosted by Ira Glass, it is a collection of stories, all told by different people, but around a central theme. This show has been running since 1995 (!) and has remained remarkably consistent throughout its run. The topics that are covered are incredibly diverse, so it may not have the same singular focus as other podcasts, but the quality of work shines. A masterclass in storytelling. If you are a writer (or any kind of storyteller), this is a must listen.
An episode to start with: Cops See It Differently (Part 1 and Part 2). A two part episode that examines the relationship between the police and the public. Staggeringly good.
Alex Blumberg is widely recognised as one of the finest radio producers in the world. When he decided last year to start his own podcast network, he decided to take his microphone along and document the process. Startup is the result. Now in its second season (where it's following another business entirely, now that the podcast network is up and running), Startup remains a raw and revealing look behind the scenes of a business trying its best to push through the difficulties faced by every new venture.
An episode to start with: Season one, episode one, where Alex pitches his company to legendary silicon valley investor Chris Sacca. Spoiler: it does not go well.
(Alex Blumberg was also on Tim Ferriss' podcast – well worth listening to)
Do you listen to podcasts? Which do you find the most interesting or inspirational?