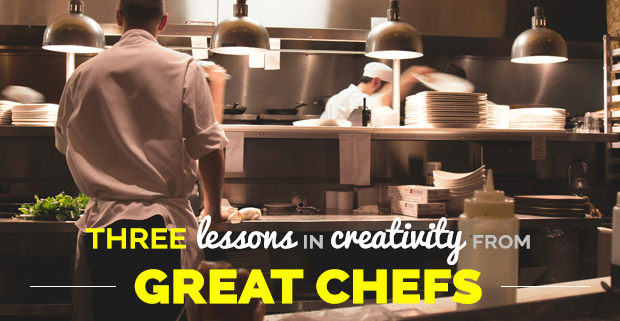 I look for creative inspiration wherever I can find it, and love hearing stories of great artists. The Netflix-produced series Chef's Table is full of lessons on how to create great art, and devoured it in a day of binge-watching. It's beautifully shot, and each episode provides a deep-dive into the life of one of the best chefs in the world. Here are three insights I got from watching Chef's Table:
Great art comes from mastery. Mastery comes from deep specialization.
Episode 1 tells how Chef Massimo Bottura has spent years of his life focusing on a single type of pasta – tortellini. Throughout the episode, it's clear that Bottura is a great chef, and a once-in-a-generation talent. However, early in his career, his one big break was as a result of him being regarded as a world class pasta chef. The rest, all of his successes, all of the acclaim, came from this initial specialization. If Bottura had chosen not to specialize, he certainly would have had a more diverse range of techniques to draw upon, but I would argue that he would not have become one of the best chefs in the world.
Key Lesson: Focus on becoming very, very good at one thing, over a long period of time. Specialization is a simple way of setting you apart from the crowd, and the crowd gets thinner still over time.
In any creative field, progressions are important.
In Episode 4, we learn how Niki Nakayama provides a unique and tailored customer experience for every individual that comes into her restaurant (in part, by keeping a file on every single customer who has ever eaten there). She has a clear understanding of the importance of progressions – thinking of food as melody. She knows that the order that the dishes reach your table has a profound effect. How one flavour follows another is critical to your experience of the food. She is a master at controlling that experience.
Key Lesson: Think about the different transitions between the different parts of what you're creating. What happens if you were to move things around? How would that change how people perceive your work?
Specialization is a simple way of setting you apart from the crowd, and the crowd gets thinner still over time.
Just because a technique is old, doesn't mean it's obsolete.
Francis Mallman is an Argentinian chef who cooks with fire. Literally. In episode three we see him cook in a variety of fire pits and barbeques (the photography in this episode is particularly spectacular). At one point, he digs clay from the earth and packs it around a fish, before throwing it in a pit. The clay provides a protective layer and also steams the fish to perfection. It's a cooking technique that is (at least) hundreds of years old. Mallman is a classically trained French chef, but his methods are very, very old. He creates world-class dining experiences using holes in the ground.
Key Lesson: Have an understanding of the history of your craft. Think how your job would have been done 20/50/100 years ago. How can you learn from old techniques to improve your work today?