I recently had the pleasure of attending The Art of Leadership conference on April 11, 2013. This event was "designed to teach and provide leaders with directly related, easily applied tools and techniques that can be implemented within any corporate culture".
The speakers were entertaining and informative with each approaching leadership in a very different way. I've compiled below a short biography on each speaker and the most interesting ideas I took from them.
(photos copyright of The Art Of)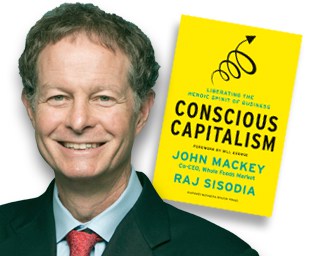 John Mackey
CEO of Whole Foods Market
Author of 'Conscious Capitalism'
Premise:
• To be most successful, businesses must adopt a model of conscious capitalism.
• This is a framework where all stakeholders – customers, shareholders, suppliers and communities – benefit together.
Notable Quotes:
• Business is inherently good, yet big business is the 2nd least trusted societal institution in the United States (only Congress ranked lower).
• Choose purpose first, then strategy.
• Go from profit maximization to purpose maximization.
• The secret to success in business: build your business around your customers.
• Embrace transparency because in today's age, you can't hide anything.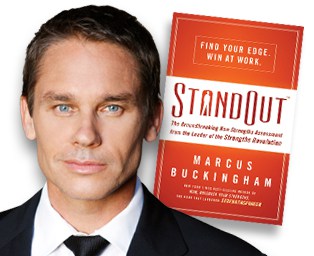 Marcus Buckingham
Author of the New York Times Bestsellers First, Break all the Rules, Now, Discover Your Strengths, and Standout.

Premise:
• There is no 'one way' to be a successful manager. Each of us has different strengths and we can each become successful managers by being ourselves.
Notable Quotes:
• There are three questions you can ask your employees that will account for over 80% of performance discrepancies between locations.
o Are my colleagues committed to quality work?
o Do I know what is expected of me at work?
o At work do I have a chance to do what I do best everyday?
• Clinically depressed people are the most accurate judges of their character –- most of us are slightly delusional about our abilities to do things.
o This is good! This is why successful people are successful.
• Your challenge as a manager is to take what is unique to you and make it useful.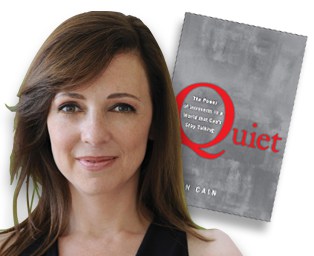 Susan Cain
Author of the New York Times Instant Bestseller Quiet: The Power of Introverts
Premise:
• Introverts in our society are dramatically undervalued and yet introverts have much to contribute.
Notable Quotes:
• 1/3 to 1/2 of the population are introverts.
• There is no such environment as one that is one-size-fits-all.
• When people get really excited and 'activated' about a goal, they shut out warning signals.
o Extroverts tend to get 'activated' more easily than introverts.
o This is why introverts and extroverts work well together.
• Group brainstorming at the office does not work. (40 years of scientific research backs this up).
• Rethink: meetings.
o Use a hybrid process (brainstorm alone first, then get together and share ideas).
• Rethink: leadership.
o Introverts can make incredible leaders.
• Rethink: diversity.
o Introvert and extrovert diversity is a major issue in the workplace.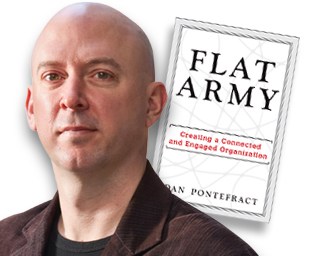 Dan Pontefract
Head of Learning & Collaboration at TELUS
Author of Flat Army – Creating a Connected and Engaged Organization
Premise:
• Disengagement in the workplace is a major issue. A collaborative and participative leadership framework is key to increasing employee engagement.
Notable Quotes:
• Employee engagement – " the state at which there is reciprocal trust between the employee and leadership to do what's right however, whenever, and with whomever."
• A connected leader uses trust, empathy, communication, cooperation, coaching, exploring, and bettering.
• The Collaborative Leader Action Model (CLAM)
o Connect.
o Consider.
o Communicate.
o Create.
o Confirm.
o Congratulate.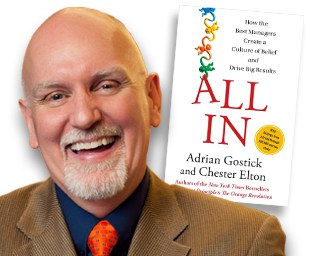 Chester Elton
Author of the New York Times Bestsellers The Carrot Principle and All In.
Employee engagement consultant.
Premise:
• To create an organizational culture of buy-in and belief, you must get your people all in.
Notable Quotes:
• "If you don't get the culture right, nothing else matters."
• A strong culture attracts the right people and repels the wrong people.
• Culture and people drive results in business.
• A typical employee sentiment – "When I make a mistake I'm recognized 100% of the time; when I do something great, I'm not recognized 99% of the time."
• Keep a 5 – 1 ratio of positive to negative feedback in the workplace.
o Be specific.
o Be sincere.
• You are the owner of culture.
My Final Thoughts
The Art of Leadership conference was a fantastic example of successful business networking, diverse and content-rich speakers, and new leadership ideas. This conference will definitely be at the top of my list for 2014.