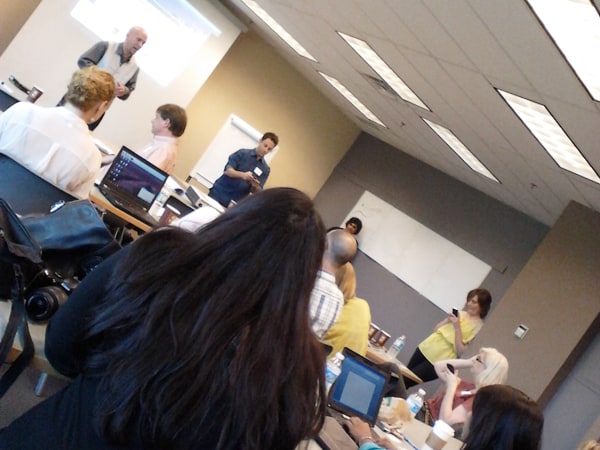 Yesterday I had the pleasure of attending the Social HR Camp in Richmond organized by Jeff Waldman (founder of the event) and Geoff Webb of Toronto.
A strong turnout brought HR, social media, marketing and business professionals together from BC, Ontario, and even California.
In addition to meeting some great folks, the camp offered a variety of sessions for both beginners and advanced practitioners of social media.
Here are some highlights from yesterday's event and the sessions I had a chance to attend…
Stephen Jagger
Stephen is a hard core entrepreneur: Ubertor, Reachd, Outsourcing Things Done, Payroll Hero
Some key points:
Social media is not an option anymore. Companies need to get involved.
Facebook is too big to ignore.
Stephen uses Google Sites as a wiki to keep his businesses organized.
He does this so his businesses can run themselves regardless of where he is in the world.
Google Hangouts for video conferencing is the new hit.
Yammer is great for internal communications within a company.
Jade Bourelle
Jade is the CEO of Talent Technology.
Some key points:
Most recruiters have 20-50 open positions at any given time.
Many top companies still don't let employees access social media sites.
There are too many tools and technologies that people in HR need to master.
The shift is to integrating tools and technologies.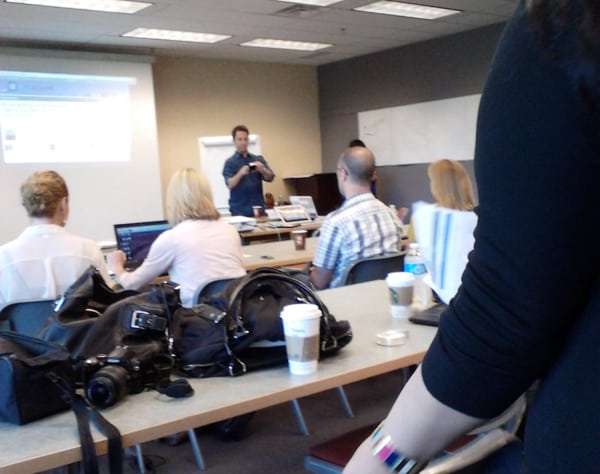 Nin Sandhu
Nin is the product marketing manager at Talent Technology.
Some key points:
Recruiters spend 15 hours a week sourcing talent.
It is still critical to post jobs and connect with talent through multiple sources.
It's important that HR leverage their own networks and networks in their own company to access talent.
Nick Kellet
Nick is the co-founder of List.ly and the CEO of GiftTrap.
Some key points:
Move away from separating your work and life and start putting the two together.
Be open to connecting with more people.
Focus on growing your content, your connections and your engagement.
Don't just retweet content, add in your own opinion and ideas.
Doesn't check LinkedIn often because of too much spam.
LinkedIn is considered the 'old peoples' network (someone in the audience mentioned this as well).
Klout is flawed, but it's an important score to consider.
Get into the vibe of being generous." – Nick Kellet
Kemp Edmonds
Kemp works with Hootsuite, consultants and teaches at BCIT.
Some key points:
Kemp discussed advanced twitter strategies.
The value in customizing the end of your links and shortening them.
Key point is tracking clicks and engagement of your links.
Be sure to check out the Apps section if you're a Hootsuite user.
Google Alerts and Social Mentions is a great way to monitor your brand online.
You can setup geo coordinates to do searches of twitter users in a specific radius. (works well when you grab the coordinates from Google Maps and then add them into your twitter search).
Use OR and other boolean type searching on Twitter to return more filtered results.
Andrea Shillington
Andrea is the founder of Brands for the People.
Some key points:
Ran a great exercise that we were sworn not to talk about. Shutting lips now.
Spent time talking about brands.
What is the purpose of your business? Aside from money, why are you doing what you're doing?
What is your vision? How does your business affect and impact your customers?
Discussion around Tom's Shoes, Coke, and other brands ensues.
Details, Photos and More
These are just a few of the highlights from the day. I had to attend a meeting and wasn't able to stay for the whole event. You can find considerably more detail on the day and Social HR Camp here:
http://www.socialhrcamp.com/
http://socialhrcamp.hashcaster.com