If you're interested in learning the latest marketing trends, strategies and best practices to leverage media you'll want to check out the Financial Post Reach 2012 Conference.
We've also secured a special discount for the FreshGigs.ca community PLUS have a couple of Free tickets to giveaway. More about that below…
Dates & Locations
The conference is held in 3 cities – Vancouver, Calgary and Toronto. We had a chance to attend the event in Vancouver on September 27th. This was a quality event. From the people, speakers, networking and even the catering and venue – the Financial Post team and SOHO – know how to hold a great event.
Calgary – November 28, 2012
The Calgary event will be held at the Epcor Centre's Jack Singer Concert Hall on November 28th.
Toronto – February, 2013
The date and venue for the Toronto event will be announced soon. We'll also have a free ticket to giveaway for the Toronto event available and will let you know. So stay tuned…

Speakers
Ever heard of a guy called Gary V? Chances are you have. Gary Vaynerchuk is the keynote speaker at all three events. We've seen him speak on several occasions and can assure you – he does not disappoint.
Another well known name in the Canadian business scene who will be speaking is none other than Brett Wilson of Dragon's Den fame.
Plus there are some great lessons to be learned from all the speakers, including: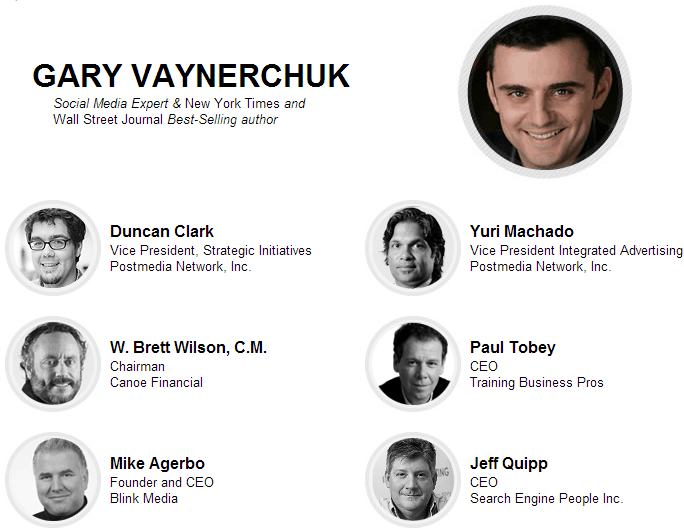 Want a Free Ticket?
FreshGigs.ca has 1 free ticket to giveaway for the Calgary event. (More details and a free ticket to giveaway for the Toronto event coming soon).
For a chance to win a free ticket here's what you need to do:
All you need to do send us a tweet and tell us "Why you want the free ticket and what you hope to get out of the event". In order for us to see your tweet you need to use: @FreshGigsca
You can click here right now to send your tweet and get entered in the contest: Click to Tweet …Make sure you tell us why in your tweet 🙂
We will choose the best response on November 5th and announce the winner on the same day.
*Update: Congratulations to Brian Yanish for winning the Calgary event ticket! We still have one ticket for the Toronto event in February to give away 🙂
Get a Discount
As part of the FreshGigs.ca community you can also get $50 off the price of a ticket – even if you don't win the free ticket. Simply register and use the code: 'freshgigs'
You can register here: http://rss.nationalpost.com/reach2012
More About The Event
Your Ticket Includes:
Interactive expert sessions, best practices, case studies
Featured Keynote: Gary Vaynerchuk
Exhibits & Displays on the latest marketing products, services and technology
Power networking lunch
A chance to win great prizes and more
You Will Learn How To:
Build your brand in the digital age
Work the newsroom to get your story heard
Get the scoop on marketing tactics from successful entrepreneurs
Create online engagement and increase your likes and followers
Access technology and tools to improve your online presence