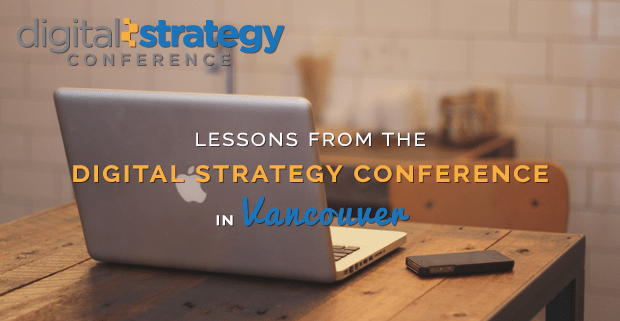 By Ling Chan
I had the pleasure of attending this year's Digital Strategy Conference at UBC Robson Square. The 3-day conference was jammed packed with insights and actionable takeaways from over 40 speakers and panelists, all excited to share with us specific ways they were using data to improve business results.
Aimed at pros and beginners alike, Digital Strategy Conference was an excellent opportunity to learn from the best. The impressive roster of speakers included:
Kevin Kinghorn, Director, Digital, Canucks Sports & Entertainment
Aaron Zifkin, Country Manager – Canada, Airbnb
Bryan Robertson, Senior Digital Guest Experience Analyst, Lululemon
Stacey Jaffe, Managing Director of Social Media and Community, Teach for America
Cullen Scannell, Senior Manager, Digital Content, Toronto 2015 Pan/Parapan American Games
Steve Sugars, Manager New Media & Technology, Canadian Pacific Railway
Here are some of my favourite takeaways from the event:
Shelley Kuipers – The future is participation
Why is crowdsourcing becoming the new norm? It's because employees and customers want to participate in the future of your company. With crowdsourcing, companies can bring about more product ideas, brand advocacy, low cost content, social innovation and employee engagement.
Move from fear to freedom by democratizing your organization.
Lego has three communities: staff, ambassadors and fans (who get 1% of revenue, should their new product ideas get produced)
Kuiper's advice: believe in yourself, build a tribe and culture wins.
Brian Dawson – The world is changing and we must change with it.
Canadian museums are reinventing themselves online and open data is one way that museums with massive collection can share data and access. Allowing students to use open data have seen a slew of innovative projects rise.
Social media is one giant focus group. Your audience knows what it wants, so create stories for those wants.
To stay relevant and engage youth, part of Canadian Science and Technology Museums' digital reboot include gamification and partnering with Comic-Con.
As well, Canadian Science and Technology Museums has set up innovation teams and has their IT teams as part of the strategic communication and marketing department.
Cheryl Cran – Everyone is a leader, regardless of title.
The sharing of ideas should happen across the whole organization and between all levels. Human resources are the most important dimension of digital maturity, yet youths in organizations are becoming increasingly frustrated that boomers don't share information, thus stifling collaboration and innovation.
There has to be a shift to a new business model, where the "old school" self-selects to leave and organizations can move ahead with a committed team.
The future is holacracy: leadership by a team, not by one.
Rochelle Grayson – What social media is NOT telling us
What is dark social media? It is shareability you don´t see and can´t measure. 85% of your social media activity comes frm 29% of your customers. Of those, 70% are lurkers, 20% are commenters and 10% are creators, therefore don't make business decisions solely on your social media activity.
It is also therefore important to follow people who are very different from you, otherwise it's just an echo chamber, feeding upon itself.
Having big data sets is not enough – you also need knowledgeable analysts and prove your value. If you can't put a value on your social data, don't measure it.
Stacey Jaffe – Even when you think you're great, iterate!
Social media is one giant focus group. Your audience knows what it wants, so create stories for those wants. Know thy audience: listen, lurk, stalk, study until your brain explodes. Experiment with engaging your audience. Even posting an inspirational quote is just as good as a kitten on social media.
Aaron Zifkin – It's better to have 100 people love you, than 10000 people who think you're ok.
Most people think of AirBNB as only an online company, but they're deeply rooted in offline, real world experiences. Their core values revolve around anticipating other people's needs.
AirBNB empowered its Country Managers to immediately set up zero cost home-sharing for those displaced by a natural disaster, as in the case of Hurricane Sandy.
In a bid to rid the world of strangers, air bnb gifted 100K customers w/$10 to pay it forward and use money in act of kindness. They believe that digital conent should inspire, educate and provide a memorable experience.
Surprisingly, AirBNB has no playbook. Rather, they're testing and trying things in real time, all the time.
Kevin Kinghorn – It's not about the views. It's about building relationships.
Create content that have wide appeal with your audience, but keep in mind that values are better for a brand than views.
A Canucks Youtube video showing a fan dancing at a game garnered 11.7K views and may be entertaining, but it does not bring fans closer to the brand. A Youtube video of the Canucks visiting BC Children's Hospital received only 6k view, but resonated more deeply with the fans.
Create persistent invites for people to join your universe. Traffic means nothing without loyalty. These 2 always have to be aligned.