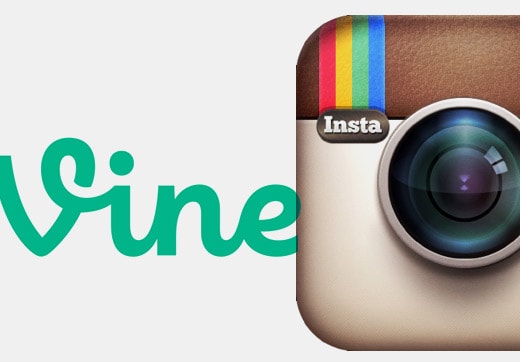 Quick. Market your brand in six seconds or less. Sound crazy? Sound impossible? It's not! Short-form video is taking social media by storm, and apps like Vine and Instagram are leading the charge. Why is short and even shorter all the rage? According to a 2012 study by the Jun Group, social media users are more likey to pass along a short clip than a longer one; clips of 15 seconds or less are shared 37% more often than clips 30 seconds to a minute.
"With the expansion of Vine onto the Android OS, and Instagram introducing video, it's no surprise that more and more brands are using these tools to connect with consumers," says Karianne Stinson, in her blog Vine vs. Instagram: Tips for Marketing Success with Short-Form Video.
Vine vs. Instagram
But how can you use these fast-and-furious videos to your benefit? And which platform is best for you? Only you can decide which is the right fit for your time and resources, but let's take a look at each.
Vine: Owned by Twitter, and it is now available as an app for iOS and Android. It limits users to a six-second video length, and offers sharing on Twitter and Facebook. Many editing features are not available at this time.
Instagram: Photo-sharing, 130 million-user strong powerhouse is owned now by Facebook, and it just added a video feature in June. It offers an up to 15-second video length and offers sharing on Facebook, Twitter, Tumblr, Foursquare and Email. It also has editing filters and other editing tools, like image stabilization.
What about Content? It's not About Videos of Cats (no matter how awesome they are)
Unlike the average clip of felines playing pianos, there should actually be a purpose behind short-form video marketing. But, with limited time, you have to be selective in what you film. Stinson suggests content that humanizes your brand, such as employee profiles, behind the scenes views and so on. You can offer sneak peeks of new products or upcoming events, post how-to videos, answer FAQs or even promote contests. Check out 6 Retail Brands Using Instagram Video for interesting examples and more tips.
What is as important as the content? The quality. If you want to get the most out of their use, consider the following tips:
Script out the scenes before you film and reshoot, if needed, to properly represent your brand.
Tell a story and stick to a main point. Fifteen seconds isn't a lot of time. Six seconds is an eye blink.
Use good lighting and a steady hand when recording.
Be more creative and have unique content.
Pay attention to trends and current events.
No matter which platform you choose, make sure you include it as a part of your editorial calendar. Lay out goals, guidelines, deadlines and even your measurement parameters. Short-form video is no different than any other marketing tactic, so you should treat it that way!