What is an online marketing specialist? That is a very loaded question.
In broad strokes, an online marketing specialist could be defined as someone who helps bring more leads to a business through online marketing. The term "inbound marketing" is often used to describe the idea of making yourself easy to find online and drawing people to your website through things like blogs, videos, e-newsletters, SEO, social media and whitepapers.
On the other side is "outbound marketing". Outbound marketing will usually refer to what I like to call 'analogue practices', such as cold-calling, direct (hard-copy) mail, TV ads, flyers, and plain old traditional print advertising. (Yawn)
Meanwhile, behind the curtain, someone is analyzing your every move. Which emails did you open? Did you click on any of the links? Which one?
It's been widely discussed that traditional advertising is no longer as effective as it used to be. Now companies must 'earn their way in' by providing meaningful content to consumers and allowing themselves to be found quickly and easily online.
THE INBOUND MARKETING PROCESS
Once a visitor goes to a company's website, the company will want to convert them to a lead. Many companies do this by offering great coupons and discounts when you give them your email address. Once you hand over your email, you become a lead.
The next step is for the company to convert you to a buyer. And they do this by delivering all sorts of sales and discounts into your inbox, Twitter or Facebook feed until you finally buy.
Meanwhile, behind the curtain, someone is analyzing your every move. Which emails did you open? Did you click on any of the links? Which one?
Maybe the next time you visit the company's website, you'll see an ad saying "Customers who bought X (which is what you bought) also bought Y." The company is tracking your buying habits to provide you with a more customized purchasing experience. Not to mention encourage you to buy more.
This process involves a lot of people – all online marketing specialists.
People like;
Online Marketing Strategists (http://www.koozai.com/blog/search-marketing/37-reasons-your-online-marketing-strategy-is-failing/)
Content Marketing Specialist (http://mandloys.com/contentmarketing/)
Social Media Experts (http://www.simplybusiness.co.uk/microsites/guide-to-social-media-success/)
SEO team (http://www.smashingmagazine.com/2012/12/21/what-heck-seo-rebuttal/)
Link Building People (http://pointblankseo.com/link-building-strategies)
User-Experience or UX Designer (https://www.youtube.com/watch?v=Ovj4hFxko7c)
Email Marketing Team (http://www.onboardly.com/content-marketing/the-forgotten-hero-email-marketing/?__lsa=2662-2dae)
And the list could go on. We didn't even get to App Developers, Interactive Advertising Designers, Online Contesting Teams… you get the idea.
There are a LOT of people involved in planning, creating, executing and maintaining an online marketing program. In fact, you may have concluded by now, that what "Online Marketing Specialist" encompasses is almost as expansive as the internet itself.
The proliferation of the internet has resulted in a vast quantity of new jobs. And as technology evolves and we spend more and more time online, niche jobs for Online Marketing Specialists will continue to be carved-out in the online world.
Anything you want to know about Online Marketing can pretty much be found…online.
As exciting as that all is, let's get to the good stuff.
WHAT DOES IT PAY?
Brighton College pulled data from Stats Canada to compile this chart of potential salaries for a few Online Marketing Specialists based on years of experience and job title.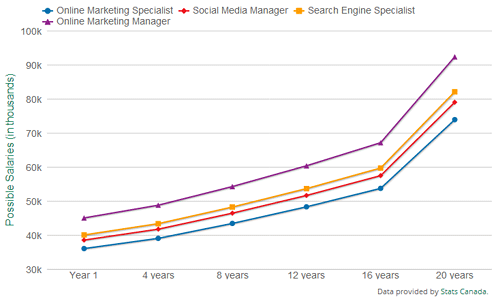 Image Source
This, of course, will vary depending on where you live and which company you work at (some companies pay peanuts when you're first starting out – and even when you're not). But it's an idea of what kind of money you can make as an Online Marketing Specialist.
HOW DO YOU GET STARTED?
Because the industry is changing so quickly, what you learn today could be outdated in six months. If you want a job in the field, you need to jump in and get fully immersed in the world online marketing as soon as you can.
If you don't have a Twitter account, start one. Sign up for e-newsletters and see what kind of content they send you. Go 'Like' Facebook pages and watch for incentives or contests. Learn the basics of SEO, UX design, content creation and social media marketing.
There are a ton of great courses and programs being developed to train Online Marketing Specialists. But there is also a ton of information readily available at your fingertips. Anything you want to know about Online Marketing can pretty much be found…online. (Surprise.) Try checking out Inbound.org, They aggregate a ton of content all about online marketing. It's a great place to start. And you might as well start now since you're already online.
Ready to hire an Online Marketing Specialist? Post a job with Canada's top marketing and creative job board now.