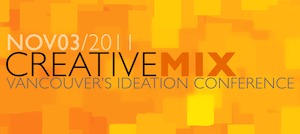 Feeling Creative? If so, and if you'll be in or around Vancouver on November 3rd, be sure to check out the CreativeMix conference.
Dubbed "a professional development conference for both emerging and established creative professionals, entrepreneurs and artists."
Speakers
The speaker lineup includes an advertising agency founder, an investor/entrepreneur, festival and games producers, a photographer and others.
Networking
There will be plenty of time for networking before, during and after this event. And there looks to be quite a bit of learning to to be done too!
Date/Time/Location
CreativeMix starts at 9am on November 3rd and will be held at the Roundhouse Mews in Yaletown.
Special for FreshGigs.ca Members
FreshGigs.ca members can get 10% off the price of a conference pass by using coupon code: FRESHGIGS
Details
For full details visit: http://creativemix.ca