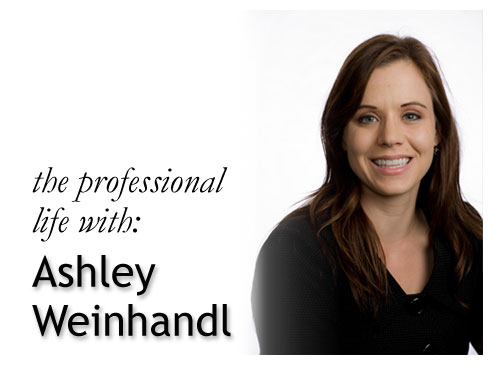 Ashley, before you got into a formal marketing job you worked as a Band Service Agent/A&R Assistant…can you tell us what that was like? Did it help you in some way to prepare for a career in marketing?
Working at Bodog Music as a Band Service Agent/A&R Assistant was an educational experience. It was a fast-paced environment and an exciting role. I worked with bands across North America from Vancouver, BC to Austin, Texas. I worked with the bands from the beginning stages where we discovered the bands and connected with them to having them audition and go through the judging process. It was great to work on a project that would end up as a television show on FUSE TV (an American Television Network). If you watched the series, you wouldn't realize the amount of work that went into it before it was even recorded. The show was the end result of all of our hard work.
I would much rather work in the evening. What's great about marketing is that, in most cases, it's not the hours that matter as long as the work gets completed.
The role was a great stepping-stone into a career in marketing. A lot of what I did focused on successful relationship building and client service – two of the keys to being a successful marketing professional. It also enhanced my ability to multi-task, work in a fast-paced environment, manage projects, be creative and think outside-the-box.
Most of your marketing career has been with a non-profit or public sector company, such as in your current role at the Ontario Hospital Association. Was working at such an organization a goal you had or did you just end up landing there?
Although I enjoy my current role, I didn't set out to work in the not-for-profit sector. Apart from my role at the OHA, I like to give back through my work at IABC/Toronto and Bladder Cancer Canada, both on a volunteer basis. So while I am currently in the not-for-profit sector, I would like to explore working in the private sector again at some point in my career.
What are some of the benefits of working for the Ontario Hospital Association? What are some of the challenges?
There are a number of benefits to working at the OHA. It gives you the feeling that you are giving back to society and helping others. We also have a fantastic team and culture at the OHA. It's not an enormous multinational company, we work like a family – and this is harder and harder to find as people become more disconnected from the office.
The challenges the healthcare system faces are pretty much what you would expect. Funding is always an issue in not-for-profit and in healthcare in general, especially right now. With the weak economy in Ontario and the world, the healthcare system faces the dilemma of people being weary of any kind of public-private partnerships when it comes to healthcare. Along with the challenges around the economy and the public-private debate, a large portion of the population is getting older and need care now and in years to come.
What does your typical day look like? Are you a morning person or do you work late into the evening?
One of the reasons I love my job is that there is no such thing as a typical day. It's definitely not a nine-to-five job, and you've got to wear many different hats throughout the course of the workday. The OHA supports work-life balance, but I find that I am always 'on' – working long hours. Combined with my volunteer activities, it doesn't leave much time for social pursuits. I tend to arrive at the office around eight, but I do not consider myself a morning person. I would much rather work in the evening. What's great about marketing is that, in most cases, it's not the hours that matter as long as the work gets completed.
Can you offer any tips to people that might be interested in working at an organization similar to yours? What should they keep in mind if they want to land a job?
I would say if you're interested in working for an association or not-for-profit make sure you have volunteer experience on your resume. The more relevant the experience is, the better. I think this is true for any position though. Employers want to see you give back and that you believe in something. Canadian Marketing Jobs are very competitive, especially right now, so anything you can have on your resume that differentiates you from others is a bonus. I also think personality and positivity are paramount. I've always been able to talk to anyone, anywhere, at any time and this has helped my career. I didn't realize how important it was until this past year because it was so natural for me. People want to work with someone who is knowledgeable and has the proper skills but also someone they can get along with.
Believe in yourself, work hard and you will succeed. It may not arrive in the way you expect, but it will happen.
You are also the VP, Marketing Communications at the IABC/Toronto. How has your involvement there impacted your career?
Volunteering on the board of IABC/Toronto has been a fantastic experience. I was involved with IABC in Calgary as a student, which helped me obtain my internship with the Alberta Children's Hospital. I will always be grateful for that. Being responsible for IABC/Toronto's Marketing Communications portfolio and managing ten volunteers is definitely a lot of work and sometimes feels like a second job; however, it has been a great way for me to learn how to manage and lead a team, strategize, budget and work with a board. It definitely has helped me build the skills I need for a future management position.
How do you approach productivity? What tools (apps, gadgets, etc) do you use to help you stay productive?
I've always been a natural organizer. My father runs his own business and my mother had twins, worked full-time while obtaining a Master's degree, and participated in a variety of boards and charities. They taught me to stay organized through the power of a list. I make lists of everything I need to focus on each day and week. When I get up in the morning, I mentally go through what I need to complete that day while maintaining the flexibility to tackle spur-of-the moment issues. I still use a written agenda because I like the feeling of crossing-tasks off my to-do list.
Do you have a good work-life balance? If no, why? If yes, how do you achieve it? What are your beliefs around this?
I don't like to admit, and when I mentor junior colleagues I like to tell them not to consider me as an example, but I don't have the best work-life balance. When I'm not working at the OHA, I'm busy working with IABC/Toronto, Bladder Cancer Canada and United Way Toronto.  My philosophy is to devote as much time as possible to lay the groundwork for a great career.  I always need to be busy doing something productive and advancing in some way. I am currently working on an advanced graphic design certificate – I guess I just can't slow down.
What is your favourite quote of all time?
I have so many favourite quotes but one that is on my mirror is my bathroom is from Jack Layton's last words to Canadians: Love is better than anger. Hope is better than fear. Optimism is better than despair. So let us be loving, hopeful and optimistic. And we'll change the world. This quote helps me to always focus on the positive aspects of life rather than dwell on the negative. It serves as a daily reminder to be thankful for what I have and hopeful about the future. I also love this quote by Robert Frost: Something we were withholding made us weak-until we found it was ourselves. It tells us that we are the only ones holding ourselves back. Believe in yourself, work hard and you will succeed. It may not arrive in the way you expect, but it will happen.
What is one thing that your coworkers, clients or friends may not know about you?
I would say many people don't know that I'm a former singer/songwriter. I started playing piano at age six and guitar at age fourteen. I have recorded a number of tracks but never anything that was officially released. I used to play shows across the GTA from 2006 to 2008.
—
Ashley Weinhandl has more than seven years experience in marketing and brand strategy, promotion design and development, project management, communications, as well as relationship building and client service for private and not-for-profit organizations. Ashley is currently working at the Ontario Hospital Association (OHA) as a Marketing Coordinator and recently started her second year as VP, Marketing Communications for the International Association of Business Communicators/Toronto (IABC/Toronto).
She also volunteers for Bladder Cancer Canada as their Marketing Manager and is the OHA's United Way Committee Co-Chair. Ashley has a BA in Communication Studies from the University of Calgary, recently obtained her Digital Publishing Foundation Certificate and is currently completing her Digital Publishing Design Certificate at George Brown College. With her busy schedule, Ashley still takes the time to stay healthy and train at the gym.