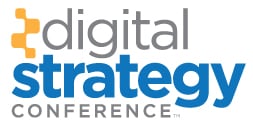 At the Digital Strategy Conference you will get 3-days of educational sessions delivered by industry leaders and learn the essentials of digital strategy.
Here is a summary of what you will learn:
Digital strategy definition and models
How-to assess digital maturity
Data strategy fundamentals
Performance measurement and digital analytics essentials
Content, mobile / multiscreen and social strategy
Making sense of paid media
Case studies and applied learning through exercises and check lists
There are two locations: Vancouver on April 23-25 and Ottawa on June 3-5.

The Vancouver event will be held at:
UBC Robson Square
800 Robson Street
Vancouver, British Columbia, Canada
V6Z 3B7
Full details on the speakers, agenda and registration can be found at:
http://www.digitalstrategyconference.com/vancouver/2013/
We'll be posting additional details on the Ottawa event soon.