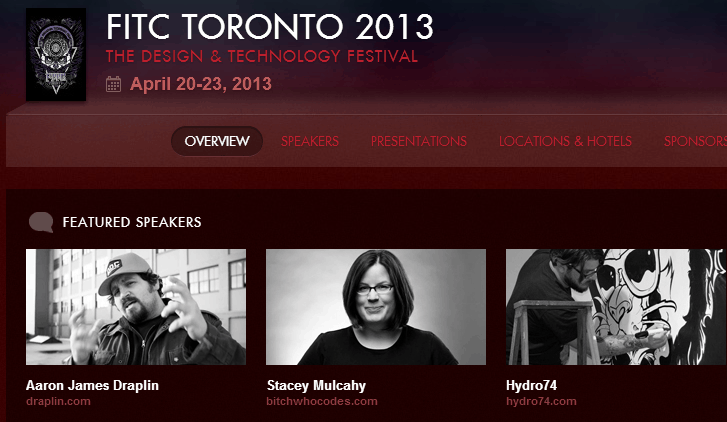 If you're wondering what the future of design, film, and technology are going to look like then you want to be in Toronto on April 20-23, 2013 for the FITC Toronto 2013 conference. (We got a discount code for you 🙂
This conference is big. With over 1200 in attendance, over 70 panels and presentations, and three full days of workshops and parties…TO is getting hotter with this event in town.
Topics from the conference include:
• HTML5
• Javascript
• Visualizations
• User Experience
• Digital Art
• Interface Design
• OpenFrameworks
• CSS3
• jQuery
• WebGL
• Canvas
• Creativity
• Film Holographic VFX
• Installation Art
• and much more!
The event will be held at the:
Hilton Toronto
145 Richmond Street West
Toronto, ON Canada
M5H 2L2
Discount Code
We're happy to be able to offer the FreshGigs.ca community 10% off their ticket simply by entering FreshGigs at registration.
You can register here:
http://fitc.ca/event/to13/