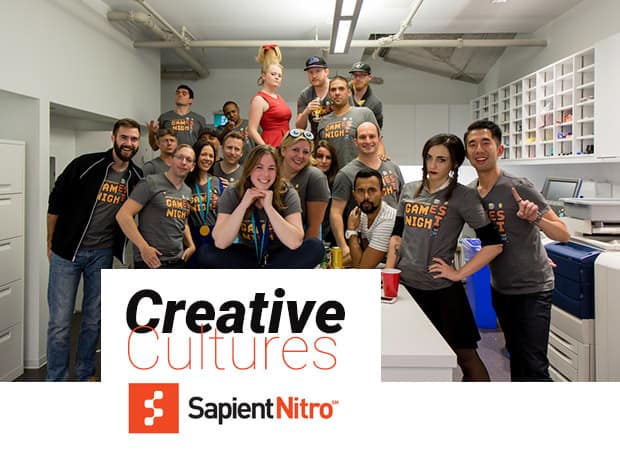 In our Creative Cultures series, writer Helen Bullingham spends a day inside companies to learn how hiring, onboarding, and company culture play a role in employee happiness. From start-ups to design firms and all in-between, we're pulling back the curtain on what it's like to work in inventive and productive environments. Today, Helen is at SapientNitro in Toronto.
SapientNitro was everything I thought it was going to be and more. Much more. The 'new age agency for the always on customer' is in the business of delivering Digital Transformation for clients. But with the nearly scientific approach they take to every aspect of employee hiring, onboarding and engagement, another kind of metamorphosis is enabled; the personal and professional transformation of staff.
Sapient started 24 years ago as a pure technology company. The agency did a lot of systems integration work, connecting various legacy systems together and custom software development. This work was an excellent precursor for the digital age that was taking shape and in 2000, the agency evolved to include Digital. The Toronto office opened in 2001. In 2009, Sapient bought the global agency, The Nitro Group and formed the now ubiquitous SapientNitro.
Today, clients include brands like Jeep, Dodge, KPMG, TD Bank, Cadillac Fairview, Loblaw and others.
Digital Transformation
Digital Transformation is a process that looks comprehensively at the customer journey, touchpoints and desired outcomes. Very often, the agency will start working with companies on a tactical project and then over a period of time of getting to understand their business, they get to partner on a transformational project.
One of the projects the agency is proud of is the recent deployment of a global digital platform for KPMG. It consisted of over 100 distinct country web sites operating off a common platform with over half a million pages. Using Adobe AEM (Adobe Experience Manager), it is one of the largest implementations in the world.
Get a behind the scenes look at SapientNitro's Digital Transformation Process, at Digital transformation with SapientNitro Australia's Experience Design Team. The process varies from office to office as well as from client to client but the building blocks are the same.
Getting Hired
SapientNitro employs 13,000 staff globally, with two thirds in India. There are close to 320 employees in the Toronto office. The company has an established and rigorous talent acquisition plan that begins with colleges and universities. SapientNitro HR staff sit on university and college boards, sponsor events, are present at Career Fairs and are very involved with this segment.
Moontasir Kabir, a Senior Project Manager with SapientNitro for 3.5 years, remembered seeing some of this activity when he was still a student at University of Toronto Engineering.
He originally accepted a Logistics role in Calgary but wasn't feeling challenged. "I was doing the same thing every day and would only get better at doing the same thing every day, over time, if I stayed. I began to look elsewhere and remembered an ad I had seen on campus from SapientNitro."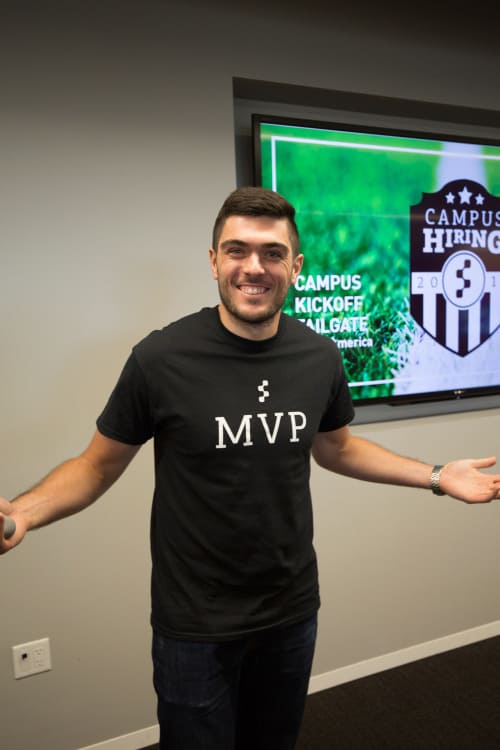 SapientNitro employee at School Campus Recruiting Event
Moontasir applied online and had a preliminary phone call. He was invited to their full day recruitment event for University Grads in Toronto held on Saturdays. On this day, he had several interviews and made a presentation with some of his fellow applicants.
Recruiting for senior hires differs. "Being in the place where the people are you want to hire is key" says Sonia Janovjak, Hiring Lead, who has been with SapientNitro for 5 years. This can include targeted industry functions, events, conferences based on the specific talent they are looking to hire.
Jess Bennett, Senior Account Manager, and with SapientNitro for four years, has an interesting hire and re-hire story. Prior to joining SapientNitro as a Social Media Strategist, she had started an online rapport with their then Director of Social Media. The Director liked the brand profile Jess was building for herself online and reached out to her. That was the first time she was hired. After three years, she left to join a start-up as VP. But it wasn't what she wanted, "I missed the process, people and precision of this place." So Jess became a 'boomerang', one of many SapientNitro alum who leave and ultimately return.

Workspace at SapientNitro, Toronto.
Andrew Kirby, VP Client Services, shared some insights on SapientNitro's successful team philosophy. "Bringing together diverse ways of thinking is the best way we know to deliver transformational impact to our clients. That is why we encourage the formation of teams with very diverse backgrounds and perspectives. We celebrate teams that dismantle stereotypes around ethnicity, age, gender and sexual orientation."
In the lobby, is a digital message promoting Employee Referrals. Staff can earn up to $10,000 in one quarter if SapientNitro hires 4 of their referrals.
Moontasir says it was SapientNitro's level of detail that sold him on accepting their offer, "They talked in detail about how projects would work when I was here, who I would be interacting with, who I would go to with questions, the flow of projects."
Onboarding
Once you accept your offer at SapientNitro, plans are put in place to send you to a North American city for Sapient Start. This is a one week training session for new recruits where you team build with other new colleagues across North America. Past cities to host have included NYC, Miami, Chicago and Toronto. Location depends on where most of the recruits are originating from.
New hires are assigned a Buddy and a Point of Contact in addition to a Supervisor. Your Buddy is there to answer any questions you have. The Point of Contact is there to facilitate your integration into work culture.
All employees have access to the Project Portal so they can see what kind of projects are going on at the agency. During his first few weeks, Moontasir saw an interesting telecommunications project and offered up his analytics assistance to one of the project leads. This way, he was able to meet and work with staff that weren't on his primary project.
SapientNitro offers ongoing training to staff on a monthly basis in areas such as; Leadership, Unconscious Bias, Giving and Receiving Feedback, and Charting your own career, etc. All of the training is designed to sharpen staff's awareness of themselves as leaders and managers and contribute to a culture of high performance. With the Unconscious Bias training, staff become more cognizant of their own bias and in doing so, reject group-think behavior and support diverse perspectives.
Andrew Kirby talked about the level of professionalism of staff training sessions, put on by the Culture and Communication Group. 'These are professionally done, like major theatre performances. We get employees to think about defining their mission and purpose in life, in order to encourage a healthy outlook.'
Jess says, 'there are never any dumb questions here. You are free to ask colleagues whatever questions you need answers to." As a result, ramping up is a relatively stress free experience.

Workspace, SapientNitro Toronto
Employee Engagement
SapientNitro has a large number of employees that have been with the agency for over ten years. They also have a large number of 'boomerangs'; SapientNitro alum that left and came back.
Says Sonia, "The philosophy is very much 'own your own path'. I have re-invented myself four times since I've been here. You see the need, you start doing that job and then you own it." She's proud of the hires she's made. "My first PM hire is now the Delivery Lead for Detroit and Toronto."
Jess says the same thing. "Before I left SapientNitro the first time, I was already starting to do some Client Services work. When I talked to SapientNitro about returning, I gave them a presentation on what I could do for Client Services." She is now a Client Service Manager on TD.

Staff at Movember Chili Cook Off
Moontasir says he offered to help SapientNitro with their on campus recruiting program and this has translated into best practices recruiting efforts across North America. "My friends ask, 'How can you be so happy going to work? They don't understand." Moontasir says that all of SapientNitro's promises at the time of recruitment were true.
I ask what keeps his Mechanical Engineering mind satisfied in his role as Senior Project Manager. He says his work with developers, giving clients what they need, analytics and the challenge of accurately resourcing provide regular challenge for him.
SapientNitro does a lot of things to keep employees engaged. Sports teams, free food every day of the week, charity work and Games Night are just a few of the activities. Staff are encouraged to log several days' worth of charity work per year.

The hackable digital wall.
SapientNitro is surrounded by writeable surfaces because you never know when inspiration or 'organic collisions' will strike. There are plenty of casual spaces for people to work. Meeting Rooms have a booking tablet right outside the door so you can tell immediately if the room you want to use is free to use.

MIMIR'S WELL at Nuit Blance, Toronto
And finally, to intrigue staff throughout the day, there are a few 'art installations'; Mimir's Well, a 3D experience that lets you 'be the bear', a feature at Toronto's Nuit Blanche. And a hackable digital wall that tracks staff collisions and other interactions.
SapientNitro and Razorfish recently merged. The details of the merger can be viewed here.